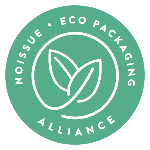 There's no doubt that sustainability is at the heart of forward-thinking businesses who are ensuring the planet stays in good shape for generations to come.
At noissue, we want to inspire and encourage modern businesses, makers and creatives around the world to work to reduce their environmental impact, while retaining their creativity and individuality.
This is how the Eco-Alliance was born: to support a community of like-minded, eco-conscious brands who have committed to being better together and forging a more responsible path.
Eco-Alliance members know that by joining and then sharing their allegiance, they can promote the steps they're taking towards more sustainable business practices to their customers and the positive environmental impact it's having on the earth.
But how do you celebrate that commitment? With the exclusive Eco-Alliance badge, of course!
There's plenty of options to showcase your Eco-Alliance badge to benefit your brand, planet, and community in the most effective way possible. Here's our guide on how to get started.
What is the Eco-Alliance?

The Eco-Alliance is a noissue initiative to help further offset the impact of your packaging choices. As part of the Eco-Alliance, we offset some of the emissions of shipping by planting trees in deforested areas around the world. So far, more than 30,000 trees have been planted worldwide.
By ordering with noissue and joining the Eco-Alliance, you not only give back to the earth – you also become part of a community who are informed, inspired, and inspire each other to make choices that positively impact communities and local environments. It's a great way to contribute to global reforestation, and show off your eco-friendly packaging and processes at the same time!
How can I join?

Once you've taken the first step towards sustainability greatness and ordered your eco-friendly packaging with noissue, the next move is to join the Eco-Alliance! It couldn't be easier, just follow these steps.
Method 1) While making a packaging purchase:

During the checkout process, select yes when asked if you want to opt into joining the Eco-Alliance.
When your purchase is complete, you will be taken to a page where you can select the location you'd like to plant your tree in.
Following this, an email will be sent to you with a link to download the Eco-Alliance badge.
Method 2) When signing up post-purchase:

Go to noissue.co, and click About Us.
Scroll down to the Our Eco-Packaging Alliance section and click Join Us! under About the Program.
It'll say "Join the Alliance!" and you'll be prompted to enter your email address.
And since you've already made a purchase, you'll be added straight into the Eco-Alliance.

It's as simple as that – welcome to the green team! We are so happy to have you join us to make the business world a more environmentally friendly place.
Pro Tip #1: If you've already made a purchase with us in the past but aren't part of the Eco-Alliance, it's not too late! You can still sign up and enjoy the benefits of being part of an awesome community. Just follow the steps above and make sure you use the same email you used when you ordered with us.
Pro Tip #2: Forgotten if you've signed up before? Following the steps above is a great way to check if you're already part of the Eco-Alliance. If you are, our Eco-Alliance robot will say Thanks, you're already in the program after you enter your email, and if not (as long as you've ordered with noissue before) it will sign you up!
Why should I share that I'm a part of the Eco-Alliance?

With the challenges facing the world today, there has never been a better time for businesses to get involved in sustainable practices.
The Eco-Alliance badge is a way for brands to show their customers they have a genuine commitment to forging a responsible path forward into the future.
Delivering a better experience to the eco-conscious customer increases both brand loyalty and trust, while also positively benefiting the planet. So, sharing your badge helps customers know what your business stands for and the progress you are making on your sustainability journey.
Research shows that shoppers want to align with brands that share the same values as they do. According a study by Cone Communications, 87% of consumers would buy from a brand that advocated for an issue they cared about.
With this in mind, why wouldn't you want to sport your support for the environment by displaying an Eco-Alliance badge?
I've signed up! How can I sport my support?

Congratulations on joining the greenest and greatest gang in town! Now, it's time to display your commitment to sustainability to the world. The downloadable badge, along with instructions on how to use it, will arrive in your inbox when you sign up to the Eco-Alliance. There are many ways you can share your badge and spread the word that you joined the Eco-Alliance. Here are a few ideas to get you started.
Display your badge on....

1. Your Social Media Channels

Social media platforms are an amazing space to promote your products and build a community that is networking with others. As well as this, sustainability and social media go hand in hand in terms of brand transparency, engagement, and aligning individuals towards a shared purpose.
From stories and feed posts, to tweets and livestreams – there's an array of platforms and methods to choose from that will help you #SportYourSupport and #ShareYourEcoABadge.
Instagram stories are a quick and easy way for businesses to engage with their customers regularly. Posting a wide variety of content keeps brands fresh and doesn't clutter up their main feed, making it the perfect place to highlight any eco-friendly steps you make as soon as they happen.
From screenshots of your Eco-Alliance badge or welcome email, to shoutouts when you receive your noissue order, highlighting your sustainability vision will engage and inspire your customers to join you throughout your journey.
Cactus Lane Jewelry aren't messing around when it comes to proving their Eco-Alliance allegiance. Taking things above and beyond the 24-hours Instagram story format, they spell-out their sustainability journey via a main-feed post outlining and explaining the eco-friendly products they use under the eye-catching image of their Eco-Alliance badge.
This post can remain on their Instagram grid forever as a permanent reminder for customers of the steps they are taking towards becoming fully sustainable.

Don't forget the power of a Facebook post, too. Chacon the Conscious Cat Store created a dedicated Facebook post to inform their customers about their sustainability initiatives when they first signed up to the Eco-Alliance. Two years later, they still display the badge permanently on their website homepage which shows their long-term commitment to eco-friendly practices.
2. Your Storefront

We know in the world of small business, storefronts can come in all shapes, sizes, and forms. But no matter if yours is an online or physical store, your Eco-Alliance badge can be displayed in all its green glory.

If you're an online trader, your storefront is your ecommerce homepage! Not only is this the best place to showcase your brand identity and products, it's also the perfect spot for sporting your Eco-Alliance badge.
Putting it somewhere visible to potential customers who are increasingly searching for brands who have values aligned with their own can instantly set your business apart from all the rest.
As for brick-and-mortar stores, a physical Eco-Alliance badge print-out or sticker can be popped in your front window, providing an instant connection with any eco-conscious customers who are walking by. The team at XOXO Invites wish they had a physical storefront to decorate with their badge, while Mokistudios has their badge on the wall in their studio!
3. Your Website

If you want to take things a step further than posting on social media, then consider dedicating a page on your website to communicating your sustainable values and your involvement in the Eco-Alliance.

Bon + Bear have a page that explains their sustainable packaging choices with noissue and how the Eco-Alliance helps them take their sustainability steps a little further. Trees planted for every order? Now that's something to talk about.
You could even consider a unique feature on your site, like a pop-up window or the Eco-Alliance badge being used as a website footer. Dedicating space to explain why you're committed to sustainable practices and how you're meeting these goals shows your customers know how deeply you care.
4. Your Packaging

The sky's the limit with your Eco-Alliance badge, and sharing the love shouldn't stop in-store. There are no restrictions on how or where you can show off your Eco-Alliance badge to benefit your brand, so get creative and stick that badge on anything your heart desires.
The Eco-Alliance badge is incredibly complimentary to your noissue packaging! We spy the Eco-Alliance badge in the top left corner of illustrator Maxine Vee's gorgeous custom printed cards. A thank you to her customers, and to the planet.
Pro Tip #1: When going through the design process for a custom packaging product, there will be an option to add the Eco-Alliance badge. Make sure yes is selected, and let us know where you'd like it to sit in the design!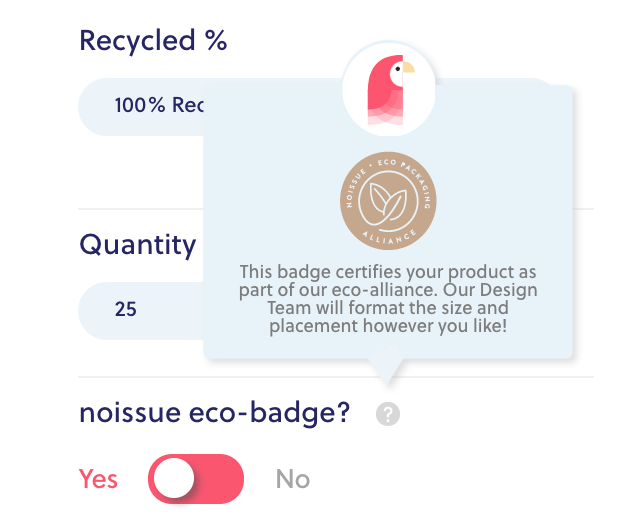 Pro Tip #2: Stock packaging products like our Compostable Mailer already feature the Eco-Alliance badge, so there's no need to add it to the design!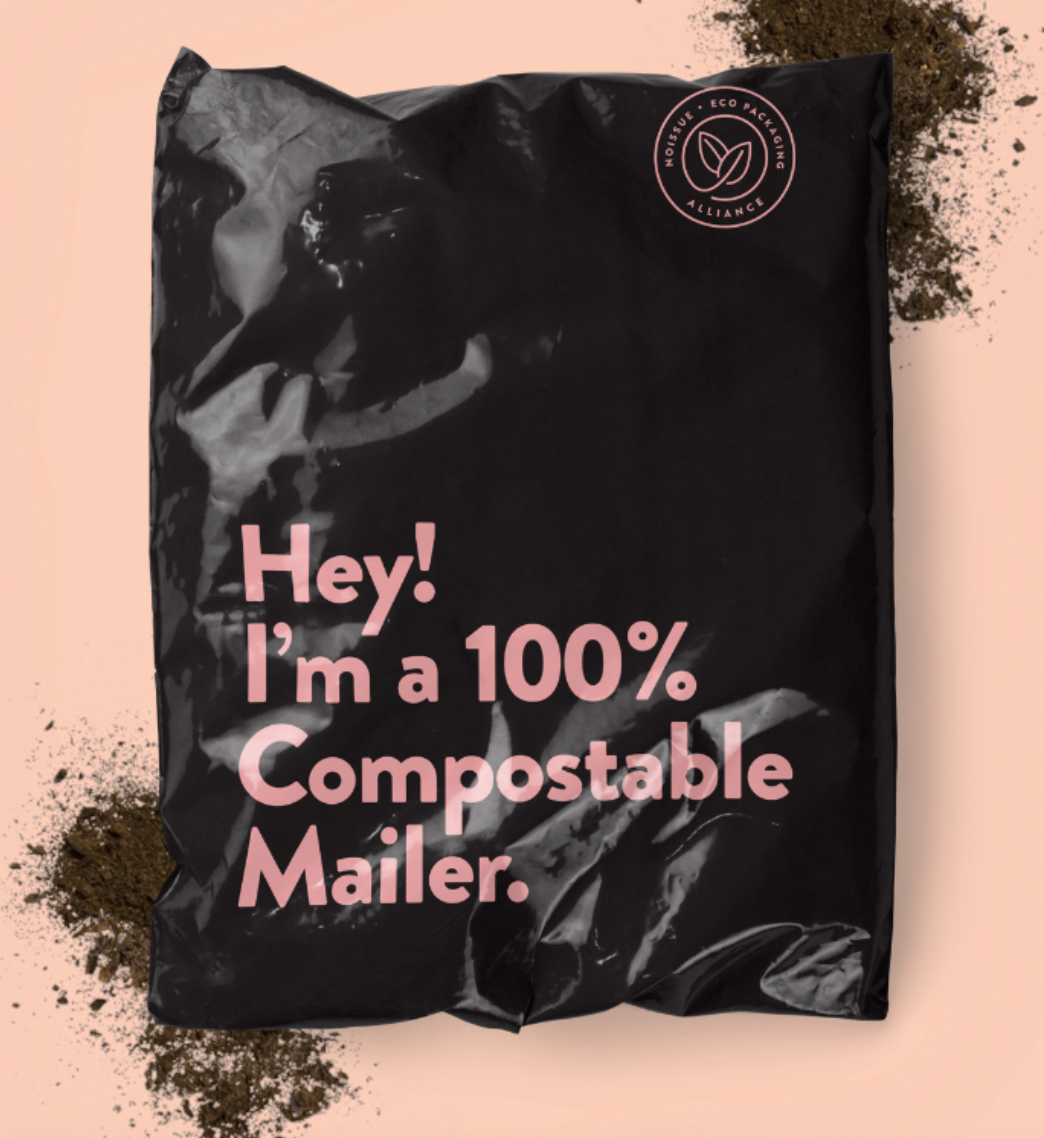 Wrapping it Up

As a collective, we should all be working towards decreasing our footprint. So, it's time to get involved with the Eco-Alliance initiative, plant a tree to help fight climate change, and share your good deeds to the world.
We hope this has answered your questions about the Eco-Alliance badge and given you food-for-thought on how you can use it to show off your own green goodness!
If you have more questions, please ask away, or explore our community of purpose-driven brands through our Eco-Alliance brand stories for more inspiration.