@samjayne_design for @washigang
Contrary to popular belief, doodles aren't just for the borders of your notebook or a children's art class. 🖍
Doodles are creative, playful and often spontaneous –  so it's no secret that this form of whimsical design has skyrocketed in popularity with adults over the past few years.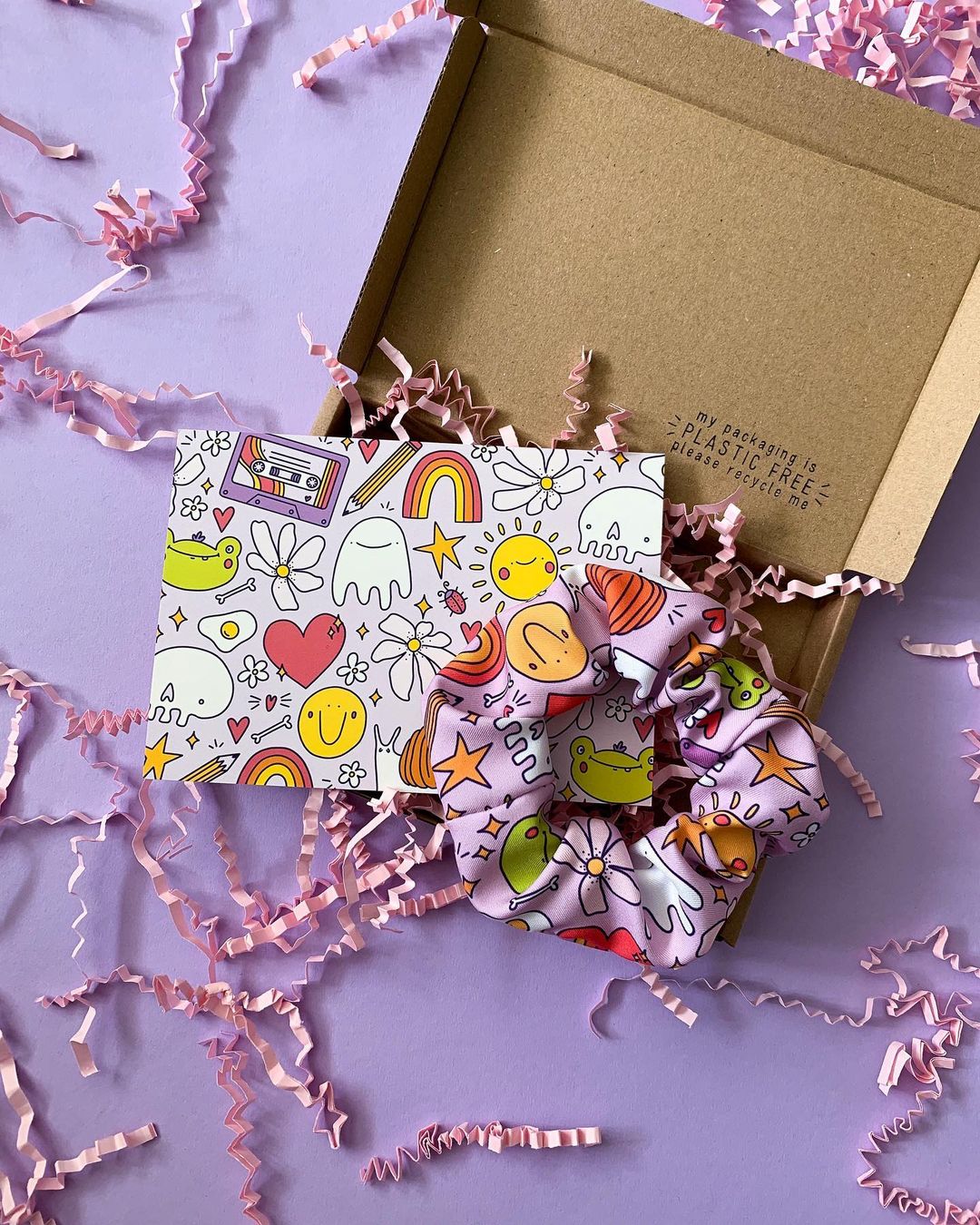 Creatives, illustrators and businesses around the world are incorporating doodles into their designs to show off their fun and playful side. It's the perfect medium for experimentation and expression through branding.
When it comes to doodles, there are no rules. And no matter what age, from 6 to 60, just about everyone doodles. Featuring this whimsical style in your branding means all target markets are covered – captivating anyone who is in touch with their inner child.
Custom packaging is the perfect canvas for doodles 🎨
Turning typical packaging into pieces of doodled art can be easily done with the right materials. From customizable cards and tissue paper to tape and stickers, don't be afraid to add some liveliness to your brand's packaging through doodles that speak to all ages.
And this goes beyond the packaging inside of a parcel – store your products into a custom tote or kraft mailer with a doodled design on the outside for a playful pop!
Inspiration Station ✨
Calling all creatives: are you looking for design inspiration for your own brand? Or are you helping someone else unleash the fun side of their business? Tapping into your own style of doodling is a great way to inject individuality into branded packaging – and there's loads of ways you can use them!
For some inspiration, here are creative examples of how designers have used doodles to boost their packaging power.
Cute Characters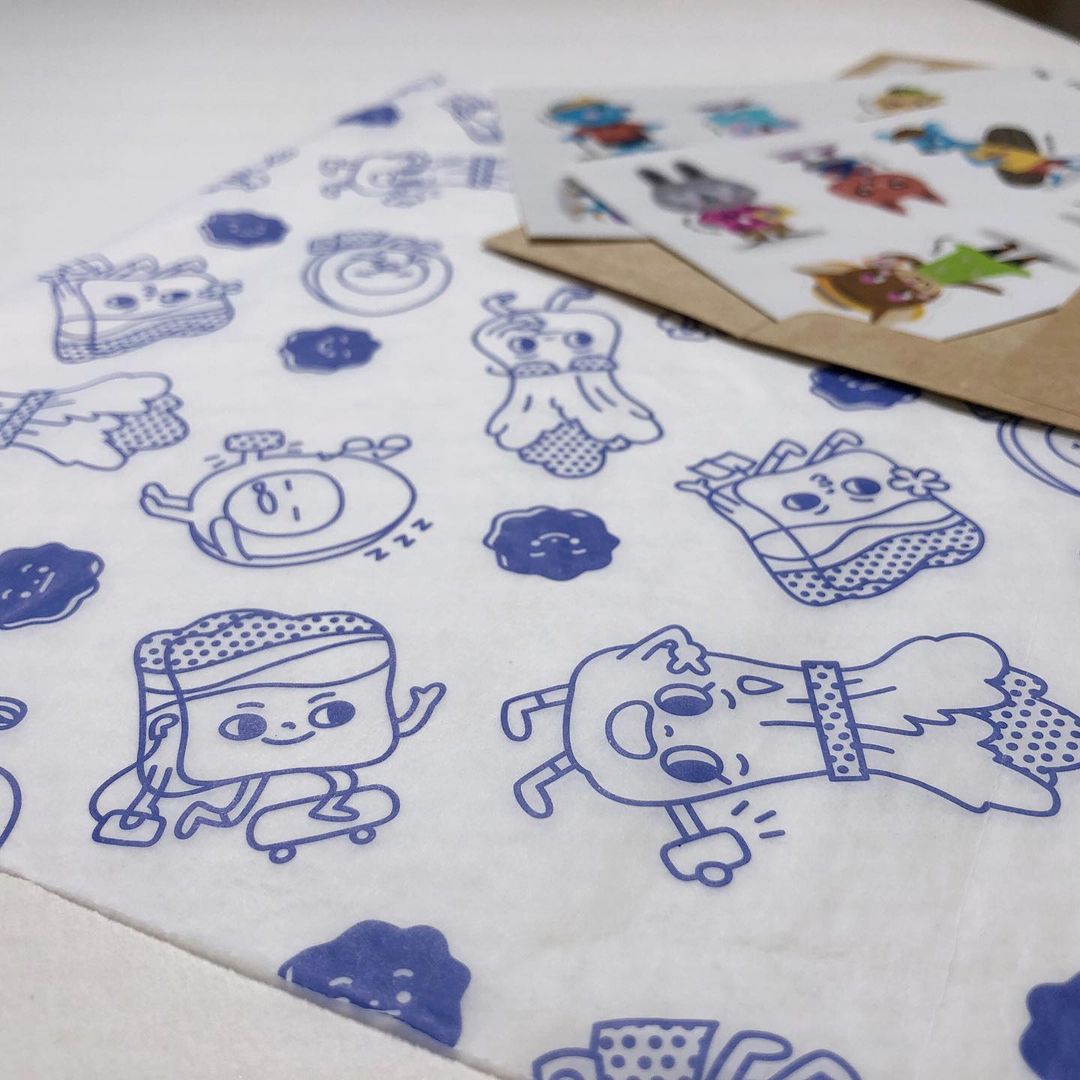 Oodles of doodled noodles – we dare anyone not to be charmed by these little ramen pals by Shorebird Creative. Doodles are designed to delight, and there's no better way to do just that than with quirky, happy little characters!
Many designers have their own mascots as champions of their brand who reflect their distinctive style of art. Memorable doodled dudes like these on custom and eco-friendly tissue paper provide the exact type of illustrations you should be splashing onto branding, and ultimately into the hearts of your customers.
Good Vibes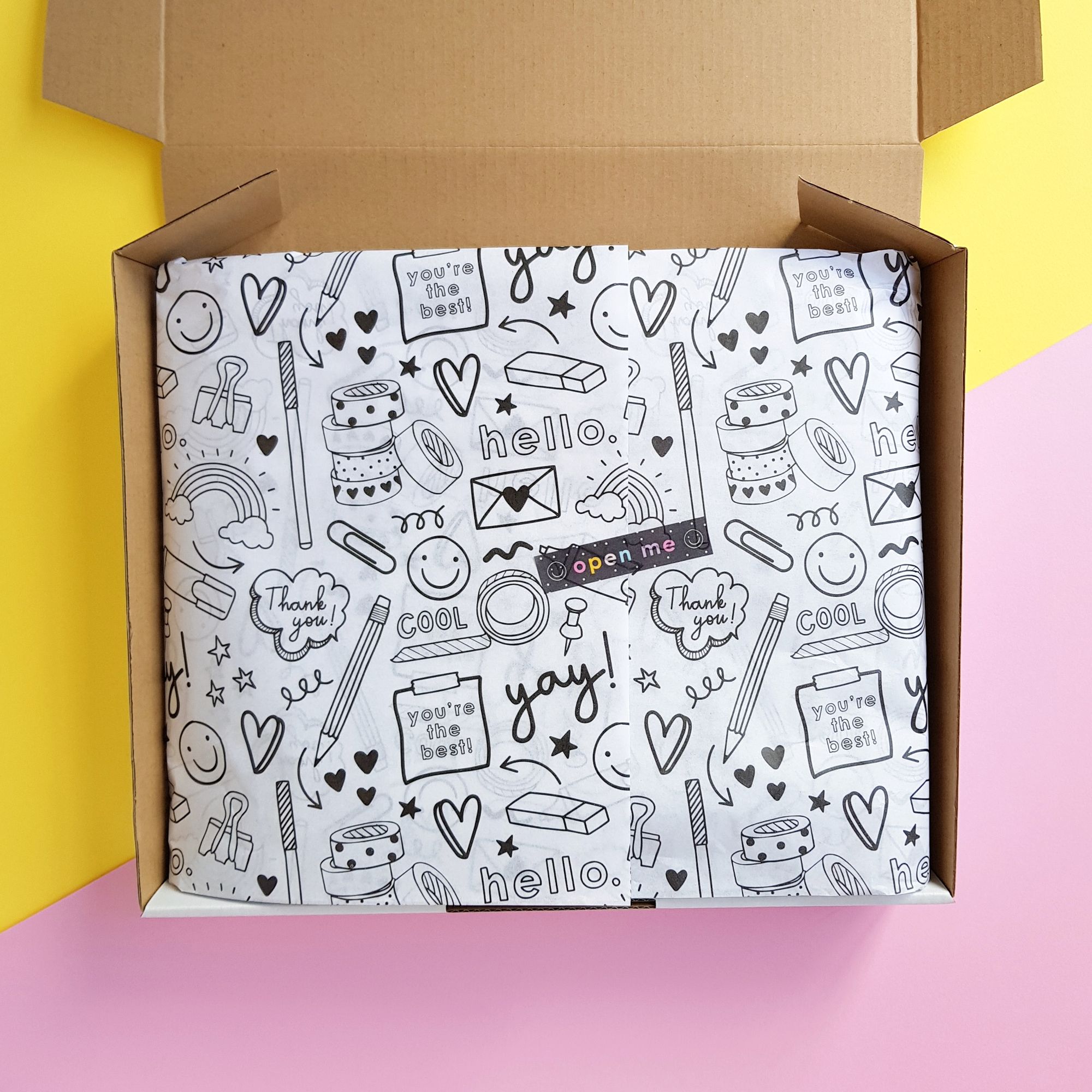 This pattern of feel-good doodles by designer Sam Jayne is the ultimate joy super-spreader. It's the perfect collaborative design for Sam and stationery brand Washi Gang, with messages and imagery reflecting all things positivity, pens and paper.
These cute and cohesive doodles are set on high quality tissue paper featuring a clean-cut black and white color palette. This quintessential color-combo is a way of keeping things both timeless and fresh!
Busy Busy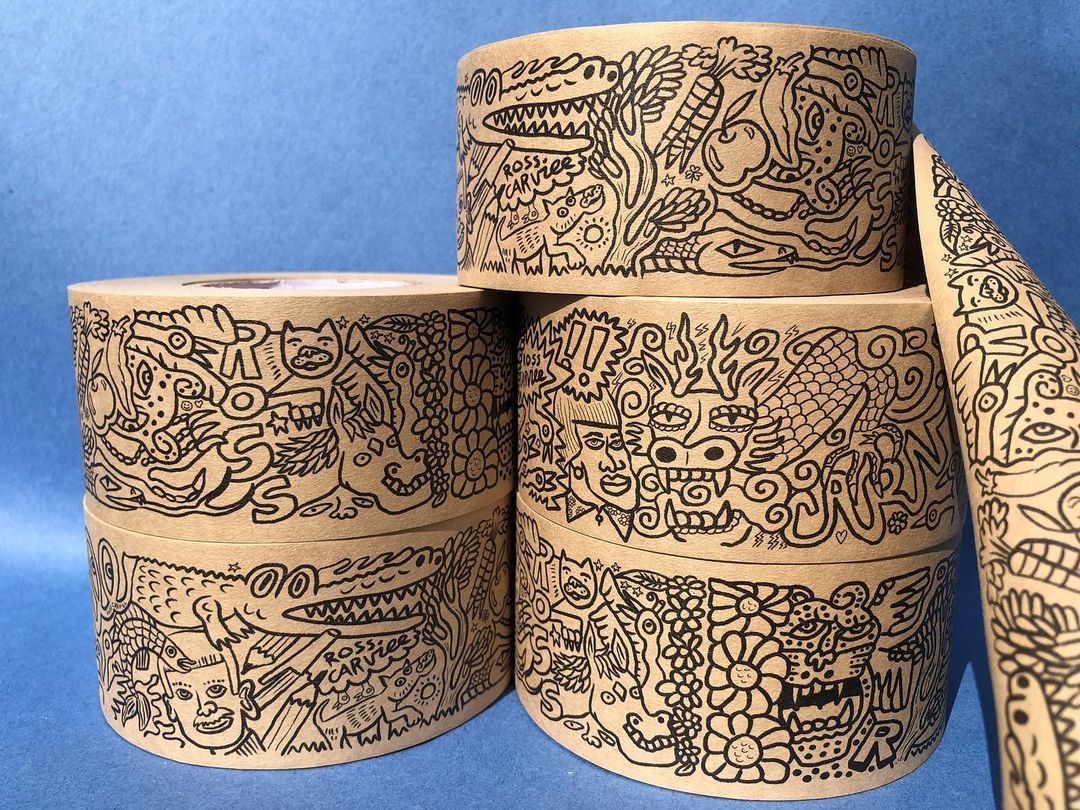 Doodles may be simple line drawings at heart, but that doesn't mean they have to be plain and boring. Adding detailed intricate designs creates stunning pieces of artwork that convey strong messages through the basics of minimalism.
Illustrator Ross Carvill was looking for an eco-friendly statement piece to keep his artwork secure in the mail, and this customized tape ticked all the boxes. Keeping his products safe and instantly adding personality to boring plain packaging, Ross wanted a design that could fit in as many elements as possible to represent himself and his brand. From favorite foods and flowers, to self-portraits and dragons, it's all there – eclectic and individual, just like the designer himself.
Keep It Simple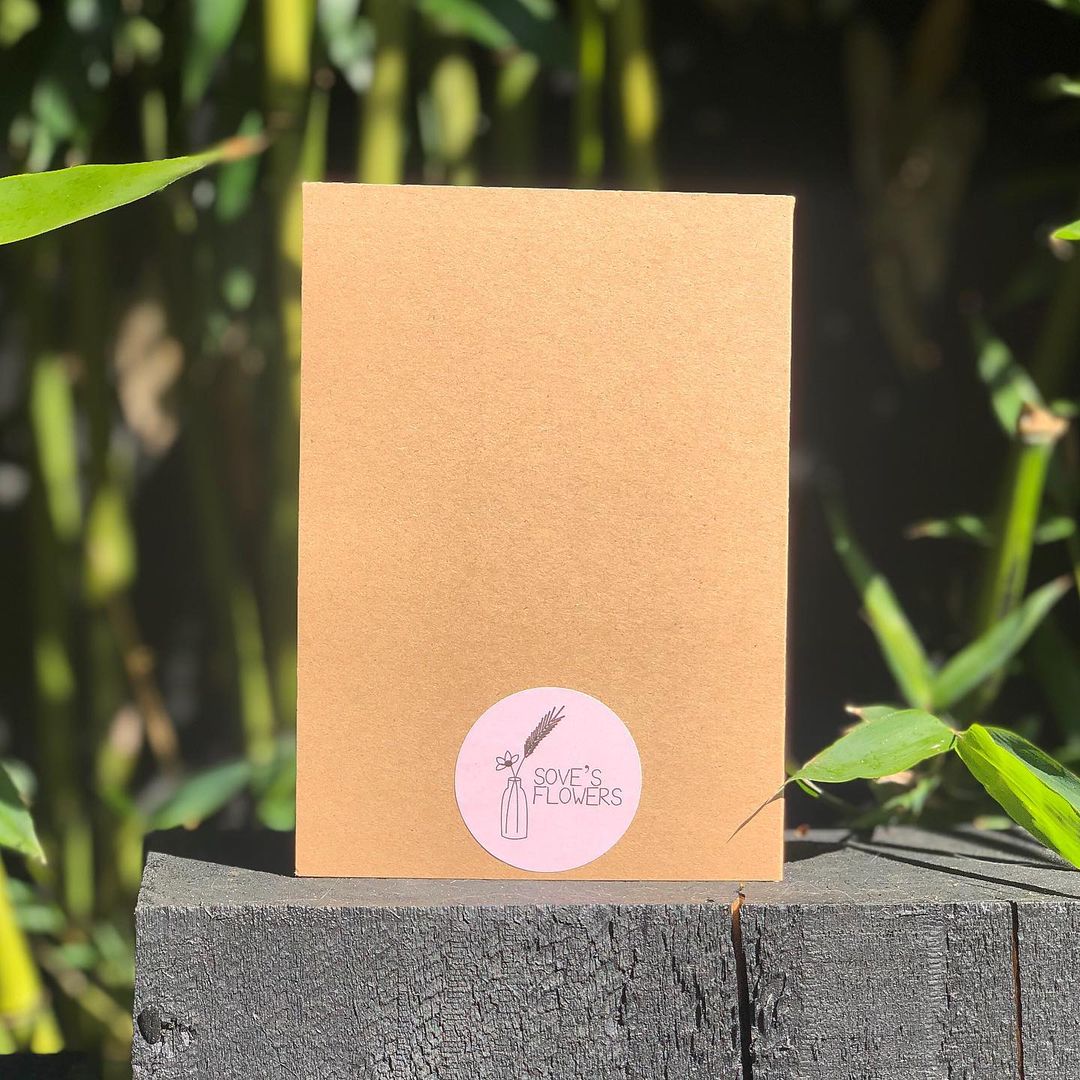 Sometimes, one simple doodle can do a whole load of work all by itself. Just take this delicate logo design by Sove's Flowers, for example. They have transformed their plain text logo by adding this attractive line drawing of a vase of flowers on a pretty-in-pink compostable and customized sticker.
High quality and perfect for branding your business just the way you want, stickers let customers know instantly who their letter or package is from. Simply peel them off and stick them on outer packaging, goodies that lie inside, or even to attach envelopes or tissue together. They're the perfect starting block for branded packaging for small-business designers.
What's On The Outside Counts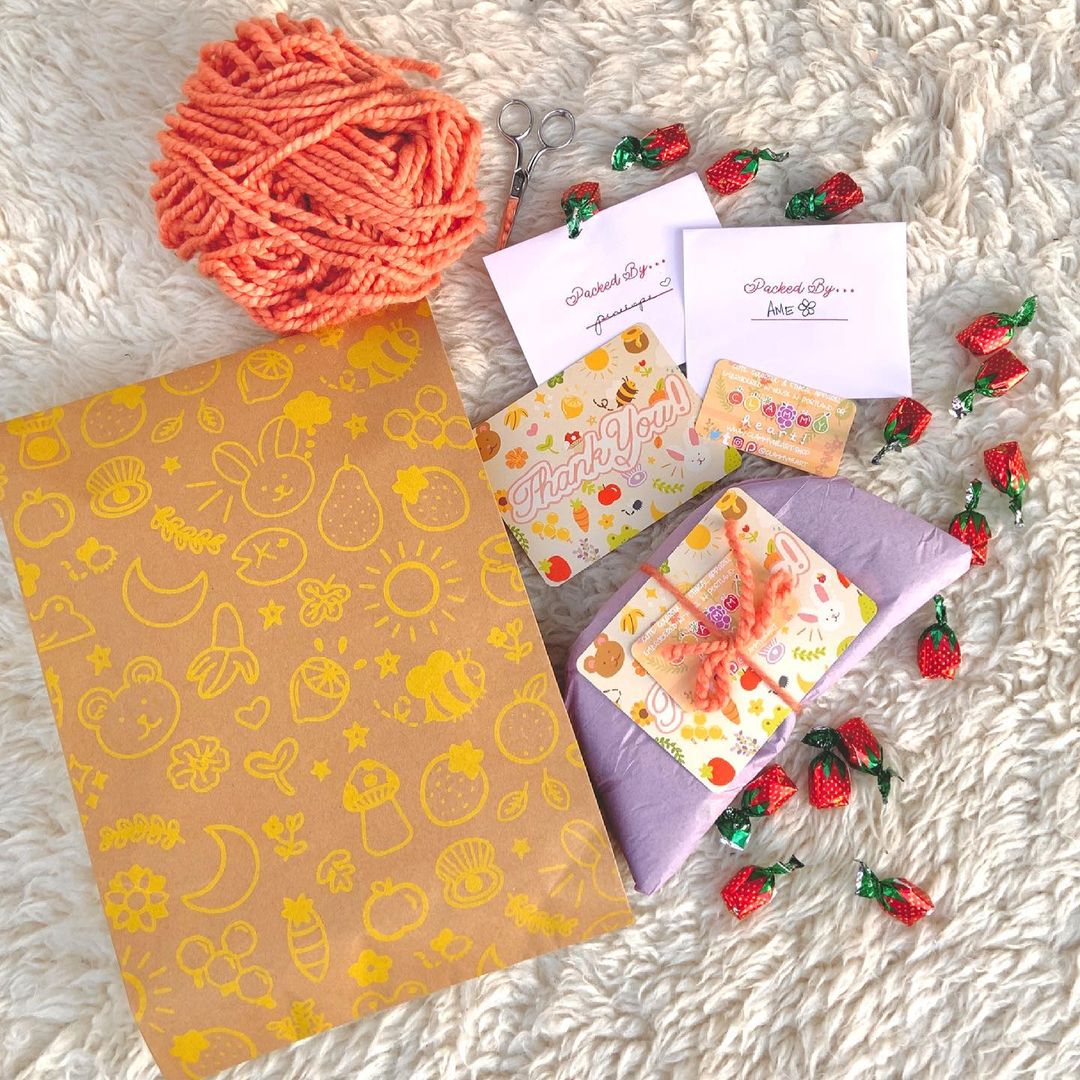 Instantly turning any frown upside down, this kraft package isn't wasting any time spreading joy into the world. Smiley characters and relatable imagery targets customers in an approachable manner, and makes us feel happy before we've even picked it up!
Sure to brighten even the cloudiest of days, this work of genius by Penelope at Clammy Heart has been printed in a glorious sunshine yellow to make things even brighter. Even better, these customized noissue recycled kraft mailers are 100% FSC certified and compostable, so they don't harm the environment. Mailers that are sustainable and feature custom drawn designs in any color you desire? That's next level packaging!
In The Bag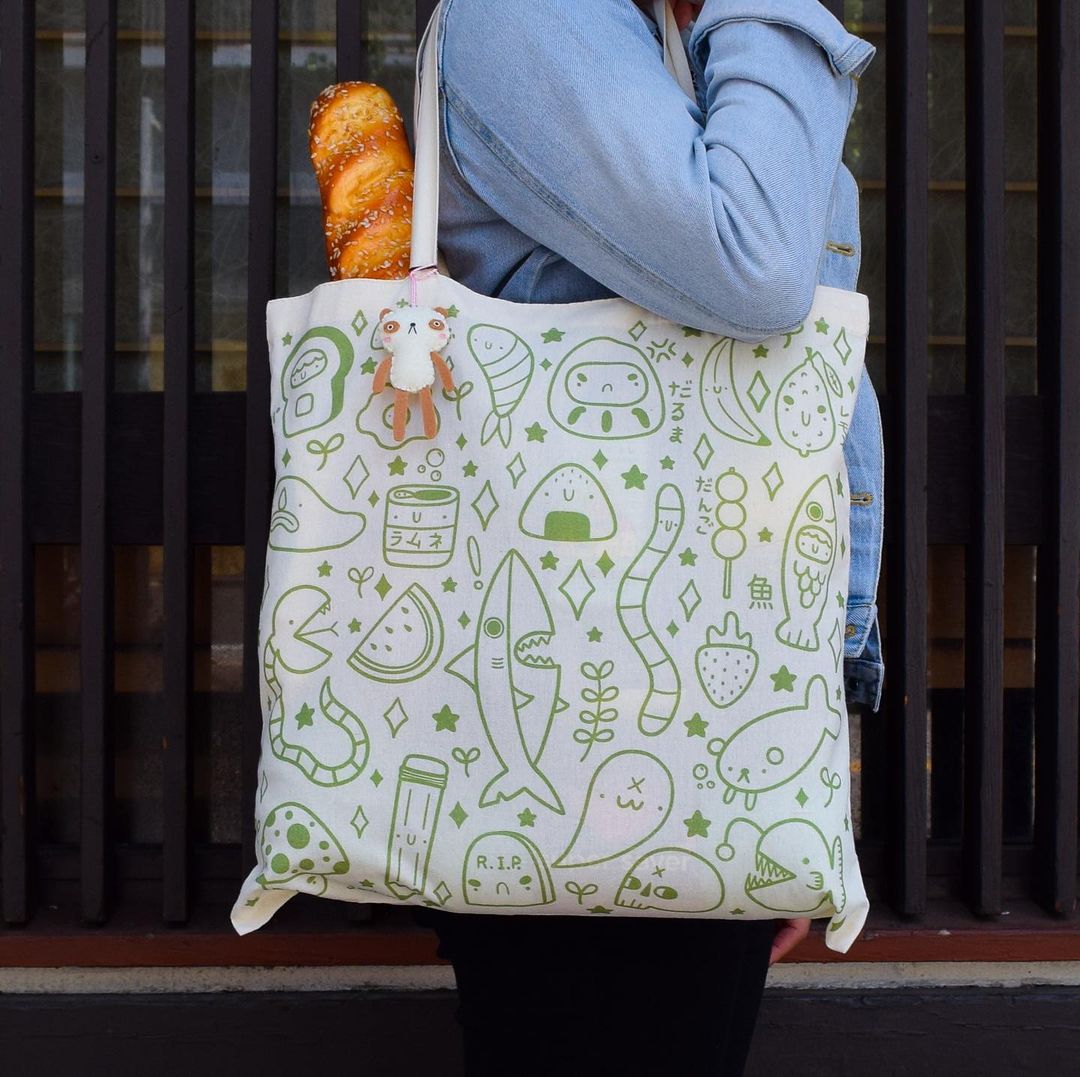 Tote bags are totes awesome, and are the ultimate canvas for doodles! A clean background that can be crisply printed onto provides a great alternative to tissue paper when wrapping products.
Not only an ideal way to initially house products, these custom totes can be reused by customers and become a unique walking promotion for both brand and designer. And Saozen Plush's unique style of Kawaii doodles provide faultless content for encouraging posts and engagement on social media. Multi-use, multi-talented magic!
Saozen Plush uses imagery that both kids and adults can identify – animals, insects, cute cuddly creatures – connecting with customers in an authentic way. These reusable noissue totes are made from 100% organic cotton and water-based inks, connecting to eco-conscious customers, too.
Say It With A Card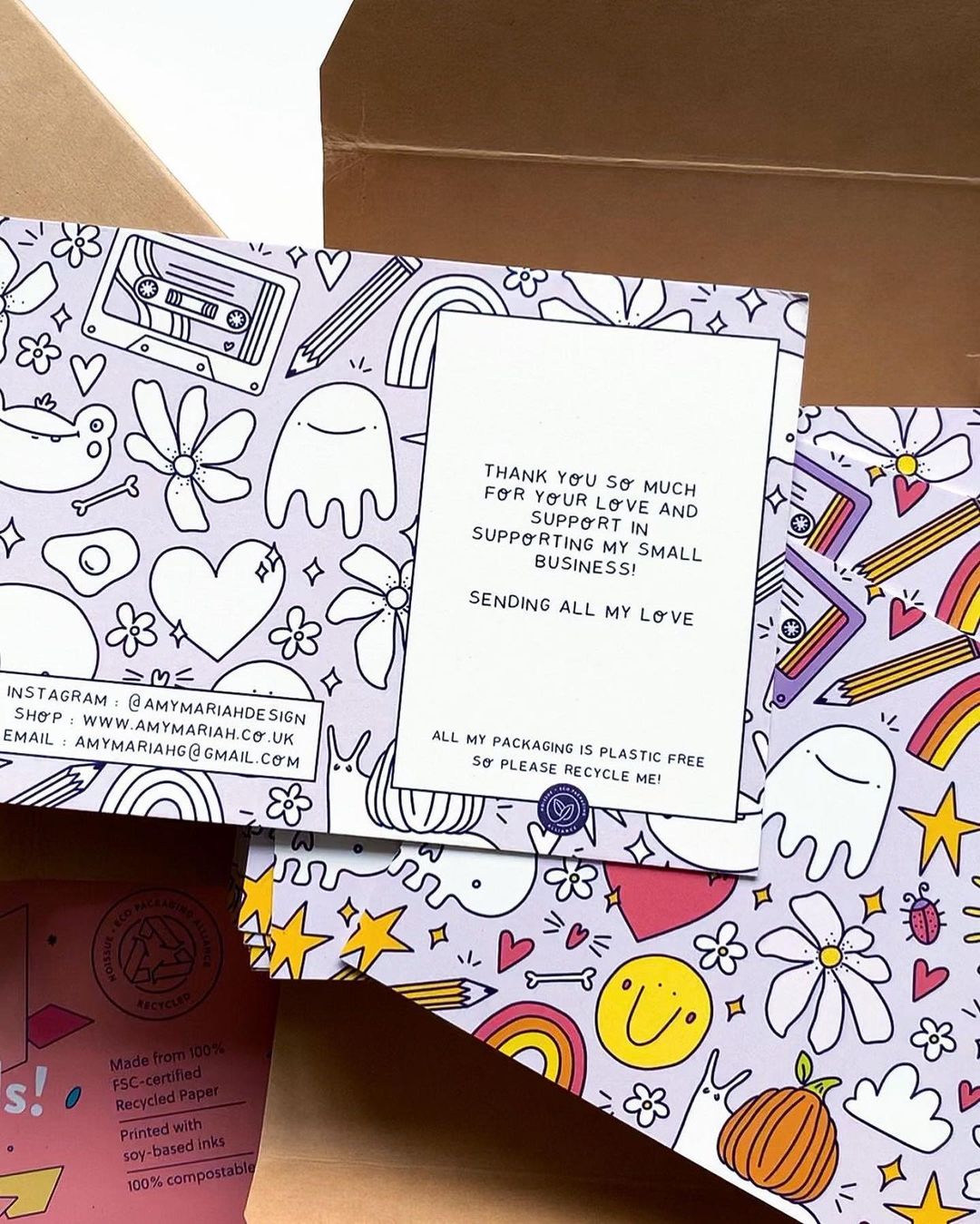 The littlest things can make the biggest impact. Don't forget extra finishing touches to your unboxing experience, like a custom printed card to say a big thank you to the people who matter most – your customers. Everyone loves to feel appreciated, but mixing those words of gratitude with some uplifting doodled creations turns that feeling up to the max!
Just take illustrator Amy Mariah's gorgeous customized card design. Bold lines, uplifting color, and sincere gratitude is the right blend of brilliant to kickstart meaningful connections between her brand and her customers.
Complete The Set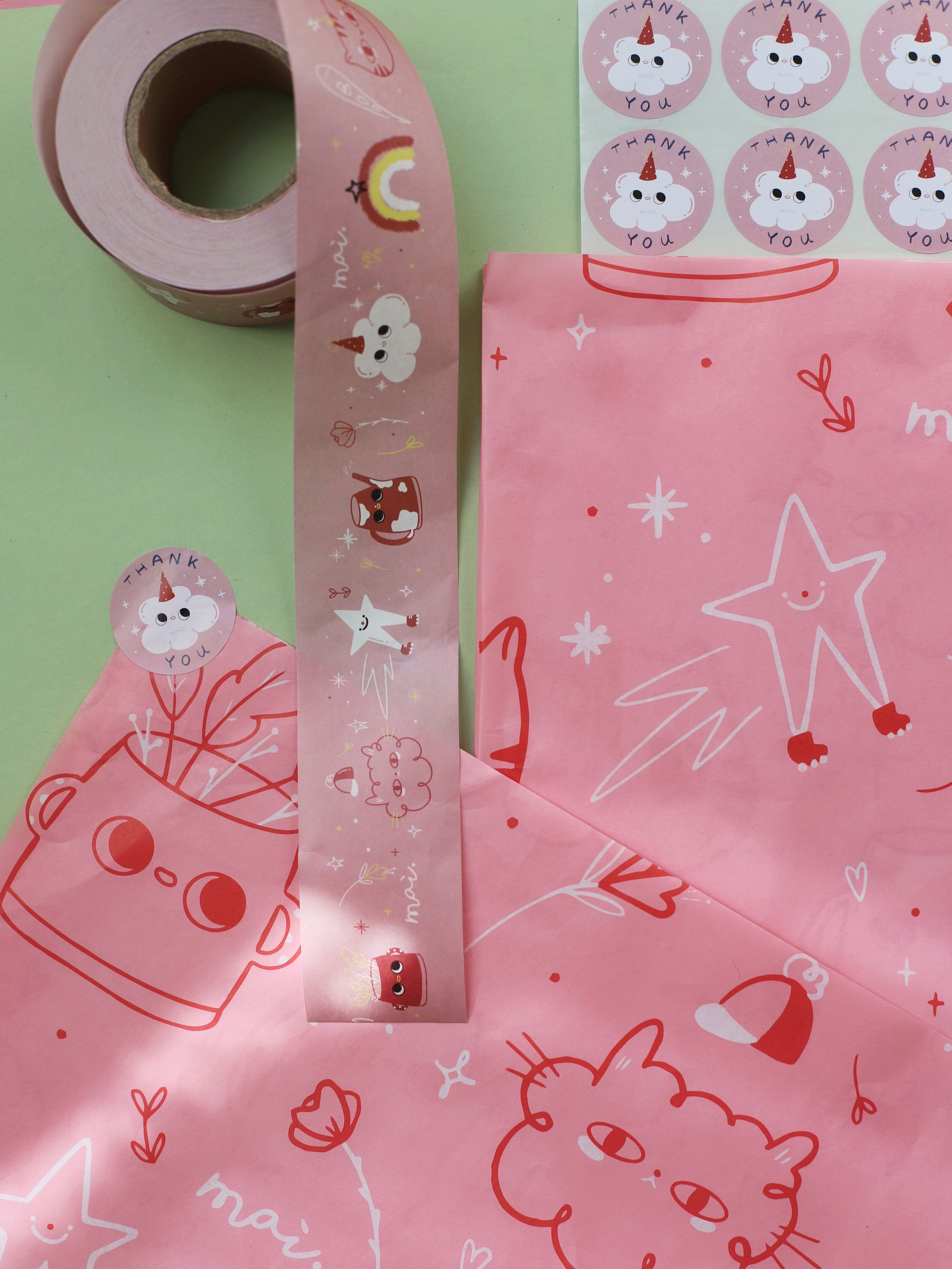 Can't decide if you should get the customized tissue paper, or the doodle designed tape, or maybe cute and catchy logo stickers? Go for all of the above! We love Mai Accent's packaging posse that display her own characters from her products. Tape, tissue and stickers all at once – sometimes, more is more!
Wrapping your product with love and care builds instant intrigue and evokes trust from your customers. So take every opportunity to create those moments, and build a cohesive super-team of branded packaging beauties to spark interest and stand out from the crowd!
Keep On Doodlin'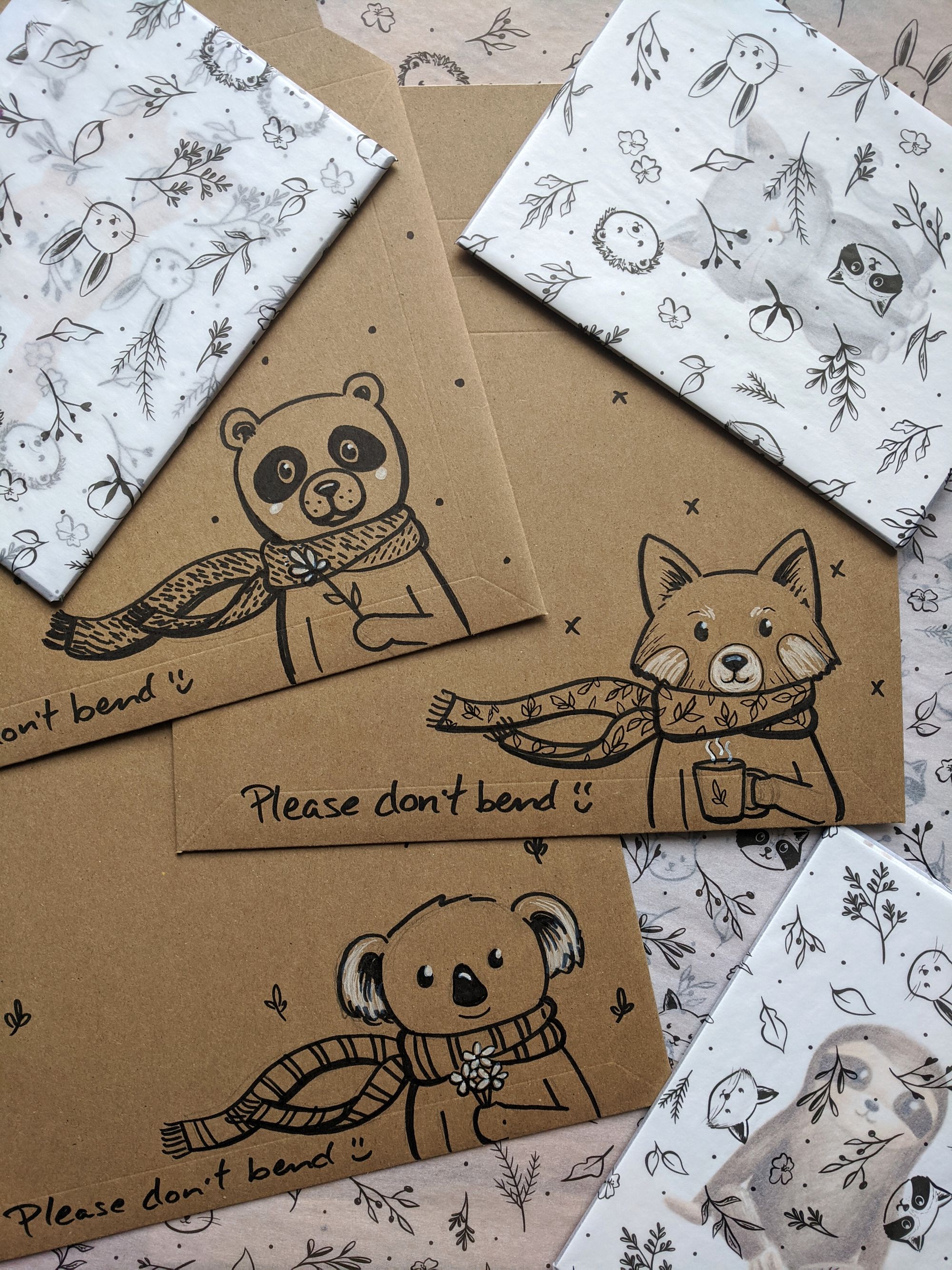 You've doodled, designed, and ordered a range of gorgeous packaging that reflects your brand's style and identity. It's looking pretty flawless, but why stop there?
Take a leaf out of Marie-Anne at @jaunepop's book! There's super-stylish doodled tissue paper that greets her customers when they open their packages, but stunning art-work is also drawn directly onto the mailers, making for a show-stopping parcel.
Taking the time to pick up a pen or paintbrush for each customer shows true gratitude and love! Plus, your customers will have a one-of-a-kind piece of art, surely making you their new favourite artist of all time.
Wrapping Up 🎁
Here at noissue, doodles are a specialty of our talented Creative Community. We love to see the whole spectrum of unique illustration styles and different ways of incorporating them into branded packaging!
Are you a doodling designer who'd love to show off your scribbles? Tag your work on our Instagram or Pinterest page and share your doodled designs with the world!