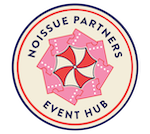 Design By Emily is an award-winning wedding stationery studio based in Cambridgeshire, UK, specialising in modern, botanical and bohemian wedding invitations, offering a large selection of unique, trend-led designs, along with a friendly and speedy service for non-traditional couples looking for something a bit different!
Welcome to the noissue Events Hub! Tell us more about yourself, your business, and what a day in your life looks like.

I'm Emily, designer, cat mum, Hufflepuff and owner of Design By Emily. I live in Cambridgeshire in England and I run my wedding stationery studio from my home office as a one woman band! I offer a large range of unique, trend led, wedding stationery designs for non-traditional, style savvy couples to choose from, all personalised, designed, professionally printed on high quality card and hand packed by myself in eco-friendly, recyclable packaging.
I also offer a bespoke design service so I can create something total from scratch for couples looking for something totally individual! I pride myself on a friendly, speedy service to make ordering wedding stationery as fun and stress free as it should be.
When and why did you start Design by Emily?
I started Design by Emily in 2018 after designing some wedding invitations for my boss at the time while working at as an art editor at Bauer Media UK. I loved creating something bespoke for her for such a special day, it was a real honour.
After looking into wedding stationery I realised a lot of it was very samey, and I couldn't see anything that really appealed to me if I was going to get married, so I decided to fill that gap with designs I loved and would want to use myself, so Design By Emily was born.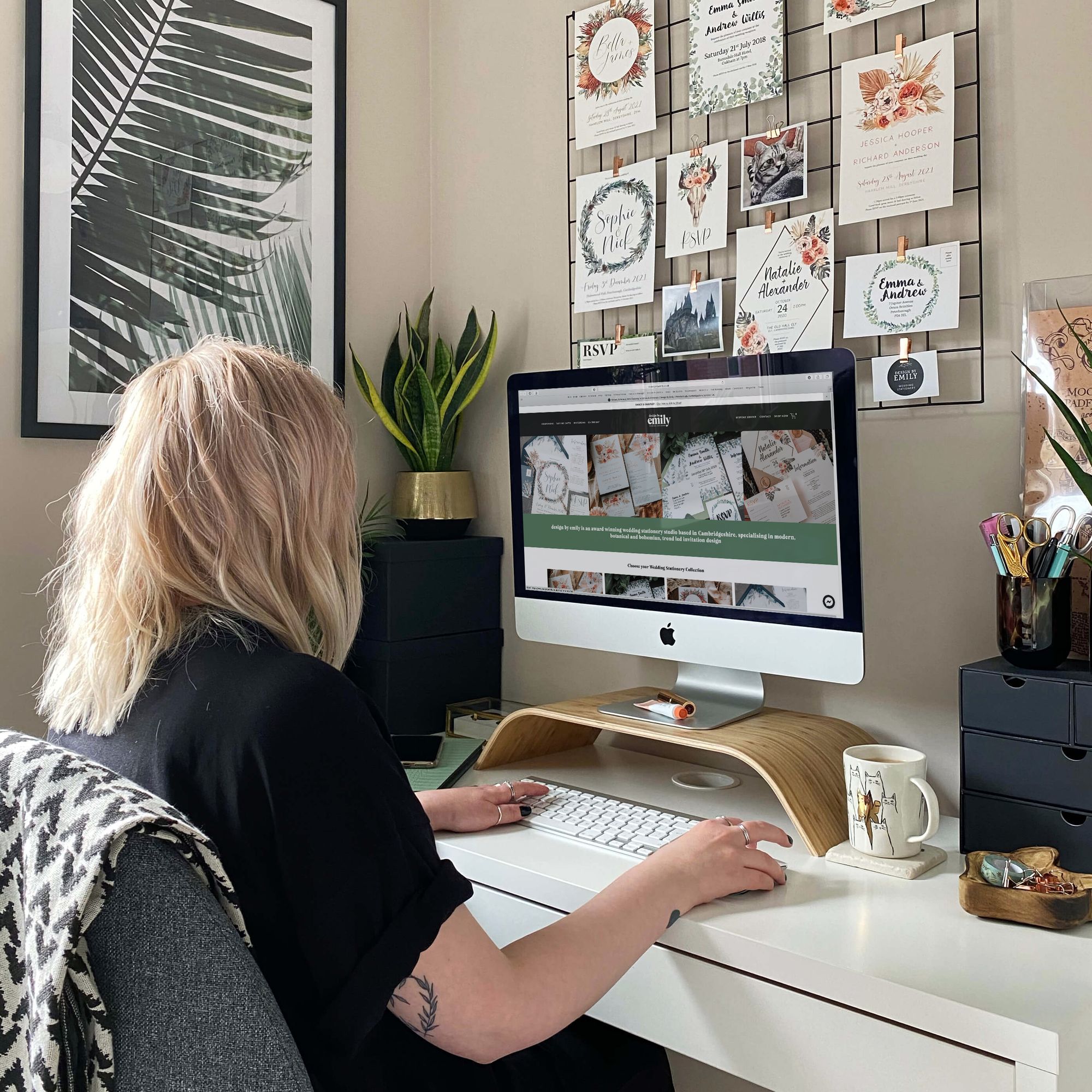 Describe your design style. Where do you find inspiration for your stationery?

All my designs are inspired by nature, particularly anything botanical! I love greenery and plants, along with boho and Scandinavian themes within my interior design, so incorporate these ideas into my wedding stationery designs. I design collections based on what I would like or be looking for if I were getting married.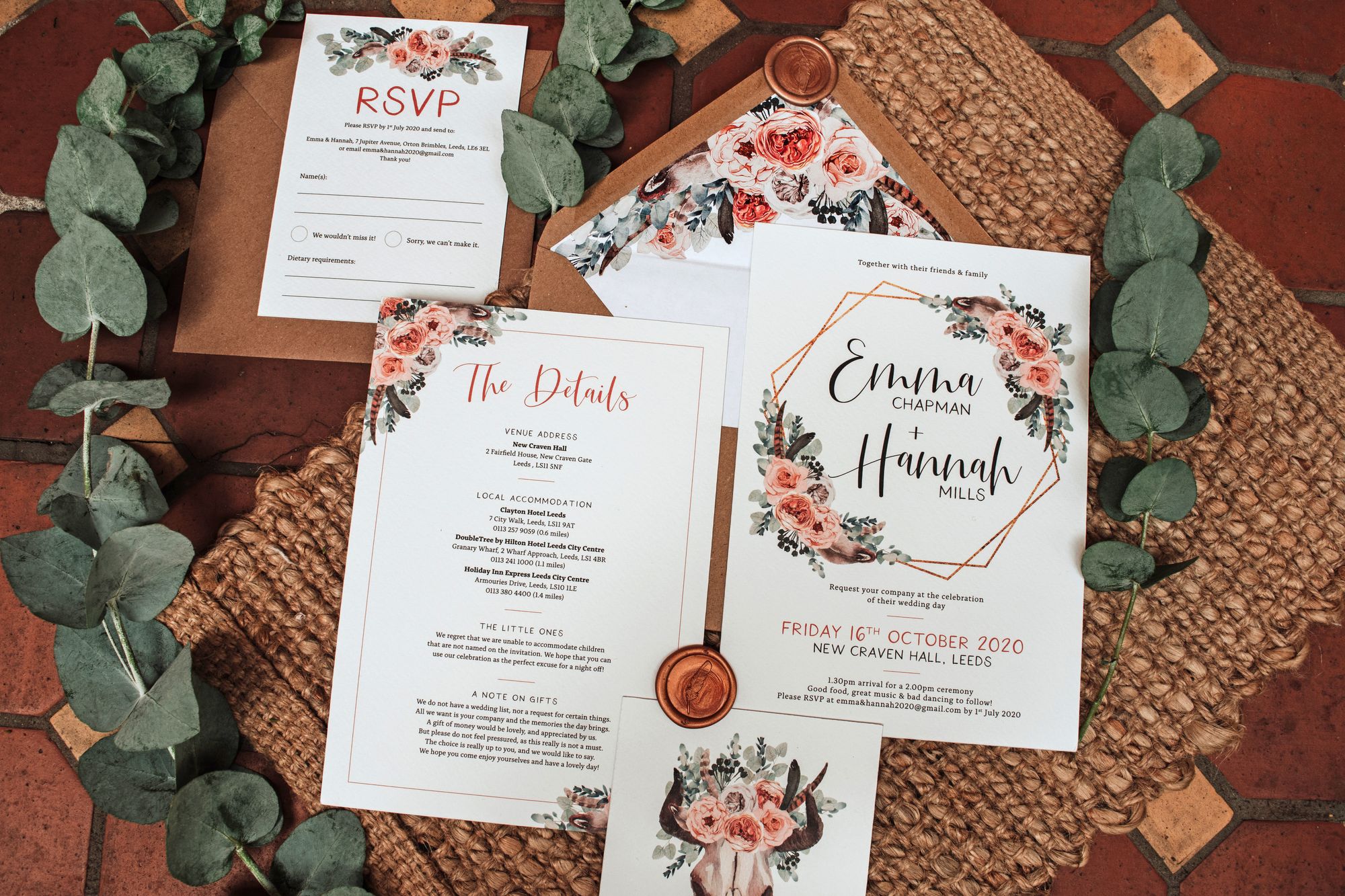 Why did you choose sustainable packaging for your orders?

Being a wedding stationer, paper and card is a huge factor, so I try to be as sustainable and eco-friendly as I can be. My designs are created to help reduce the amount of paper and card that is used, including offering double sided invites and concertina folded invitations to save on individual pieces of card, and RSVP postcards to save the need for extra envelopes.
I'm always striving to be more eco-friendly and choosing to upgrade my packaging using noissue was a natural choice. Being able to purchase branded stickers which are recyclable is amazing, as they are hard to come by, plus the tissue paper is great quality and really elevates my packaging to another level all while helping to strengthen my brand.  
How did you learn about noissue?
I followed you on Instagram a while ago and loved the eco-friendly vibe, along with the beautiful printed tissue and knew I had to invest in that for my packaging.
Is this your first order with us?
Yes! And although it took a while to arrive I am so pleased with it!
What do you use your noissue products for in your business? (i.e. unboxing experience, promotional purposes, etc)
I use the custom printed tissue paper to wrap all my invitations before boxing them. The smaller size is perfect for wrapping the separate bundles of invitations, RSVP postcards, menus etc. I also use the large circle stickers to brand my eco-friendly, recyclable kraft boxes which I post all my wedding stationery in, it just gives it that little extra finishing touch along with displaying my branding and letting people know exactly what the package is!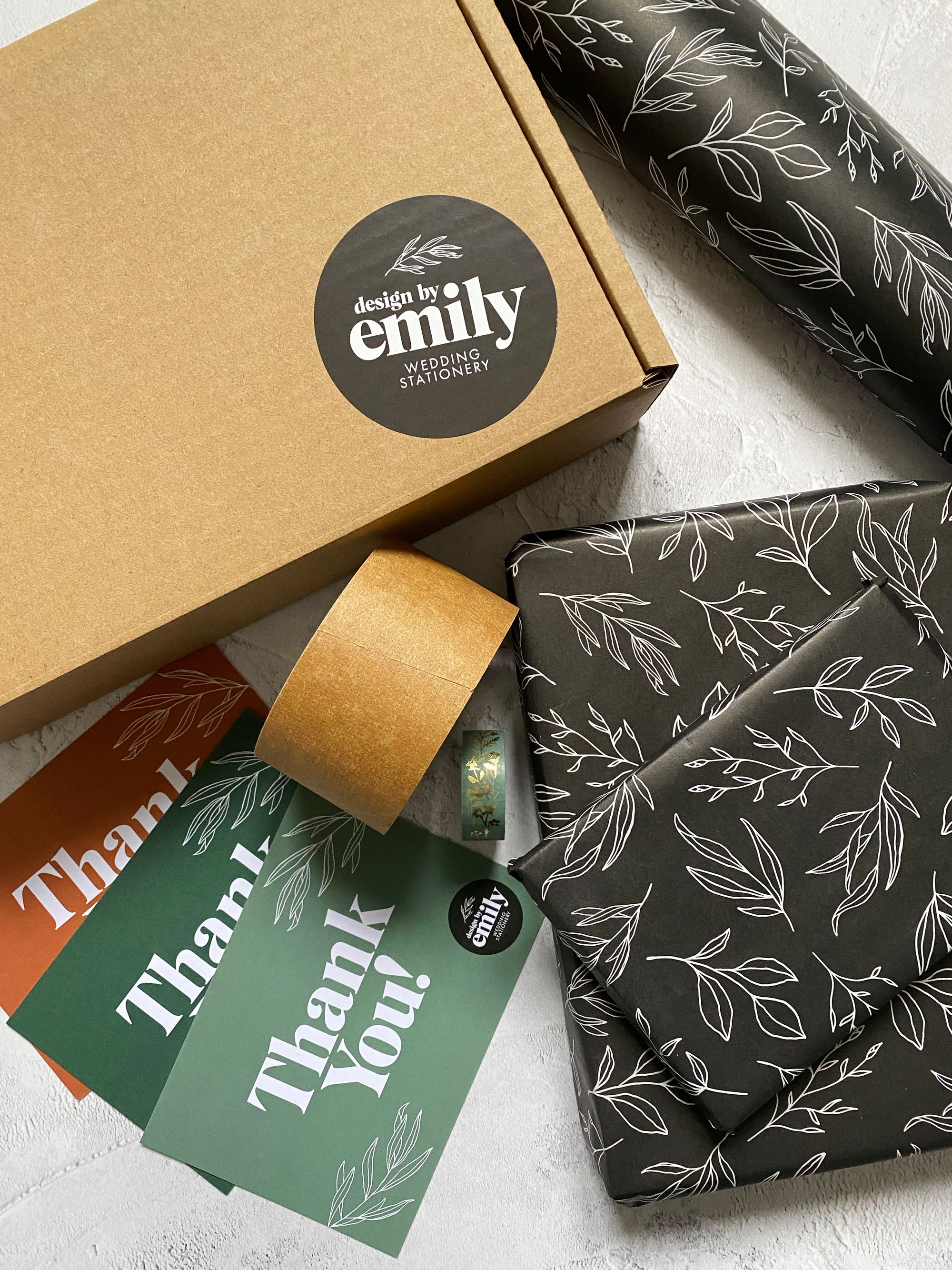 What should newly engaged couples keep in mind when finding the perfect stationery for their big day?
The top 3 things I always tell couples when it comes to their wedding stationery are:
First, make sure you know your budget. With so many fancy designs on Pinterest people usually don't realise the expense of the design and printing of bespoke stationery. With my stationery designs there are a range of options to choose from, so you can order just the basics or go all out with the little extras, so there are options for a range of budgets.

The second thing is to make sure you always order more than you think you need. Small print runs are expensive so make sure you order 5 to 10 extra so you have some spare in case your guest list changes, one get misplaced in the post and so you have some as keepsakes for yourself and your families.
Third, don't leave ordering your stationery until the last minute! Many stationers are small businesses like myself and are booked well in advance, and may be juggling other jobs, projects or family life. While I pride myself on a speedy service sometimes things go wrong which are out of our hands, such as printing issues which require reprints or delays in postage. Save yourself (and your stationer) the stress and look at getting your stationery designed as soon as you have your venue booked.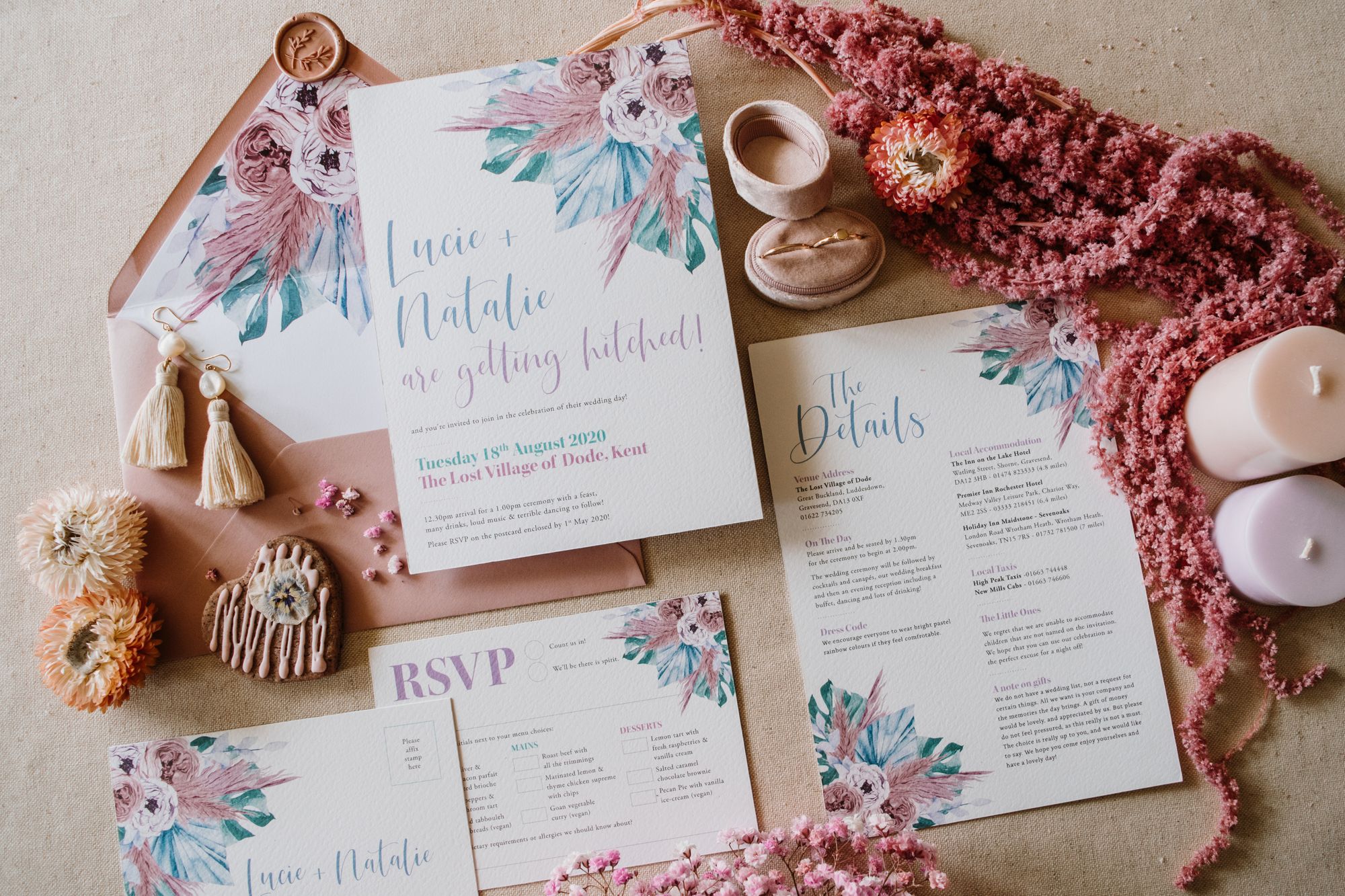 Any advice for budding small business owners who want to enter the events/wedding industry?
Make sure you have a niche! The wedding industry is huge and highly saturated with amazing, creative talent. Make sure what you are offering is different to what else is out there and not just copying someone else, that way you will stand out and find your ideal clients which are looking for what you offer. Be true to yourself and don't compare yourself to others, everyone has to start out somewhere and with hard work and passion there's a place in the wedding industry for you too!
Lastly, you're a proud Hufflepuff! Tell us which house value resonates with you the most – hard work, patience, justice, loyalty – and why.
I sure am! I'm a huge Harry Potter geek, and I remember reading the traits of a Hufflepuff and couldn't believe how accurate to me it was! Creative, a love of animals (my cat Gus is my fur baby), hardworking, patient, loyal, I resonate with all those traits! I have a full time job designing magazines, alongside running Design by Emily, which can sometimes be a bit of a juggling act and takes a lot of hard work and patience, but I love it and plan to grow Design By Emily as much as I can!
View more of Emily's designs on her website.