Custom noissue tissue paper by @biddypots
Globally, people spend billions of dollars to wrap gifts that will be ripped, opened, and discarded in a matter of seconds. But even as an environmentalist, gift wrap isn't something to skimp on since those gifts will sit at the bottom of your tree, ready to be presented to your loved ones.
Using reusable gift wrap eliminates this concern. Plus, it helps you save money and protect the environment by recycling materials at home.
With Christmas just around the corner, here are some excellent eco-friendly gift wrapping ideas to kick off your holiday season sustainably.
💡 Pro tip: If you're a business owner needing some gift wrapping ideas that don't impact on the environment, be sure to check out noissue's custom tissue paper, custom boxes and custom drawstring bags. All three are reusable, which means your customers will be able to regift them for the holidays!
1. Wrap your holiday gifts in fabric

Once you discover how to turn scraps of fabric into zero waste gift wrap, you'll be hooked. Use fabrics you already have around the house, such as worn blankets and curtains or your kids' old clothes instead of letting them hit landfills.
Specialty shops also sell fabrics tailored for this purpose. To reduce the environmental impact, choose materials with a low carbon footprint, such as organic cotton. You can purchase them in bulk (multiple yards), cut them into desired shapes and sizes, and then sew or trim the frays to prevent them from unraveling.
It's also possible to order pre-cut and sewn fabric gift wrap (on Etsy, for example) if you're not keen on measuring and sewing, or don't have the time to do it yourself (DIY).
Then there's Furoshiki. Traditionally used to wrap goods in Japan, it's now popular for wrapping gifts in other cultures as well. All you need is a two-sided square cloth and some basic folding skills and you're set. See how the magic happens in the video below.
That's the basic Japanese Furoshiki technique, which can be adapted to suit a variety of different types and forms of gifts. Wrap the gift with leftover tissue under the cloth, and add some sprigs or other Christmas ornaments to make it more festive.
However, Furoshiki gift wrapping makes for a tasteful choice on its own. If you're not that into decorating, you can rely on a festive cloth to do it for you.
2. Spice up your gifts with Christmas sprigs

Just because you're going green doesn't mean you have to tone down your decorating prowess. Be resourceful and pick up some small branches and sprigs from around your neighborhood (or check with a Christmas tree seller if they have any).
You can work with a variety of natural materials to bring the feeling of a rustic cabin holiday to life. Maple, pine sprigs, pine cones, and flowers are stylish (and affordable) alternatives to shiny bows and other gift toppers.
Take a look at these beautifully embroidered sprigs. Creating this wrapping material (which also works as a cute Christmas card) takes a lot of time and care, but it is a wonderful way to show that you are giving from the heart.
3. Wrap your presents in brown paper (or Kraft paper)

Most types of wrapping paper, such as glossy paper and laminates, are not recyclable, rendering them wasteful. And here's the worst part: mixing these materials with recyclable paper isn't a good idea. So, if you wish to keep things green, opt for brown paper or Kraft paper.
Here are a few reasons why eco-friendly shoppers prefer them:
They are economical. A roll of Kraft paper will only set you back $20 to $30, while you can collect brown paper bags for free the next time you hit the grocery store.
They are durable. Kraft paper products are long-lasting and can be recycled several times. On the other hand, brown paper bags can be reused a couple of times.
They're easy to find. Brown paper bags and Kraft paper rolls are readily available at any store, or you can order them online.
They are compostable and recyclable. Unlike plastic, which can take anywhere between 20 and 500 years to decompose.
The thought of using brown paper or Kraft paper as a Christmas gift wrap may not strike you as glamorous, but all you need is a sliver of creativity to get it going. Add a dash of charm with the help of dried plants, fruits, and other decorative elements to make the plain paper look vintage and sophisticated. Look at the sample below.
4. Recycle old newspapers, maps, and magazines

Despite the increasing popularity of digital news, daily copies are still printed. Plus, many of us have our own stacks of newspapers at home that need recycling, so there's no additional cost involved at your end.
Even if you don't have any newspapers at home, someone you know probably has piles of them sitting in the garage. Breathe new life into something simple and inexpensive by putting your creativity to work.
Other resourceful alternatives are old magazines and maps. Both of them will do the trick, since magazines are also being phased out in favor of digital publications, and maps are being replaced by Google Maps. Just finish it off with a ribbon, cord, or twine.
You can also use them to create a beautiful gift topper as shown below.
5. Don't throw away gift bags and wrapping paper

Chances are you have a lot of old gift bags and paper lying around. Choose one that fits the occasion and use it (preferably one that can be reused, so the recipient can do the same). Here are two cute fabric gift bags for storing small items.
💡 Pro Tip: It's not just gift bags and wrapping you can recycle – all sorts of items can be recycled, such as bows and strings. Before you tear open a present, think twice about how it can be reused.
6. Take a look at some shipping supplies

The next time you order off Amazon (or other online marketplaces), don't throw the boxes and plastic bags away. Chances are you'll be joining 2.14 billion shoppers worldwide to do most of your shopping online this year. Spend as little time as possible shopping for new boxes and reuse the ones you already have.
It's not just boxes and plastic bags from online purchases that you can reuse. Companies also use brown or white packing paper to ship their products. Save these throughout the year, and use them to replace bubble wraps and other single-use plastics. When the holidays roll around, you will have eco-friendly wrapping paper ready.
Have some fun with it and get creative like the image below.
7. Use eco-friendly tape to seal the deal

Plastic tape is harmful to the environment, but most items on this list will require you to use them. Switching to eco-tape is the right thing to do. Eco-tapes, brown paper tape, and other biodegradable paper tapes make it easy to wrap your packages while helping the environment.
noissue's Custom Washi Tape is made from rice paper and printed with a non-toxic ink and adhesive, which makes it 100% compostable. Our Water-Activated Tape is paper-based and activated by water. This means there's no plastic present, unlike gloss or wax coated tape. It's also printed with soy-based inks and made from 100% recycled materials.
You've got nothing to lose because eco-tapes are also inexpensive. They're also removable, strong, and easy to tear, making them an excellent choice for gift boxes and wrapping paper. That means you can repurpose and reuse these materials because they look as good as new, even after use.
Another advantage over the standard tape is that these can be written on, which increases their ability to reduce waste. They can double as a green way to seal and label packages and boxes (no need to buy gift tags) and are more decorative as well.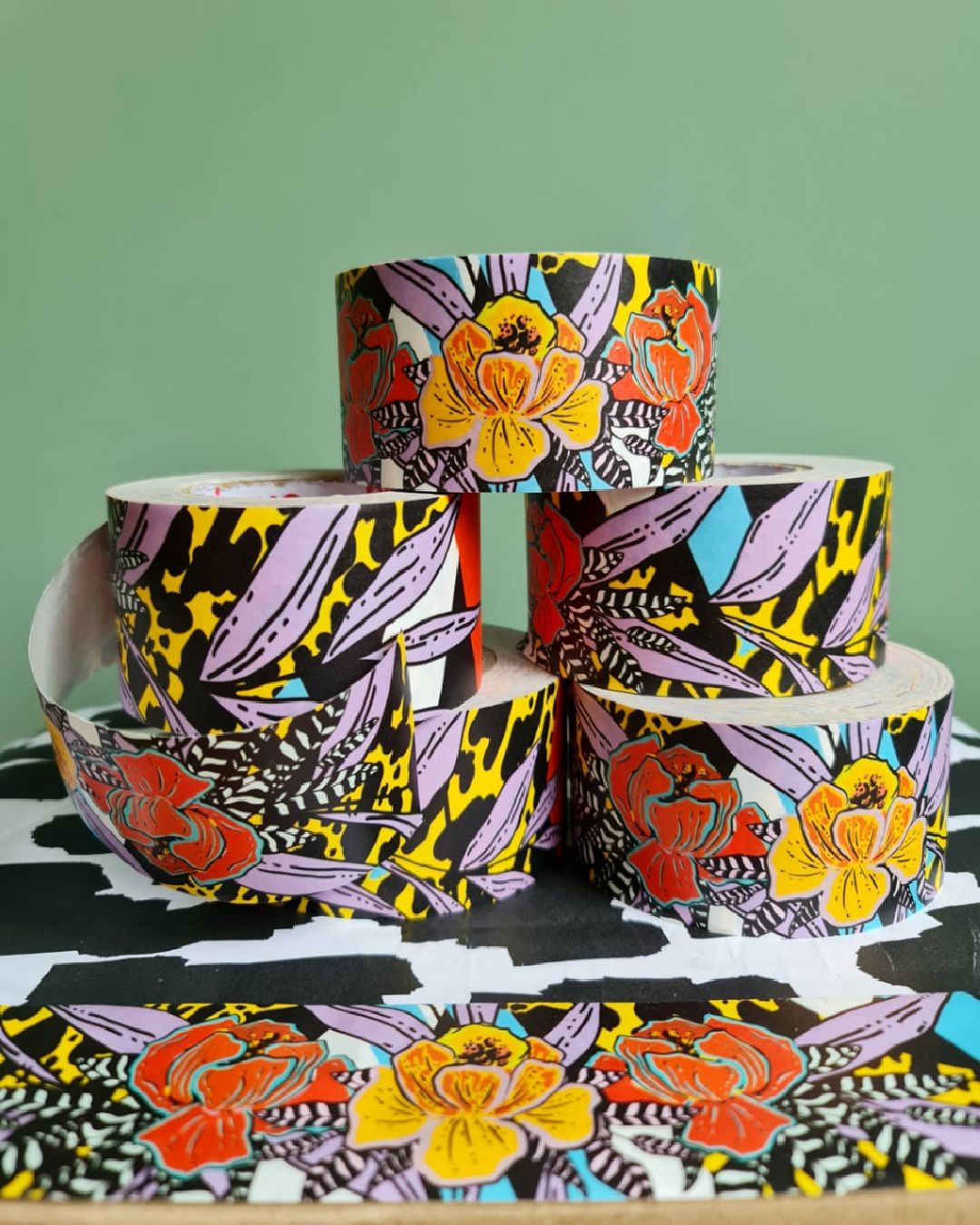 8. Mason jars and glass jars work well, too

Reusable glass jars are perfect for homemade gifts, such as baked goods, candles, and home decorations. People receiving your gifts can also reuse these jars.
You don't even have to buy them. If you have an empty glass jar on your shelf that can be used for this clever gift wrapping idea, go for it. Or just ask around — you're sure to find spare jars with people you know.
Mason jars work the same way. Put small gifts in these jars and decorate each one with candies, sprigs, eucalyptus leaves, or other small baubles. You can even hide your present by lining the jar with pieces of cloth, paper, or cotton.
How to wrap presents in the most eco-friendly way

There's no one perfect answer to this. By recycling wrapping materials from the previous year or holiday season, you're already practicing sustainability. The ones you can easily find at home should suffice as long as they are good enough to wrap your presents.
The sustainable gift wrapping options mentioned above will make your holiday celebrations more eco-friendly. And don't forget to start early next year, and save materials you can use for subsequent holidays. 🎄