noissue Custom Recycled Kraft Mailer by @dshaskey

The three R's – reduce, reuse, and recycle – are synonymous with success for sustainable businesses. While enacting all three is ideal, brands must consider what's best for customers. Companies can still provide an unboxing experience that's kind to customers and the planet through packaging made from better materials! In this article, we'll focus on the most common sustainable packaging framework: Recycle. ♻️
A Recycle framework is a simple solution to replacing non-renewable packaging with packaging made of recycled materials or recyclable at the end of its life. Packaging products under this framework are popular among consumers in metropolitan areas. Many commercial recycling centers are located in cities, and often, these centers offer accessible curbside recycling services. Packaging that can be recycled or is made from recycled materials is ideal for brands that want to reach modern consumers and increase their customer base.
Thinking about the end-of-life of your brand's packaging is equally important to ensuring that your unboxing experience is kind to customers and the earth. Your brand should consider switching to packaging under a Recycle framework for a seamless introduction to better packaging choices!
Read on about noissue's Recycle line of products and how packaging given an extended life can elevate your brand.
What is a Recycle packaging framework?
It might sound a bit confusing at first, but we promise it's not! A Recycle framework implies that packaging:
Is recyclable at the end of its life;
Is made from recycled materials.
Packaging that follows a Recycle framework is a hassle-free choice for budding brands and small businesses making the sustainable switch. Companies that use recycled or recyclable packaging are preferred among consumers and can lead to repeat purchases from customers.
Contrary to popular belief, recycled and recyclable packaging products are not as expensive as traditional packaging solutions, since recycled packaging products use previously in circulation materials. And many recycling centers are found in larger cities across the globe, so customers can swiftly and properly dispose of recyclable products at locations that accept paper and soft plastics.

Notice the slight difference in recycled vs. recyclable packaging. Let's define what sets them apart from one another!
Recycled vs. recyclable packaging products
True to its description, recycled packaging products are composed of non-new materials, ensuring that no virgin plastics are introduced into circulation. In recycled packaging, non-virgin plastics are mixed with other materials to produce products that are just as durable throughout a second life. Renewed materials found in recycled cardboard mailers and shipping boxes are given a new purpose, perfect for brands wanting to eliminate excessive waste!
Recyclable packaging is made from materials eligible for recycling after use, such as kraft cardboard or various kinds of plastic. Products like recyclable gift boxes, shipping boxes, tissue paper, and mailers are more eco-friendly than their traditional counterparts and avoid generating more waste that would otherwise end up in landfills. Recyclable packaging for clothing, accessories, subscription boxes, art products, and more adds value to the overall unboxing experience and helps set a more sustainable standard across industries and consumers.
Whether or not your packaging is made from recycled materials, always confirm that the products you use can be either commercially or curbside-recycled where cardboard or soft plastics are accepted. It takes a bit more effort to discern between what's recyclable and what's not, so keep reading to learn how.
What materials are considered recycled or recyclable?

Not all materials are recyclable, so it's necessary to know the difference between those that are and those that are only used as recycled materials.
Recycled materials:
Non-virgin cardboard (also known as kraft)
Non-virgin plastics.
Recyclable materials:
Cardboard or kraft
Paper envelopes and stationary
Plastics and soft plastics.
Of course, be sure to indicate what type of Recycle packaging your brand uses and proper disposal instructions to your customers. You can do so directly on your packaging, on an informational page on your website, or through posts on social media.
Now, pat yourself on the back for getting to this point! Understanding our Recycle framework will be next to second nature in making sustainability on-brand for your business.
Everything you need to know about noissue's Recycle packaging

If you want to create your best customer experience yet, see our catalog of recycled and recyclable packaging options. Read all about them below, and don't let your unboxing bore customers – check out our customizable Recycle packaging for branding your boxes, mailers, and more!
Recycled Boxes
noissue Boxes (US and EU only)
Made from FSC-certified recycled materials: 30% (coated Premium White boxes) and 60% recycled materials (Kraft and uncoated White boxes) for the US, or between 99% (uncoated White boxes) and 100% recycled materials (Kraft) for EU
100% recyclable, reusable, and compostable
Printed and coated with water-based ink
E-flute and B-flute materials ensure durability
Available in 8 different sizes to customize or as stock kraft
Pair with recycled tissue paper for an impressive, environmentally-minded unboxing experience.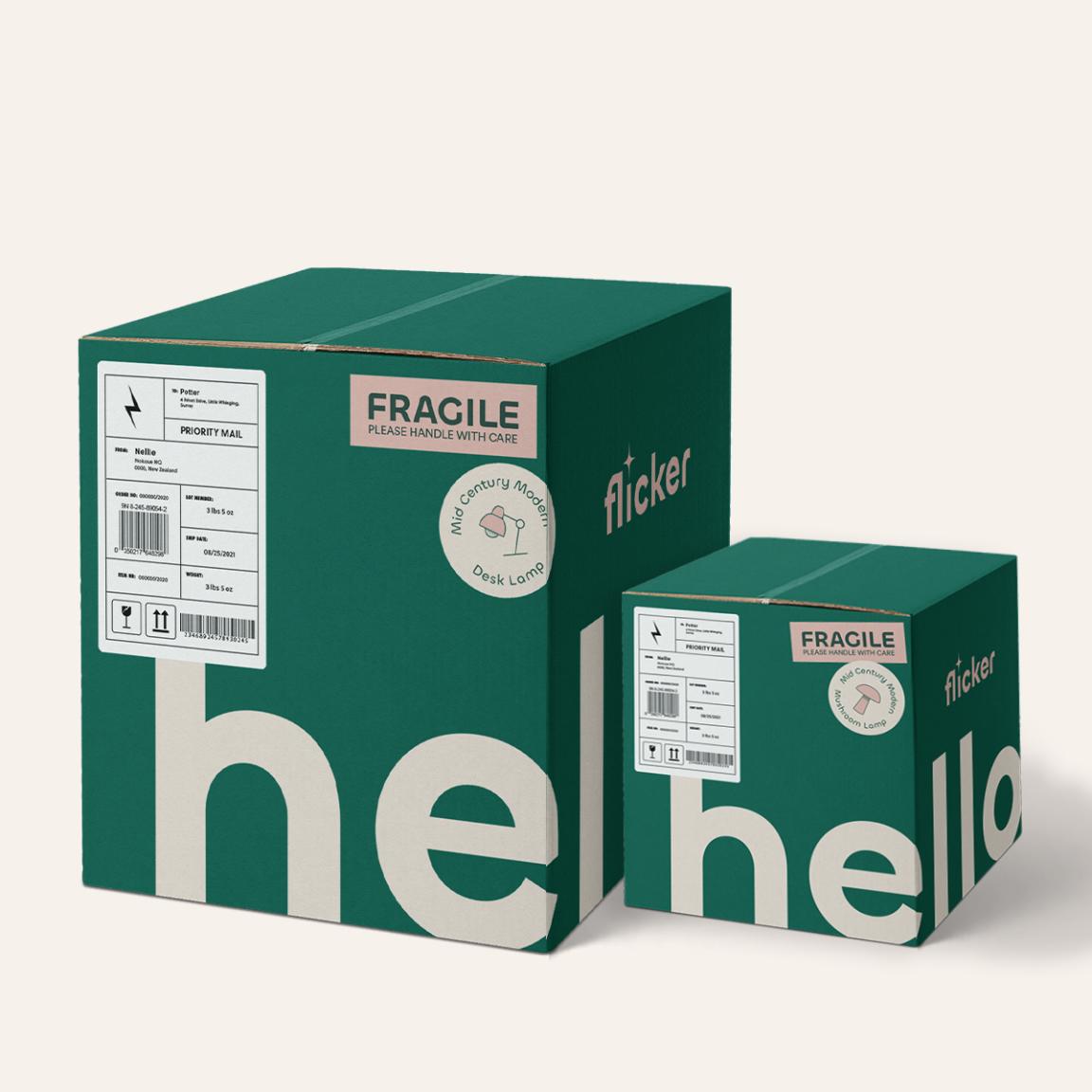 noissue Custom Container Shipping Box (US only)
Regular slotted container shipping box
Made from FSC-certified recycled cardboard: 30% recycled fibers (White coated) and up to 60% Uncoated (kraft and uncoated white)
100% Recyclable corrugated E-flute
Best suited for light to medium weight products (65lbs maximum)
Available to customize for double-sided printing with water-based inks
Choose between Kraft, Uncoated White, or Coated White base in 4 different sizes
Pair with an eco-friendly shipping label and branded packaging tape to seal your custom container shipping box.
Recycled Mailers
noissue Recycled Padded Mailer
Made from post-industrial 100% recycled low-density polyethylene (LDPE) on the outside and 20% recycled LDPE on the inside.
100% recyclable and reusable
Printed with water-based ink
Comes with two adhesive strips for reuse
Pair with branded tape or stickers that show off your logo.
noissue Recycled Mailer
Made from 100% pre-consumer recycled plastic waste
100% recyclable and reusable
Printed with water-based ink
Comes with two adhesive strips for reuse
Pair with branded logo stickers to decorate the exterior of your recycled mailers
noissue Kraft Mailer
Made from 100% FSC-certified recycled paper
100% recyclable, reusable, and compostable
Choose between flat or expandable options
Available in different sizes and weights to customize or as stock kraft
Ship artwork, apparel, textiles, and more in branded, recycled kraft mailers.
Other Recycled and Recyclable Packaging
noissue Paper Tube Packaging (US only)
Kraft paper outerwrap with SGS-certified foodsafe lining
100% recyclable
2mm thick walls
Comes in 4 different sizes
Available in White, Black, and Brown Kraft
Removable lids for easy access to products insidePair with FDA-approved noissue Foodsafe Paper and custom stickers for shipping food products, candles, artwork, and more.
noissue Tissue
Made from FSC-certified recycled materials that are acid-free, sulphur-free, and lignin-free
100% recyclable, reusable, and compostable
Custom printed with soy-based inks
Comes in two sizes and weights
Fill retail boxes and gift bags with eco-friendly tissue paper featuring your logo.
noissue Hang Tags
Made from FSC-certified 50-75% recycled or 100% post-consumer recycled fibers
100% recyclable and compostable
Custom, 2-side printed with non-toxic, compostable inks
Available in 3 different sizes and styles
Add your brand's QR code, product care information, or disposal instructions on eco-friendly hang tags for clothing, accessories, and more.
noissue Recycled Cards
Made from FSC-certified 100% recycled paper
100% recyclable and compostable
Custom printed with eco-friendly inks
Available in multiple sizes and weights
Perfect for creating custom recycled greeting cards, branded thank you cards, event invitations, and more.
🎁 Wrapping it up

That's everything you need to know about recycled and recyclable packaging! When choosing products that follow a Recycle framework, know that you're taking a responsible step forward in becoming more sustainable as a brand. Your customers will be thrilled to experience premium packaging that won't contribute to excess waste and can be given a new life at the end of their unboxing!
Keep in mind that your brand can have it all for conscious and creative packaging. noissue's custom packaging that's recyclable or recycled can tick those boxes and more! Don't settle for anything less than sustainable for your customer's experience. Giving materials a new life outside landfills is a stellar starting step that your brand can make today!

We've got your favorite packaging products in wholesale quantities, too! Head to noissue Plus for more information and get in touch with our talented Design team for your business's custom packaging.