When it comes to branding, it's not all about the visual things. Your communications make up a huge portion of interactions with your customers, whether they're reading your Instagram captions, seeing a poster on the street, or receiving an email newsletter from you.
Words have power, and the ones you use can powerfully shape how your brand is seen by your audience and can give you the confidence to stand out and speak up to share your message.
Shaping this experience is all about finding a unique brand voice and implementing it consistently across your business. But how do you know what your voice is? And what steps can you take to actually use that unique voice?
Voice vs. Tone

Voice and tone are often used in the same sentence when talking about your brand, but what's the difference between the two?
Well, your voice is essentially your brand's personality. Just like your actual voice, everybody has a unique brand voice and it stays consistent throughout your brand.
Your tone is about your attitude. While your voice stays the same, the tone you use will change depending on who you're talking to, what you're talking about, and where you're talking.
To start determining your brand's different tones, think about the different stages of the customer journey, and what the customer needs at that time. For example:
Social media content: inspirational & educational.
When a customer is getting to know you on social media, they want to get value from you, whether that's through inspiration, education, or entertainment.
Customer service: professional & understanding.
If a customer is contacting customer service, they want to feel heard and understood, knowing that you're able to reliably help them.
Purchase confirmation and follow up: warm and welcoming.
When a customer has purchased from you, they want to feel like part of your community, and like their purchase has a purpose.
The different stages of the customer journey and what your customer needs at each stage will differ for each brand.
Why your brand voice matters
1. Your brand voice helps you stand out

If you want to stand out from the crowd and have your message to be heard, you need a distinct voice. SproutSocial asked consumers why some brands stood out more than others. Forty percent said memorable content, 33% said distinct personality and 32% said compelling storytelling.
Brand voice is a huge part of creating memorable content, crafting compelling storytelling, and defining a distinct personality, all of which make your brand stand out from the rest.
For example, Hello Cup uses a brand voice that is completely different to that of the hygiene products we're used to, which makes it stand out from its competition and surprise its audience.

2. Your brand voice speaks to your ideal customer

Having a clear brand voice also allows you to speak directly to your audience and attract your ideal customer.
When you truly know your audience, it makes it super easy to talk about things they're interested in, in a way that appeals to them, in the places that they're spending their time.
Your brand voice will attract the attention of your audience by speaking to them in an appealing, relatable way, and ultimately enable you to turn those customers into a brand community.
Hello Cup do this well across their brand, including their Instagram captions. In this post they're talking about a relatable topic for their audience, pinpointing how they feel, and using words and phrases that they would use.

3. Your brand voice increases recognition

Brands that are consistently represented gain 3–4 times more visibility, and can lead to a 23% increase in revenue, so using a consistent voice is key to growing your brand.
A consistent voice allows you to create a memorable brand experience that your audience recognises and loves. This reliability when it comes to your brand voice really helps to establish trust with your audience, and show them that you are a brand to remember.
How to find your unique voice
1. Know who you are

Before you start finding your unique voice, you need to first know your vision, mission, and values. These vital elements of your brand will influence the message you want to share, who you want to share it with, and how you want to share it.
For example, Spotify's mission is to unlock the potential of human creativity – by giving a million creative artists the opportunity to love off their art and billions of fans the opportunity to enjoy and be inspired by it. Their values are innovative, collaborative, sincere, passionate, and playful.
From these you can pull out key words that could influence Spotify's brand voice, such as:
Inspirational
Sincere
Passionate
Playful.
Your vision, mission, and values can do the same, ensuring that as you're telling your story in a way that reflects the direction of your brand and works together across every touchpoint.
Knowing who you are is also about knowing your brand's personality. You can explore that by asking questions like these:
If my brand was a person, how would I describe my personality?
E.g. Daring, unafraid, reckless.

How would I speak that reflects that?
Daring = encouraging, cheeky, high-energy.

What kind of person would I be?
The bad influence? The cool aunt? The bad boy?

What kind of actions would that person take?
Bad influence = encourage you to try new things, dare you, make you feel like a cool kid, etc.
This example describes the brand as your wild, creative partner in crime, and shows examples of actions this brand would take. It also lists traits of the brand's persona.
2. Know who your audience are

Having a brand voice is important, but it's nothing if it doesn't appeal to your audience. Using your audience and buyer personas will make sure that your voice not only reflects who you are, but also who your audience wants to engage with.
Questions you can ask about your audience are:
Who are they?
What do they value?
How do I want them to feel?
How do I not want them to feel?
What do they need at each stage of the customer journey?
What else do they consume?
3. Combine these to create your brand voice

When you know who you are and who your audience is, it's time to craft your brand voice!
Here are the things to include in your brand voice:
Characteristics
These are the 3 to 4 key distinctions about your brand voice. E.g. Passionate, quirky, irreverent, authentic.
Description
Alongside your characteristics, include a description of what that looks like in practice. E.g. Passionate = we're passionate about changing the way the world works.
Do's
Then, include things you and any other writers can do to execute that characteristic in your copy. E.g. Use strong verbs, active voice, and energetic language.
Don'ts
It's also important to clarify what not to do so as to not contradict your brand voice characteristic. E.g. Be vague or apathetic, use a passive or active voice.
Examples
To help you implement your brand voice, find and include examples from existing copy of your own or another brand's that shows each characteristic done well.
As well as these core elements of your brand voice, you can also include a word bank and emoji selection that fit these characteristics. This will make it easier for you to infuse your personality throughout your copy with a list of words and emojis that represent your brand voice.
How to consistently use your voice

The key to crafting a consistent brand message is by using your brand voice consistently. Here are three steps to doing just that.
1. Create brand voice guidelines

A brand voice guidelines document can be a small but mighty tool for you and your team to use on a regular basis. Simply collate the elements of your brand voice mentioned above into an easily accessible and digestible document that outlines everything clearly.
Your guidelines should include your:
Mission
Vision
Values
Brand personality
Persona
Personality traits
Actions
Characteristics
Description
Dos
Don'ts
Examples
Word bank
Emojis.
Mailchimp has an incredible brand voice guide if you're looking for inspiration. Yours doesn't have to be this detailed, but it will give you an idea of what to include.
You can also view a library of other examples of brand tone and voice here.
2. Circulate around your team

Once your brand voice guidelines have been written, you can circulate them around your team. This includes any employees, contractors, or suppliers that you work with who may need to write copy of any kind for you.
This could be Facebook ads specialists, website designers, social media managers, admin assistants, content creators, and others.
This document will guide them and ensure that your brand is consistently represented, no matter who is writing on its behalf.
3. Test and tweak

As you start implementing your brand voice, it's important to take note of how it is working or not working. Capture any copy that you feel represents your brand particularly well and add it to your guidelines document.
Notice when customers respond strongly to your brand voice and analyse why. Regularly test and tweak your brand voice and how it is implemented to ensure that your brand is represented to the best of its ability, and your audience is responding in the best ways possible.
Finding your voice is a powerful process that can really uncover who you are and what makes you different. When you have a unique voice and a platform to use it, the world is your oyster, and you're ready to change the world.
It's time to find yours so you can show up, stand out, and speak up with confidence. 📢
---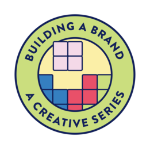 Building a Brand is a series by noissue that helps entrepreneurs establish the building blocks of their brand's identity. You might be starting a new business, or you might have an already established brand that needs a little work. Either way, you'll find many great takeaways in this series! A new story will be released monthly, so be sure to check back for more if you enjoyed this piece.