As we round out another wonderful and strange year, we can't help but look back at the variety of incredible designs shared within our Creative Community.
From striking illustrated elements to sleek typography, we saw a huge increase in design inspiration, passion projects and client work this year. Our Creatives have been busy and motivate us with each design post.
It's with fondness that we tie a bow on this year with some of our favorite designs from the past 12 months! Check them out below and find some inspiration for your business's branded packaging for 2022.
1. Thank you cards by Eva Couto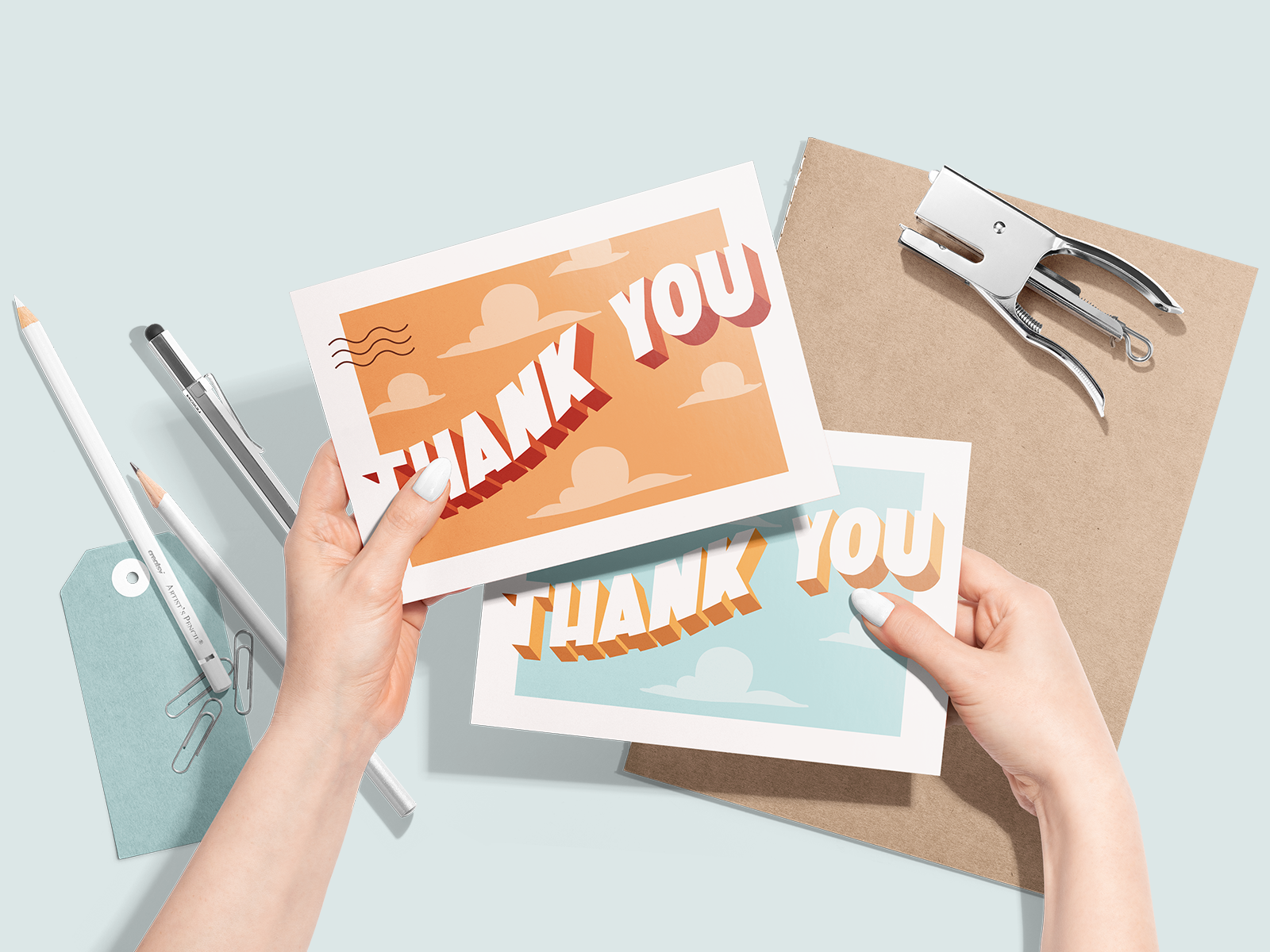 First up, a massive thank you to each and every one of our incredible and resilient Creatives! Bearing witness to your creativity and design magic this year has been one of our favorite things.
In that spirit, Eva Couto's thank you card design had to make our list! Helping creative business owners stop hiding behind their brand insecurities is one of Eva's superpowers.
She helps brands showcase their true colors through the use of bold colors and badass strategy. Eva offers brand coaching, graphic design, branding strategy and more. We can expect the bold typography and cheerful color palette in Eva's card design to be representational of her personal design philosophy.
2. Custom box by Maria Marano Studio

The serenity of this passion project design by Maria Marano Studio first caught our eye in a sea of designs. The muted color palette, geometric (almost art-deco) shapes and sleek typography made for such a refreshing brand identity for this imagined beauty subscription box!
Based in Italy, Maria deploys her love of visual communication in each and every design element she crafts. Forming deep reciprocal relationships with her clients allows her to best elevate their brands with the perfect designs and packaging items. Apart from branded graphic elements, she also offers custom stationary services for weddings!
3. Custom tissue paper by Happy Day Design Co

Founded in 2019 by Jennifer Slogar, Happy Day Design co specializes in branding and custom portraits, as well as stickers, prints, stationary, sun catchers and tote bags. With every store purchase, Happy Day Design Co hopes to deliver a little bit of happiness into the hands of the customer.
This particular design, filled with rainbows and vases full of flowers, was such a cheerful addition to the noissue co homepage earlier in the year! Giving us true spring vibes, this tissue design is one sure to bring a smile to the face of each recipient.
4. Custom stickers by Yenny Creative

It's no secret that we love a good sticker design and this is no exception! Yenny of Yenny Creative is a Vietnam-based designer with a love for all things retro! Her signature rich tones and nostalgic shapes shine through on this gorgeous packaging design for the Oh Honey! brand.⁠
Oh, Honey! is a UK-based honey brand that specializes in crafting 100% pure and natural honey. These branding elements have just the right amount of sweetness while still feeling fresh.
5. Custom tissue paper by Studio Kynd

Studio Kynd is a Brighton-based design studio founded in 2020 by Niobe Elliott. Their design is intentional and thoughtful, for kynd people. Inspired by their travels, they are dreamers and creative thinkers. Always thinking outside the box, exploring new ideas, and rebelling a little!
This spotted design was crafted for Home At First Sight to help create the ideal branding and packaging to fit their business. Home at First Sight is a UK-based online store offering beautifully curated home décor, soft furnishings, and lifestyle pieces. For this project, they opted to use noissue co's custom tissue paper and cards to tie everything together.
6. Custom tape by Design Fern
Hanna of Design Fern crafted this stunning, scarlet branding as a part of a design challenge for an imagined hat company. The resulting branding for Hey Clover, a headwear brand founded by two sisters, had to feel luxurious and sleek. Hanna focused on a rich color palette, clean illustrated elements, and high quality packaging to bring it all together.⁠
The foil printing on noissue stock boxes is the cherry on top as it adds an elevated and elegant touch to the branded packaging design! ⚜
7. Custom cards by Maybe Today
Maybe Today is a collaborative design practice based in Melbourne, run by Natasha Maben. Inspired by dreamy skies, architecture and the everyday, they are interested in all creative projects, big and small.
Always intentional and thinking about the bigger picture, Maybe Today's stunning thank you cards are the perfect way to express gratitude. The vibrant colors and fun shapes are versatile and eye-catching. We can't get enough of this design!
8. Custom stickers by Fatimughart
Fatima of Fatimughart created this stunning branding package for Scotland-based luxury candle company 38th House. Fatima's signature warm palette and stunning typography shines through in these sticker designs!⁠
Warm, elevated and clean, this branding speaks volumes without being too flashy or over the top. Noissue stickers are the perfect way to add that branded touch to any packaging elements that a brand needs to stand apart.
9. Custom tissue paper by Jovietajane Creative
Jane Kusama (aka Jovietajane) is a Seattle-based, Chinese-Indonesian illustrator, letterer and designer running her own creative shop. She is passionate about mental wellness, dogs, and most importantly, a just and sustainable future for all. Her goal is to create more printed goods that bring warmth and focus on mental wellness messages with a sprinkle of dogs and bright, maximalist illustration to boot.
This gorgeous and colorful design was the perfect way to celebrate Asian American & Pacific Islander Heritage Month back in May. We're in love with the subtle and traditional shapes in this tissue and sticker design.
10. Custom tape by Anna Katharina Jansen
Anna Katharina Jansen is a Germany-based illustrator, designer, and maker. She currently runs her own Etsy shop offering a variety of art prints, illustrations and cards.
The cheerful vibes and earthy color palette with pops of bold blue and red caught our eye in the summertime and we couldn't look away! What better way to say thank you to small business shoppers than with a unique and customized tape design? Anna's signature texture, happy figures and vibrant colors made for a design we won't soon forget.
Wrapping It Up

Of the over 200 designs that we shared on Instagram this past year, it was quite tricky to select just ten favorites!
We hope you've enjoyed taking a walk through memory lane with these featured designs, and check out the other incredible projects and commissions that were shared in 2021.
If you want to see more special creations, check out the noissue Creatives Instagram, TikTok and Pinterest.
Here's to hundreds of gorgeous new designs in 2022!