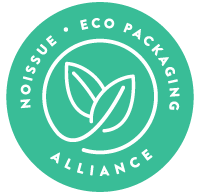 It's no secret that our pets are one of the biggest sources of joy in our lives—any pet guardian can definitely attest to that! Whether you're a dedicated dog-lover or more of a feline friend, there's no denying that our furry friends are some of the most loyal and dedicated companions we'll ever have in our lives. That said, isn't it only right that as their human companions, we help them live out their best lives, too?
That's something that the brand Holly & Co. definitely understands. Based in Australia, Em is the founder behind the brand, who has made it her mission to give every pet the most fun and unique accessories and tools they need to live out their best lives! From the cutest collars and bows to charms, leashes, and harnesses and many more, Holly & Co has everything you'll ever need to give your pet the cool, stylish life they deserve! Whether it's for days you're out on adventures or days celebrating special occasions at home, Holly & Co is the one-stop-shop that'll make you and your furry pal the main character at any kind of event.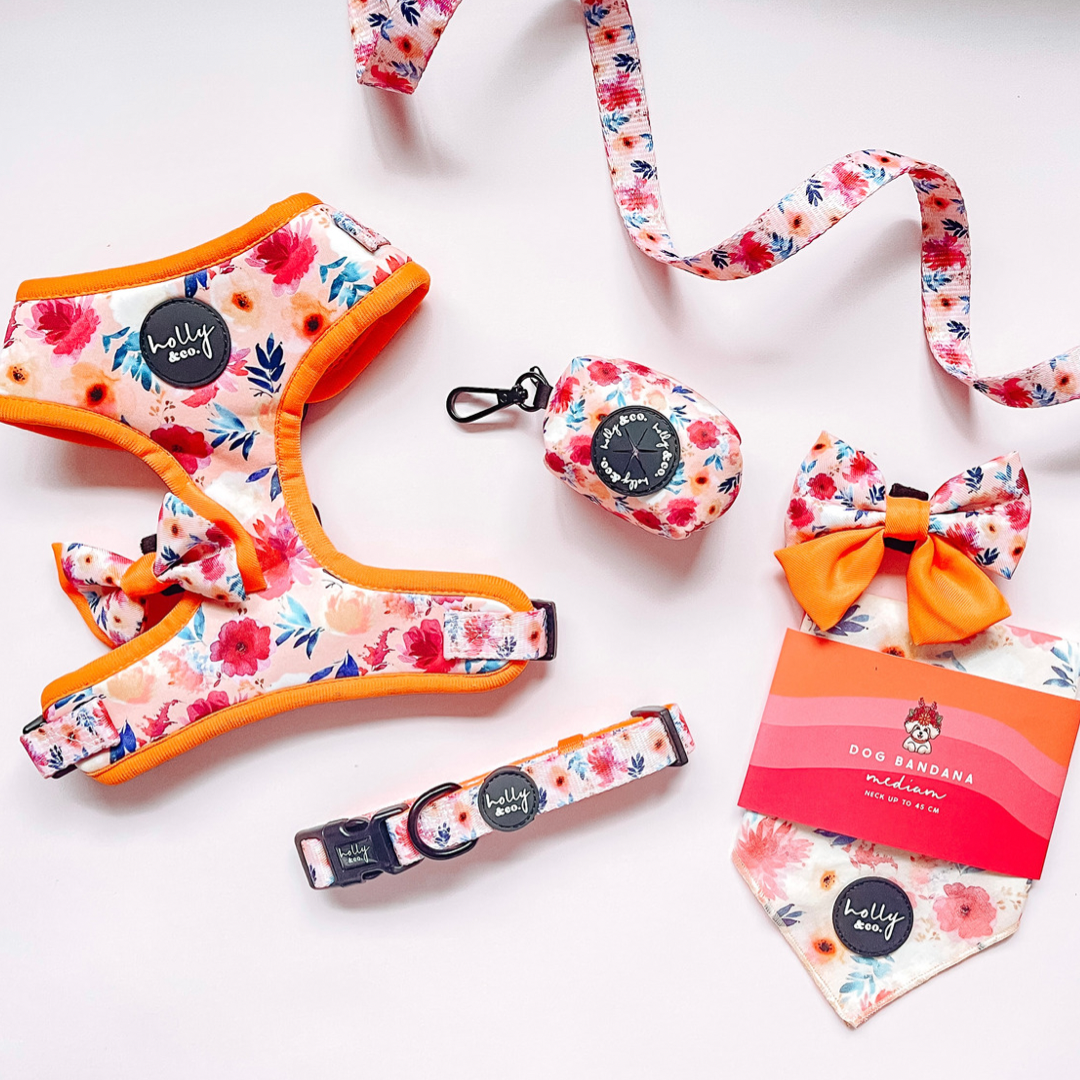 But the products you'll find at Holly & Co. aren't just any ordinary pet accessories. Every single item, from the minuscule collar charms to the shirts and hoodies (made for humans), is carefully crafted by skilled artisans both in their workshop in Australia, as well as by others across the globe. But that isn't the last thing that makes Holly & Co. special, either. As you might've noticed from the brand's own name, Holly & Co was inspired by one particular furry friend—and a very special one, too. Holly was Em's own precious Maltese-Shih Tzu, who was the very reason behind what Holly & Co. is what it is today. As Em shares, it was Malshi who was the very inspiration and brains behind the brand—who also did some modelling for it, too! Unfortunately, Holly made her way to dog heaven in October of 2020, touching many lives on earth before her passing. With Holly & Co., Em aims to spread that very same spirit and positivity that Holly had during her time on earth.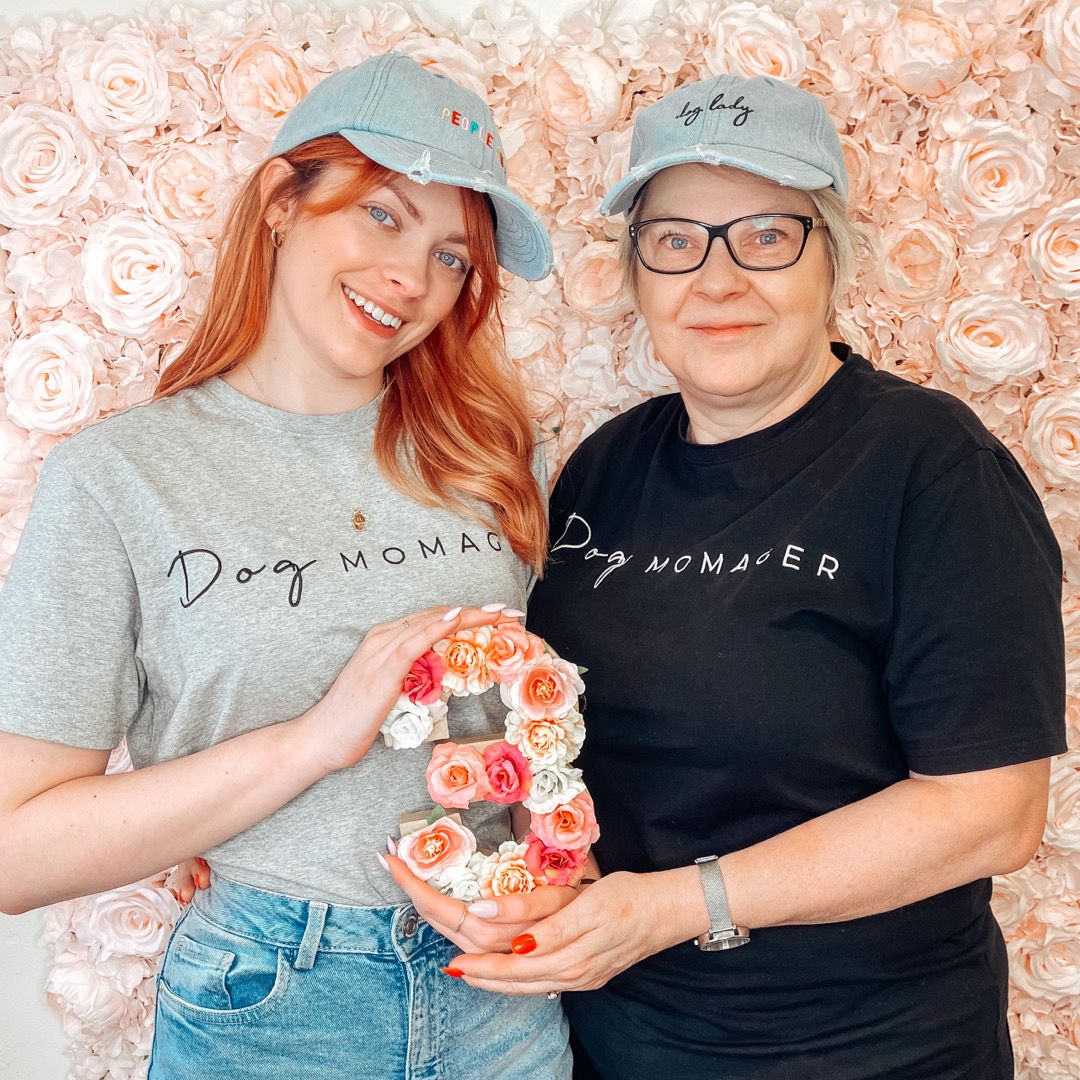 That said, at Holly & Co., Em's main mission and vision is to go above and beyond to design unique accessories for pets that are of the highest quality and durability, and that spread positivity among the dog community! In particular, this means that every step of the production process is carefully researched and developed down to the tiniest detail, to make sure that every product you take home from Holly & Co. keeps your own furry friend safe and stylish! Each and every piece is expertly handcrafted to ensure maximum durability, comfort, as well as some of the most stunning and creative designs you'll ever find, that your own furry friend would probably need their own runway to strut on, too.
And beyond their dedication to designing for practicality and aesthetics for your pets, Holly & Co. are also passionate about their mission to spread joy and positivity among the dog community. For every purchase from their store, one dollar is donated to organizations that help dogs in need!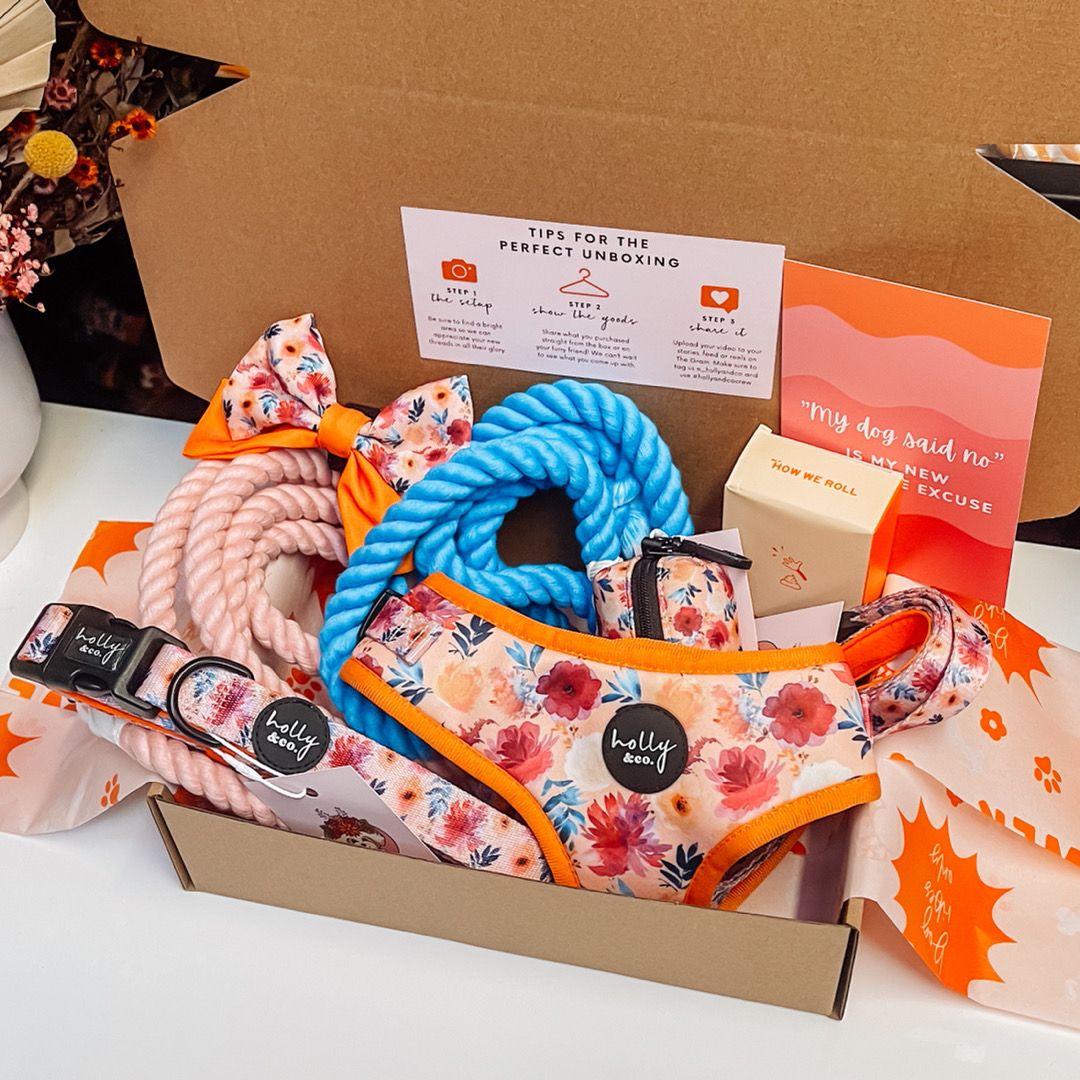 The Holly & Co. team are definitely certified animal lovers, but they're also dedicated to taking care of our planet, too. As Em shares, as a business, Holly & Co. is committed to reducing their footprint on the earth as much as they possibly can—which is why besides creating their products to be as durable as possible, they also opted to use 100% sustainable and recyclable materials for all their packaging!
And when it came to searching for that exact kind of packaging that would also showcase their unapologetically cool side, Em was happy to have found noissue's entirely sustainable and customizable packaging! It was important to the brand to be equally committed to sustainable values as well as their fun and unique packaging, and Em was happy to have found just the right packaging for both with noissue!
And along with having her entirely earth-friendly packaging, Em was also happy to have her brand as part of noissue's Eco-Alliance, where she could take her environmental efforts a step even further by contributing to reforestation with her every purchase. Moreover, in joining the Eco-Alliance, Em also hopes to help showcase to other brands that taking steps to becoming more sustainable doesn't have mean anything complicated at all! It can be as easy as making these small—but meaningful—decisions that have larger impacts in the long run.
"We have joined noissue's Eco-Packaging Alliance to show others that we are committed to doing good things. We want to show others how easy it is to become eco-friendly."
Besides making that switch to using sustainable packaging, Em also makes efforts to become even more sustainable within her brand, too, such as by going completely paperless in all their operations! Sustainability is also a large factor within Holly & Co.'s creation process, too, and they are committed to manufacturing products that aren't just undeniably cool, but will also stand the test of time and won't end up in a landfill within a few months. Perfect for you and your furry companion, and for the environment!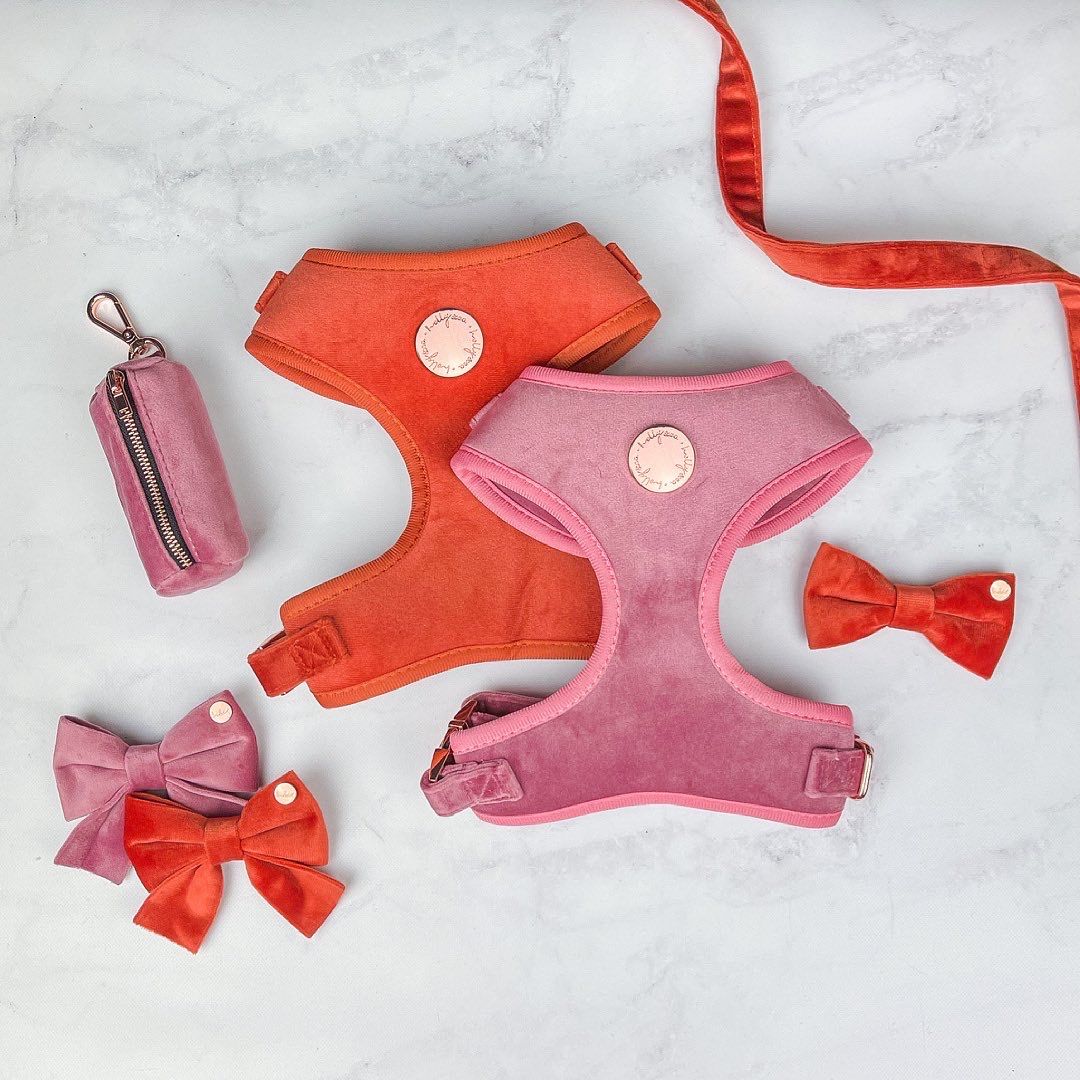 It's clear that Holly & Co. aren't just the kind of brand you'll find anywhere else, and it's their commitment to providing the very best for your pets and spreading positivity and awareness that also makes them a special one! Besides their commitment to donating one dollar to dogs in need with every order, they also have a special smiley design, where ten percent of profits are also donated to an organization that promotes positive mental health!
And though they may be a one-of-a-kind brand in the industry, it definitely hasn't always been a walk in the dog park. As Em shares, one of the biggest challenges they've had to face so far was in finding several other businesses attempting to replicate their own products and brand image. As a creator and founder, Holly & Co. is a brand that holds much personal significance to Em, and so coming across other businesses that attempt to replicate the fruit of her hard work has always been devastating. However, over time, it's only made her and her team stronger in the long run.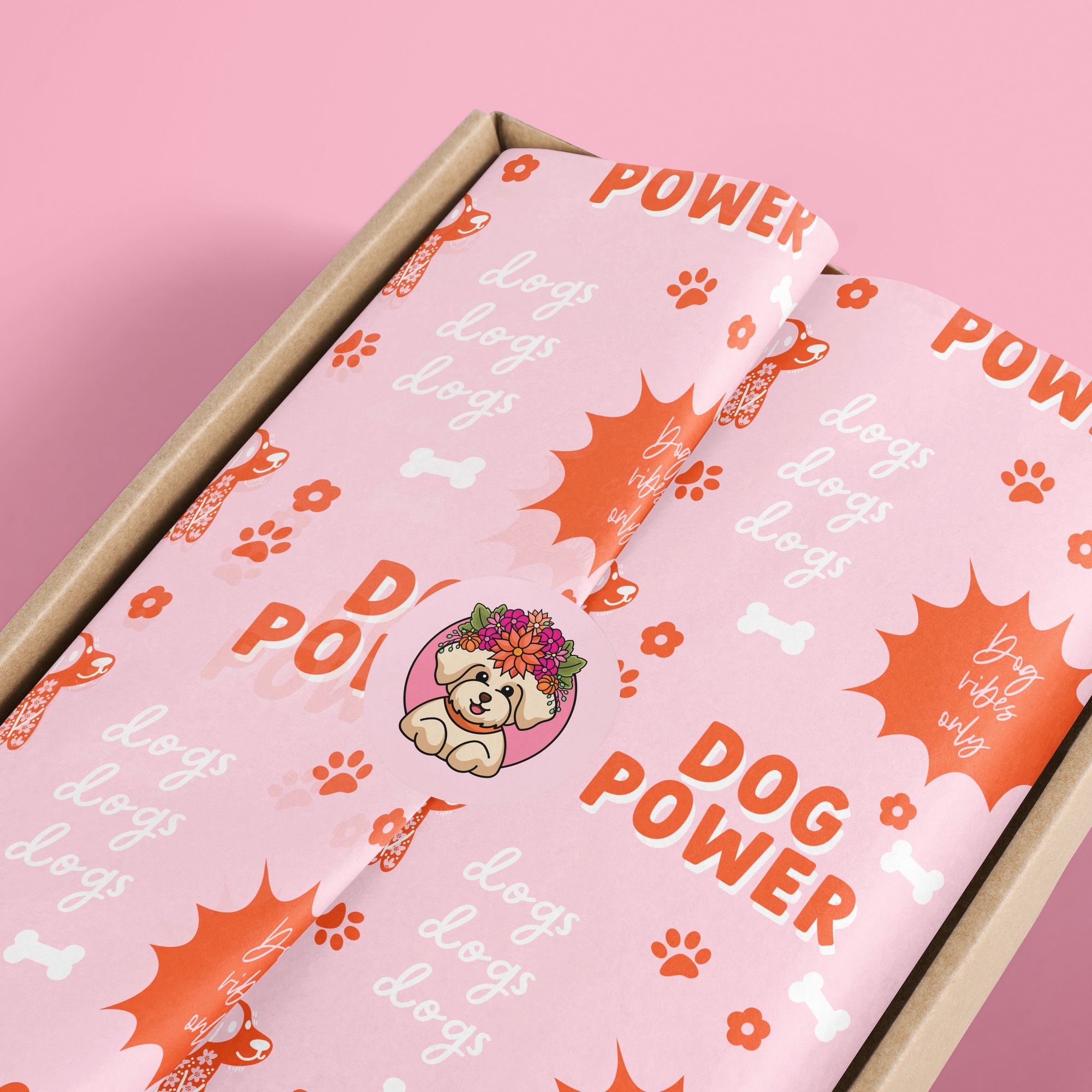 That said, for others who also hope to start their own businesses, Em's foremost piece of advice is to be unique! Find a concept that hasn't been done yet by anyone else in the industry, and don't be afraid to stand out from the crowd. And finally, she also advises to just be your own genuine self, and have fun! Everything else will eventually follow.
And if you ever come across Holly & Co. for something to give your own furry pal, it can definitely be a challenge to pick out a favorite from their many vibrant designs! But take it from the brand's owner herself: her personal favorite collection is their velvet collection. In fact, they were the first within the industry to create and perfect these one-of-a-kind accessories! Unique, luxurious, durable, and affordable—what more could a pet lover ask for?
With their dedication to doing good for the dog community and commitment to caring for the environment, Holly & Co. is a brand we paw-sitively love!
---
Find more of Holly & Co. here:‌‌‌‌‌
‌‌‌‌‌‌‌‌
Website: hollyandcoau.com
‌Instagram: @_hollyandco
Like this story? Tell us yours! Share your brand story and love for your custom packaging and get a chance to be featured on the wrap! If you're a noissue customer and are interested, you can join the Eco-Alliance by clicking here and answering a few questions here.
Questions? Email us at ecoalliance@noissue.co