Custom box and custom tape by @designfern. Learn all about noissue's Custom, Recycled boxes here! Not sure of which box to personalize? Here's how to choose the right box for your brand.
If you're looking to create a branded box for your business, the design process doesn't have to be challenging. It's possible to create an awe-inspiring design without any previous knowledge of designing a personalized box – all you need is a little help along the way!
Here at noissue, we have two options for designing a personalized box:
1) You can create your own design by uploading your artwork.
2) You can use one of noissue's customizable templates and add your logo, business name and any other callouts.
Both options are user-friendly, but creating your own design online requires you to upload a finished artwork in an AI, PSD or PDF format. We provide box templates that a design can be added to, but this may require a professional designer's help if you're not used to using these platforms.
Alternatively, using one of noissue's customizables template is a beginner-friendly way to create an unforgettable unboxing experience. You simply choose your favourite design, submit all the key information you want included, and our design team will do the rest!
Why should my business be using a personalized box?

It's called an unboxing experience for a reason! Ecommerce packaging is one of the first instances in which a customer has a physical interaction with your brand. Creating a personalized box is a great way to enhance this experience and get people engaging positively with your business and its products.
With noissue's boxes, there is the option to custom print on the inside only, outside only or both inside and outside the box. Consider the entire package a blank canvas to feature your brand's key information on!
Want to see how to design a personalized box, step-by-step? Take a look at our handy visual guides below.👇
How to design a personalized box using noissue's custom templates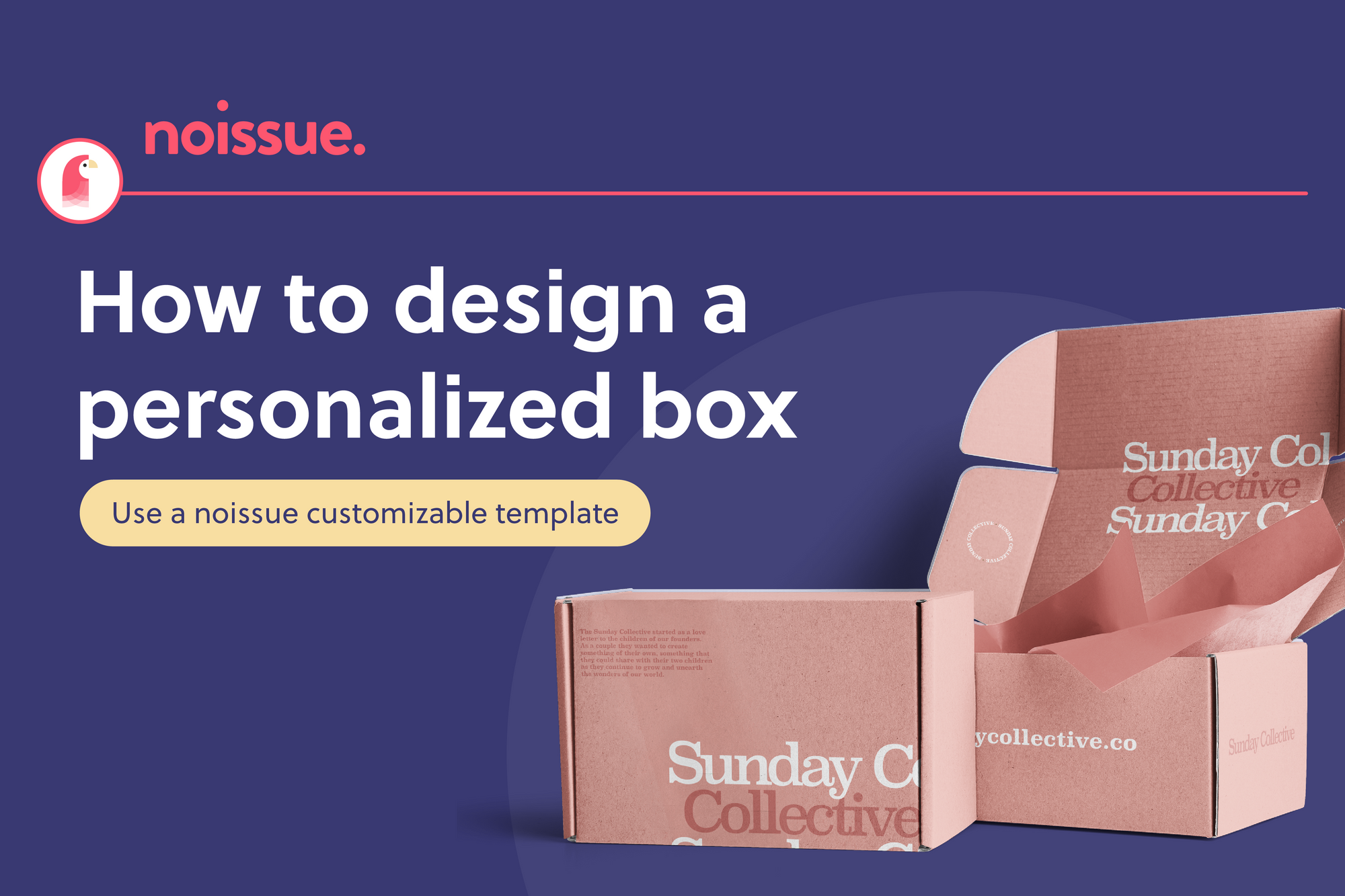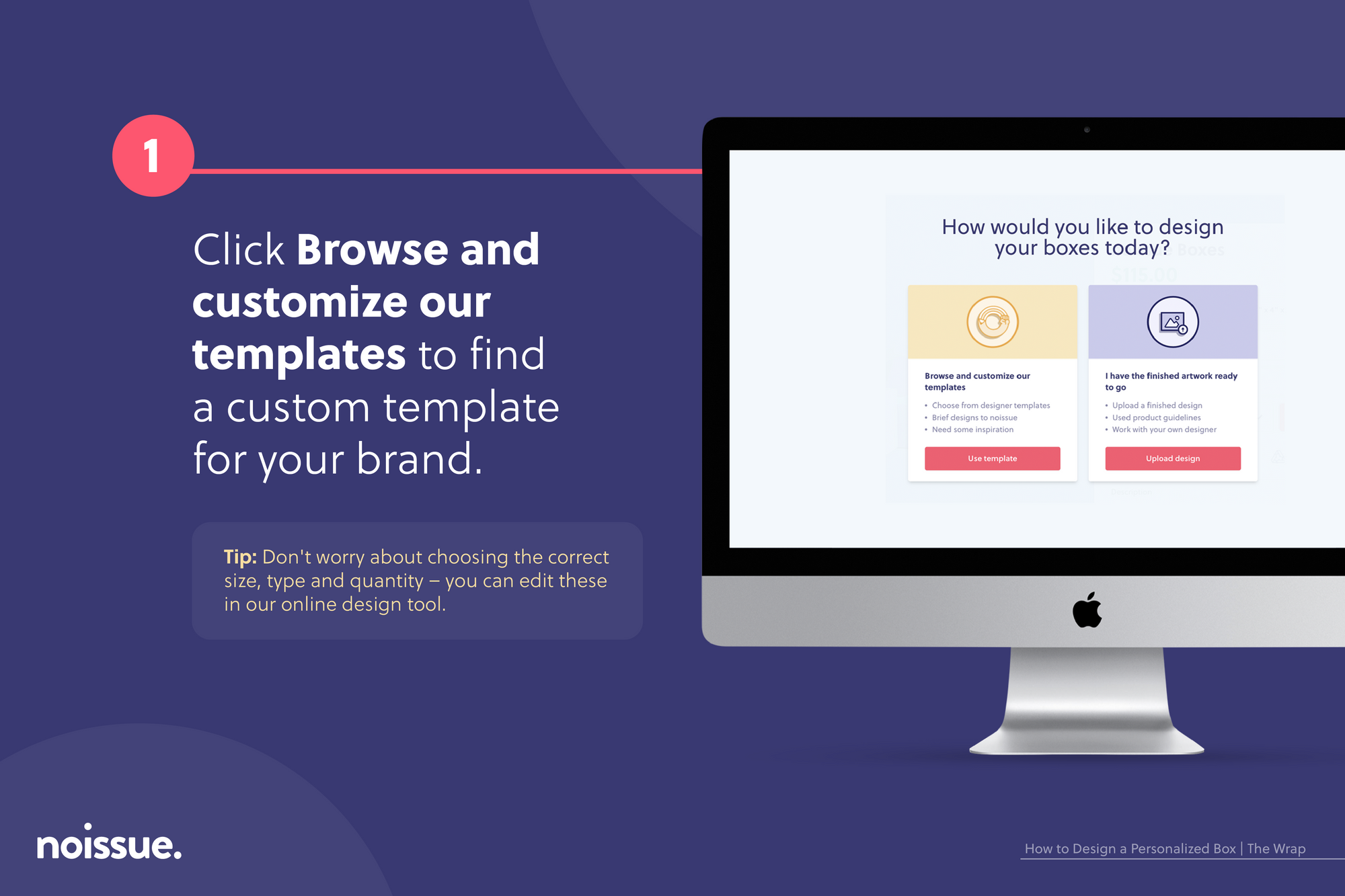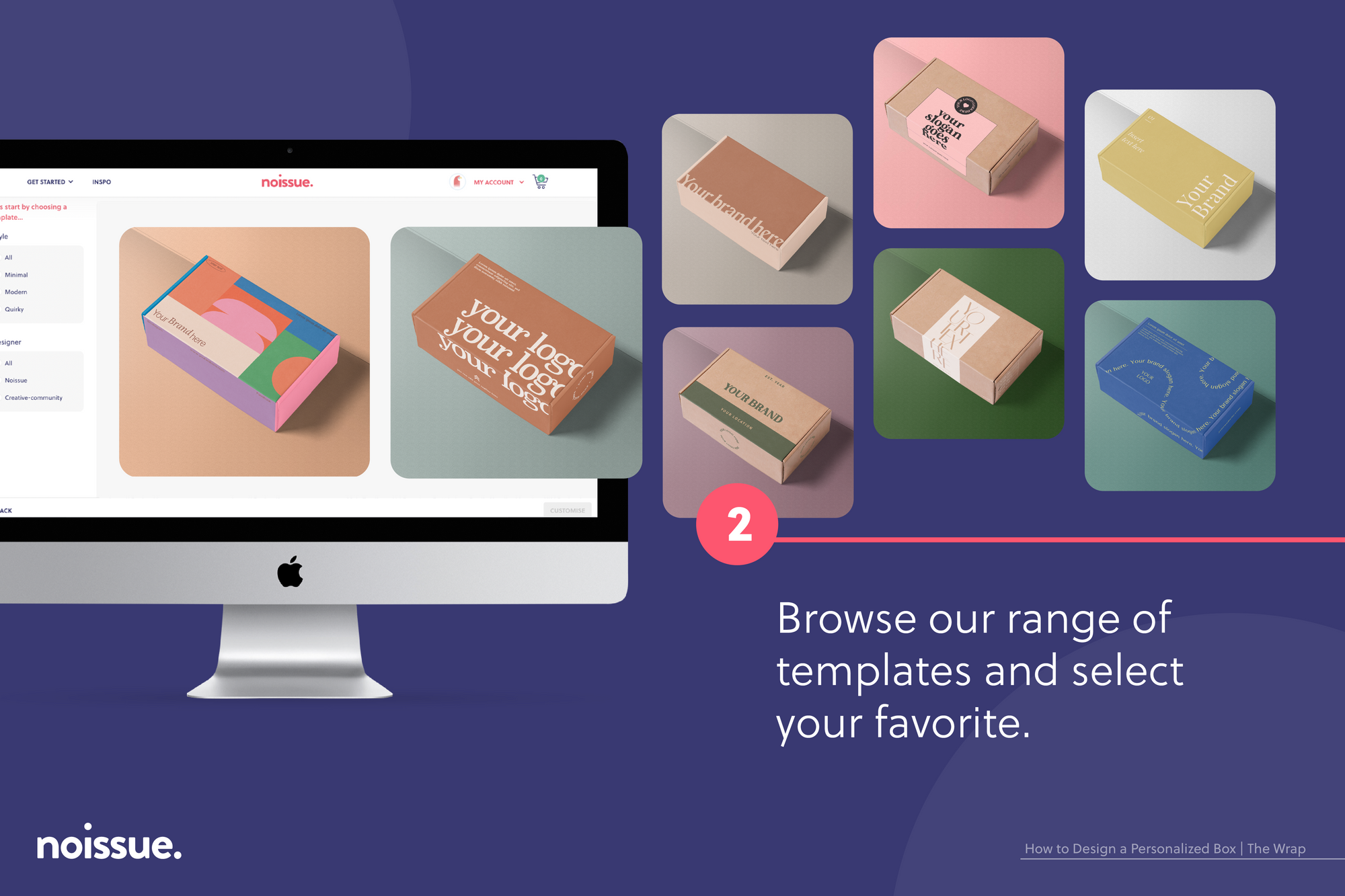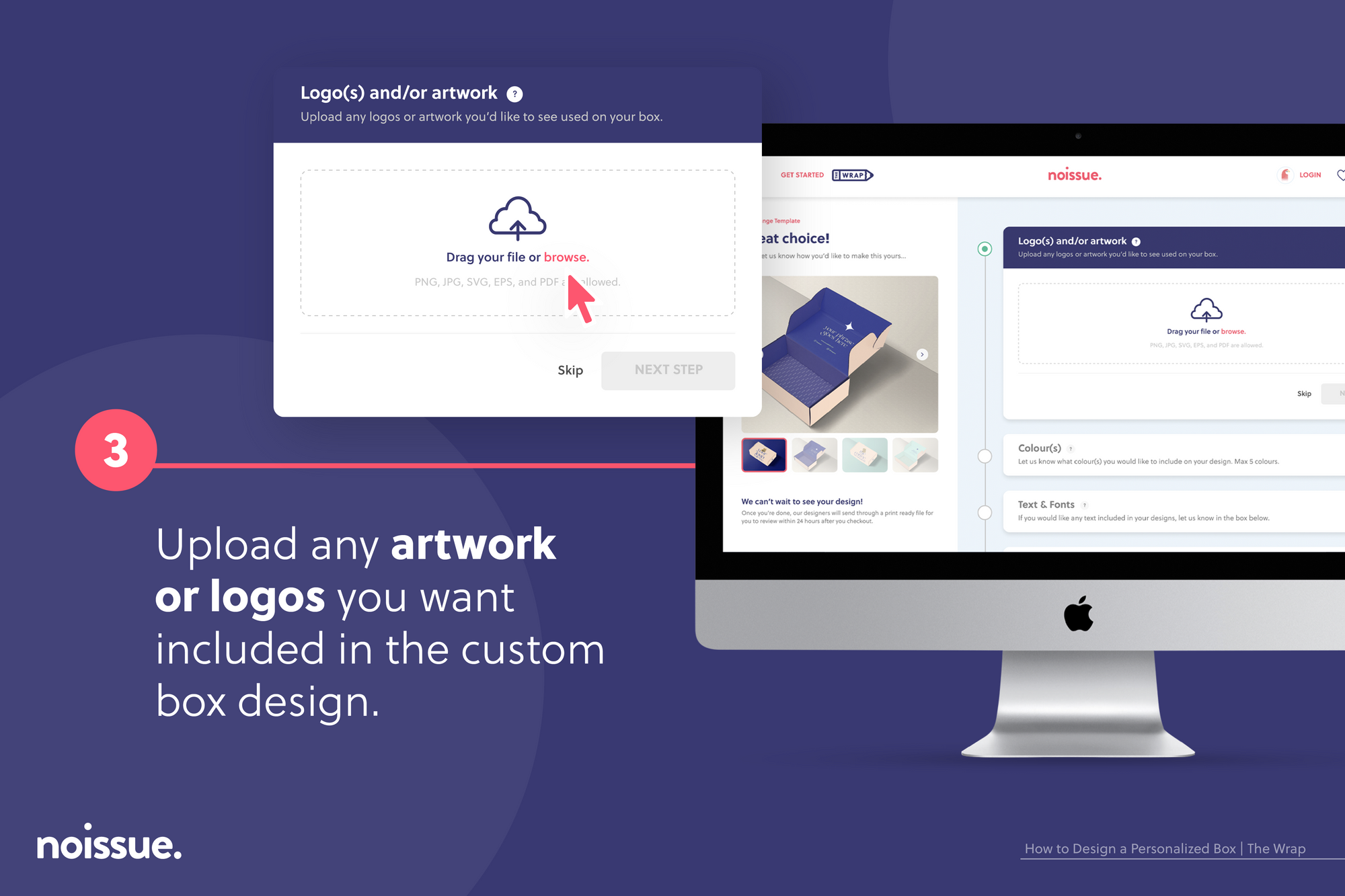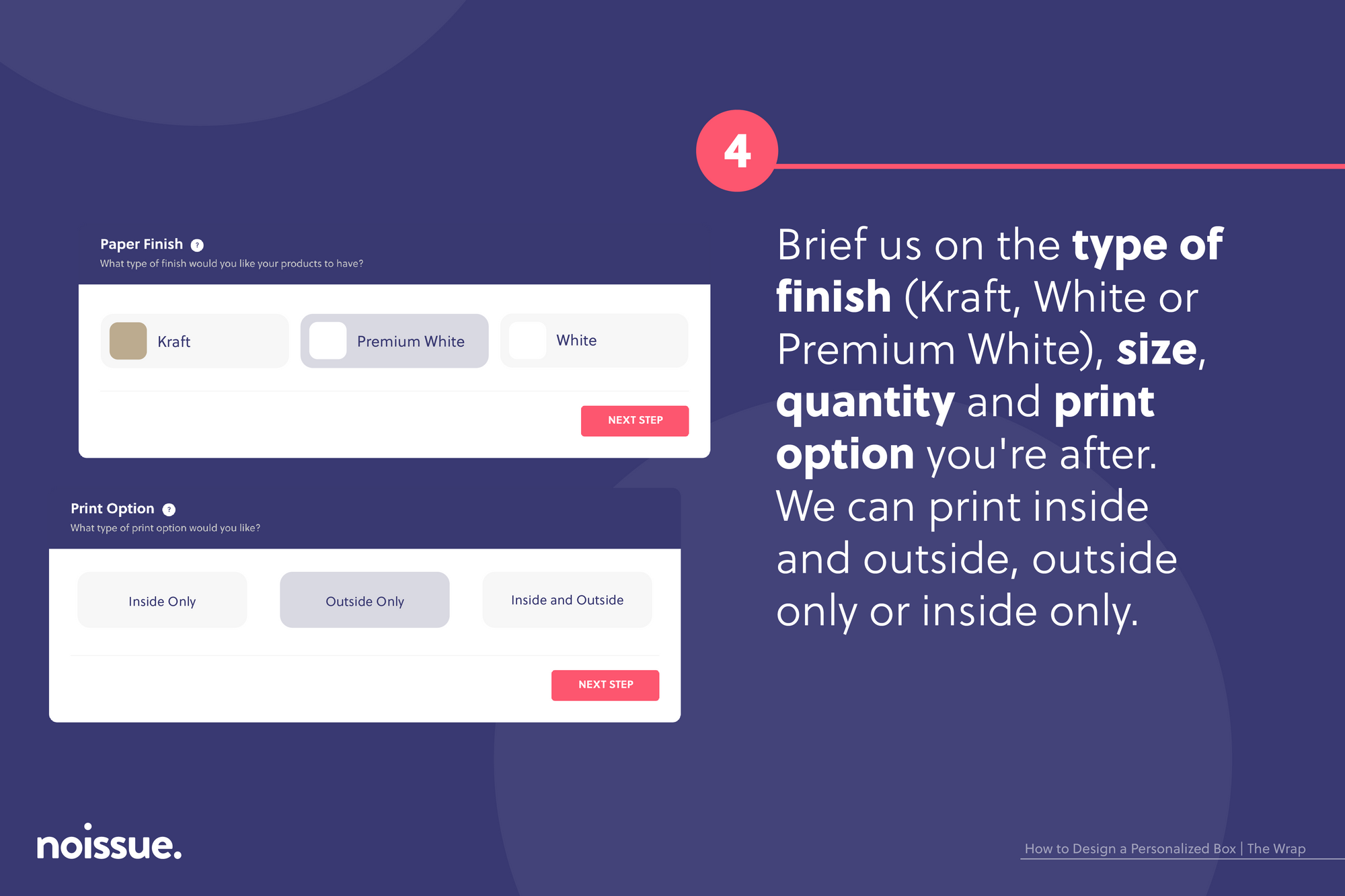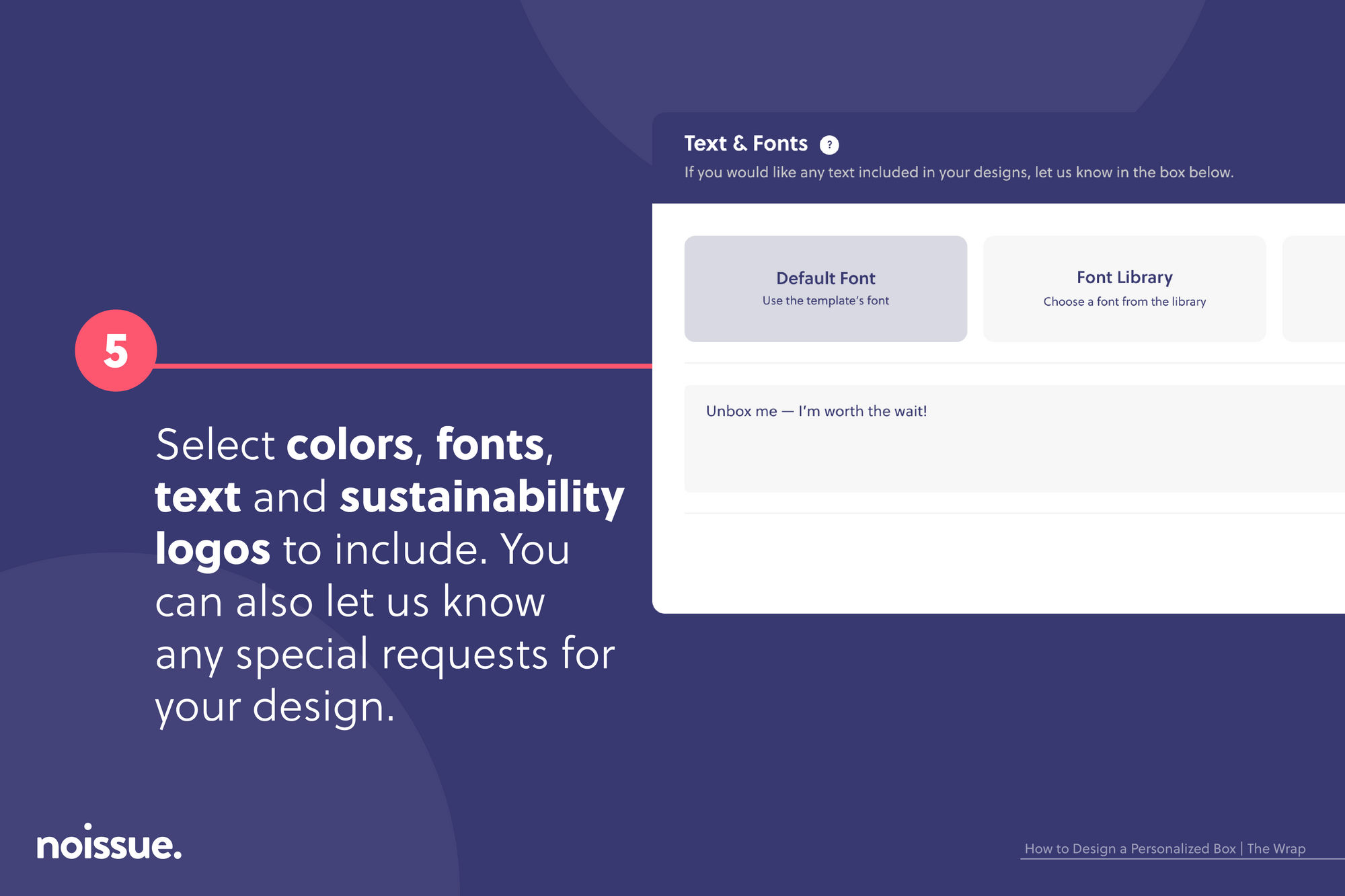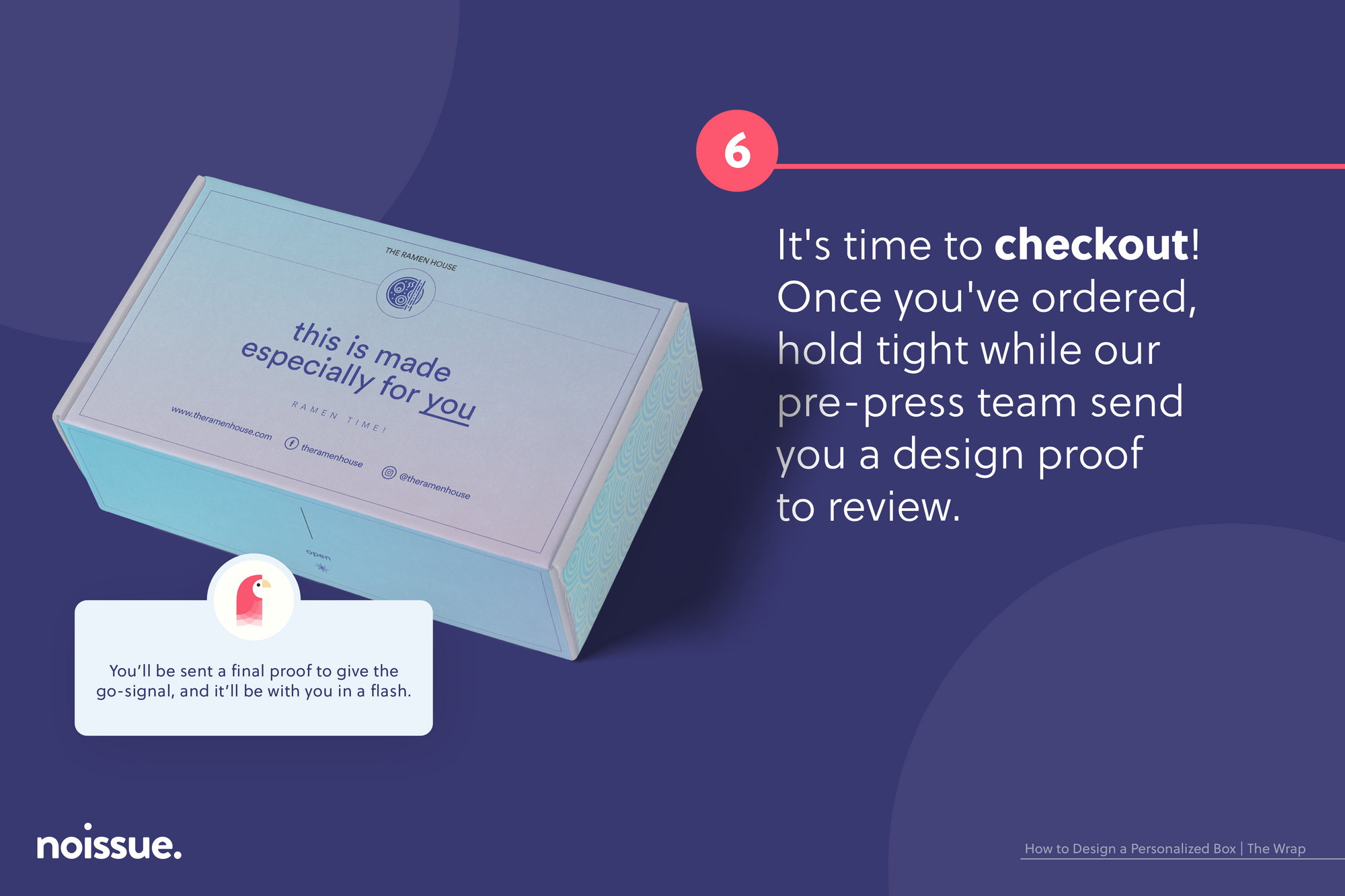 If you've got your custom box design sorted and don't need any assistance, then you can design a box by uploading your own design to our online platform.
We recommend downloading our AI, PSD or PDF templates to drop your design into, as this will ensure that your design measurements are correct.
How to design a personalized box by creating your own design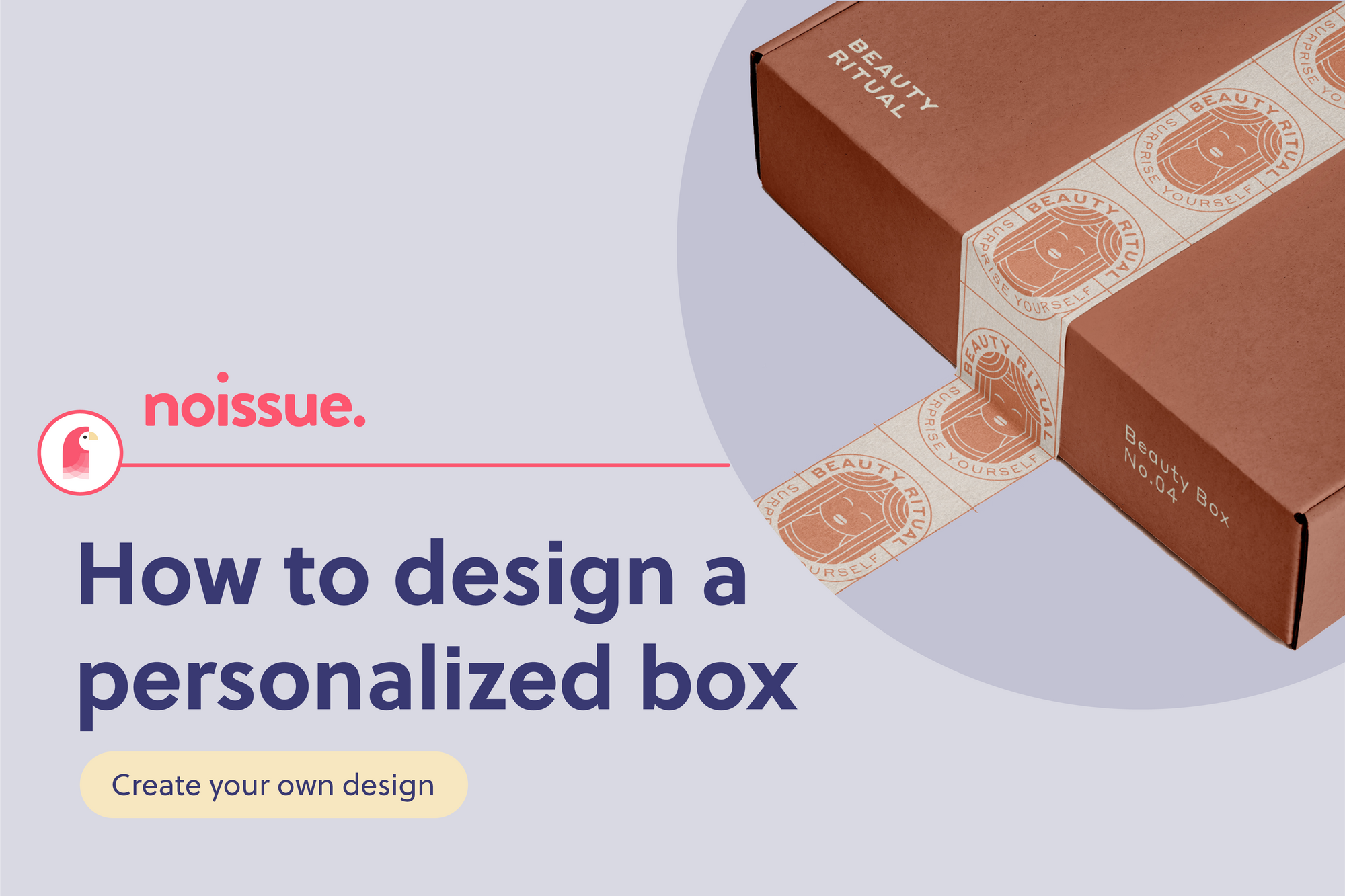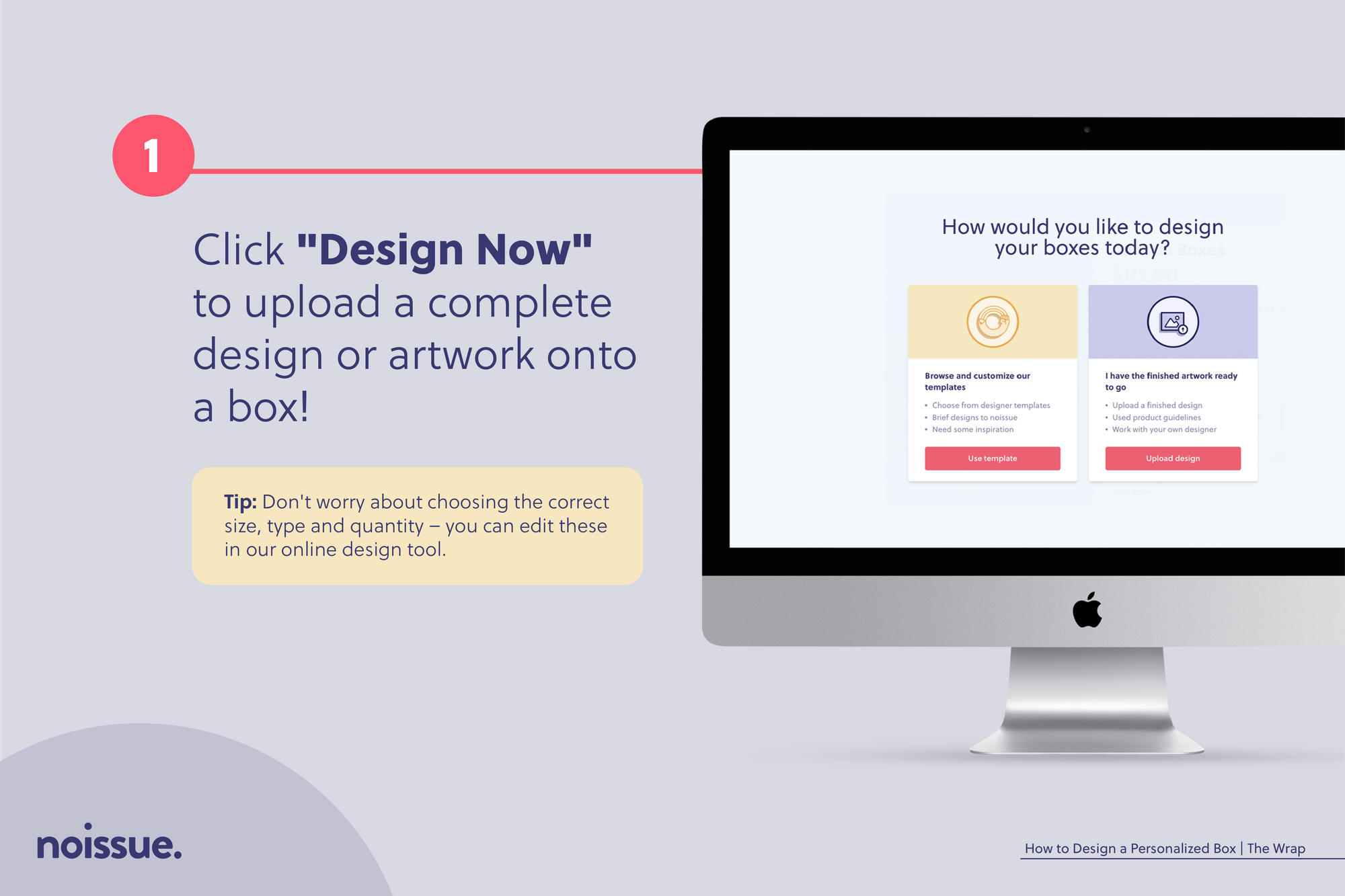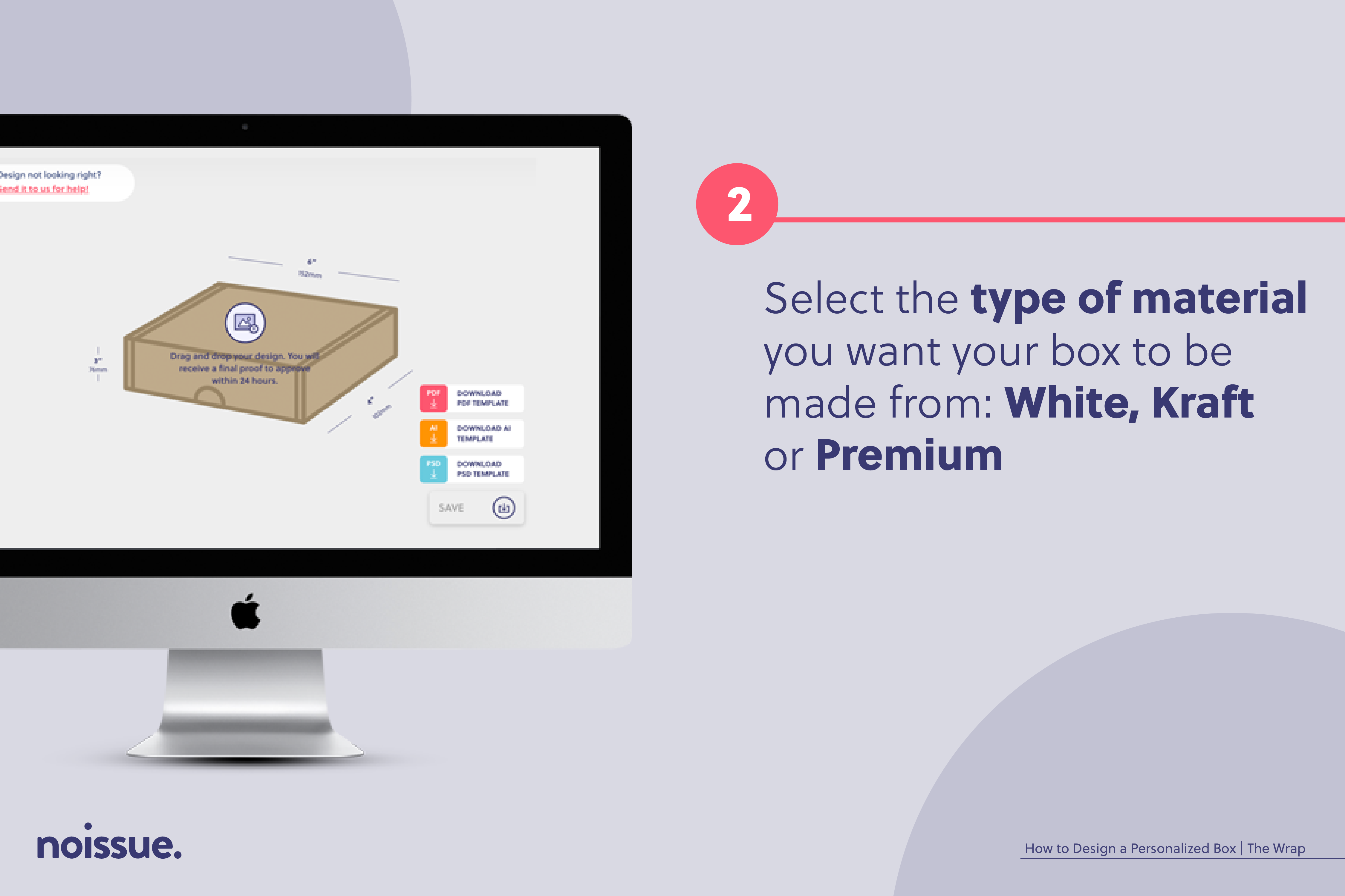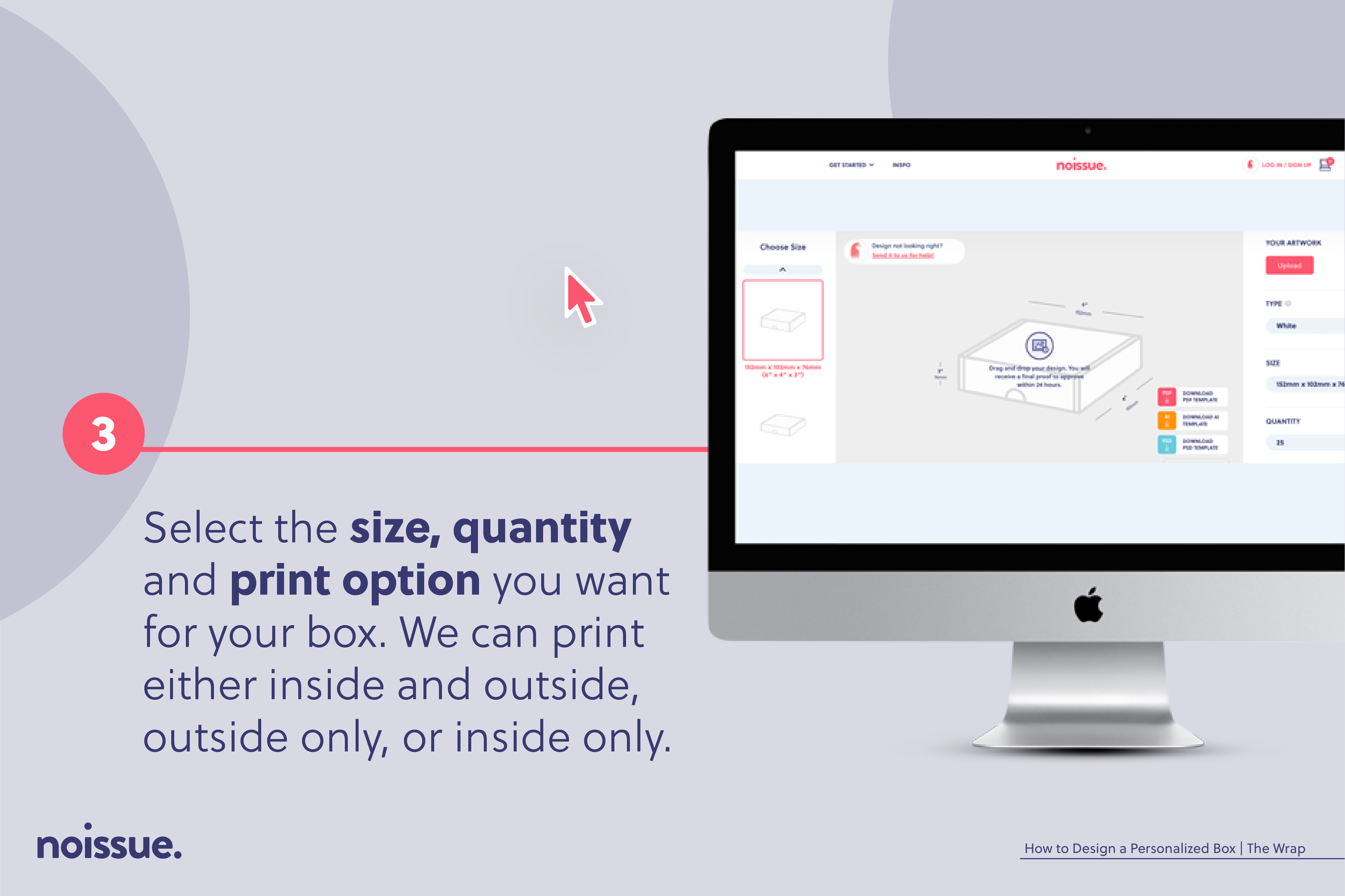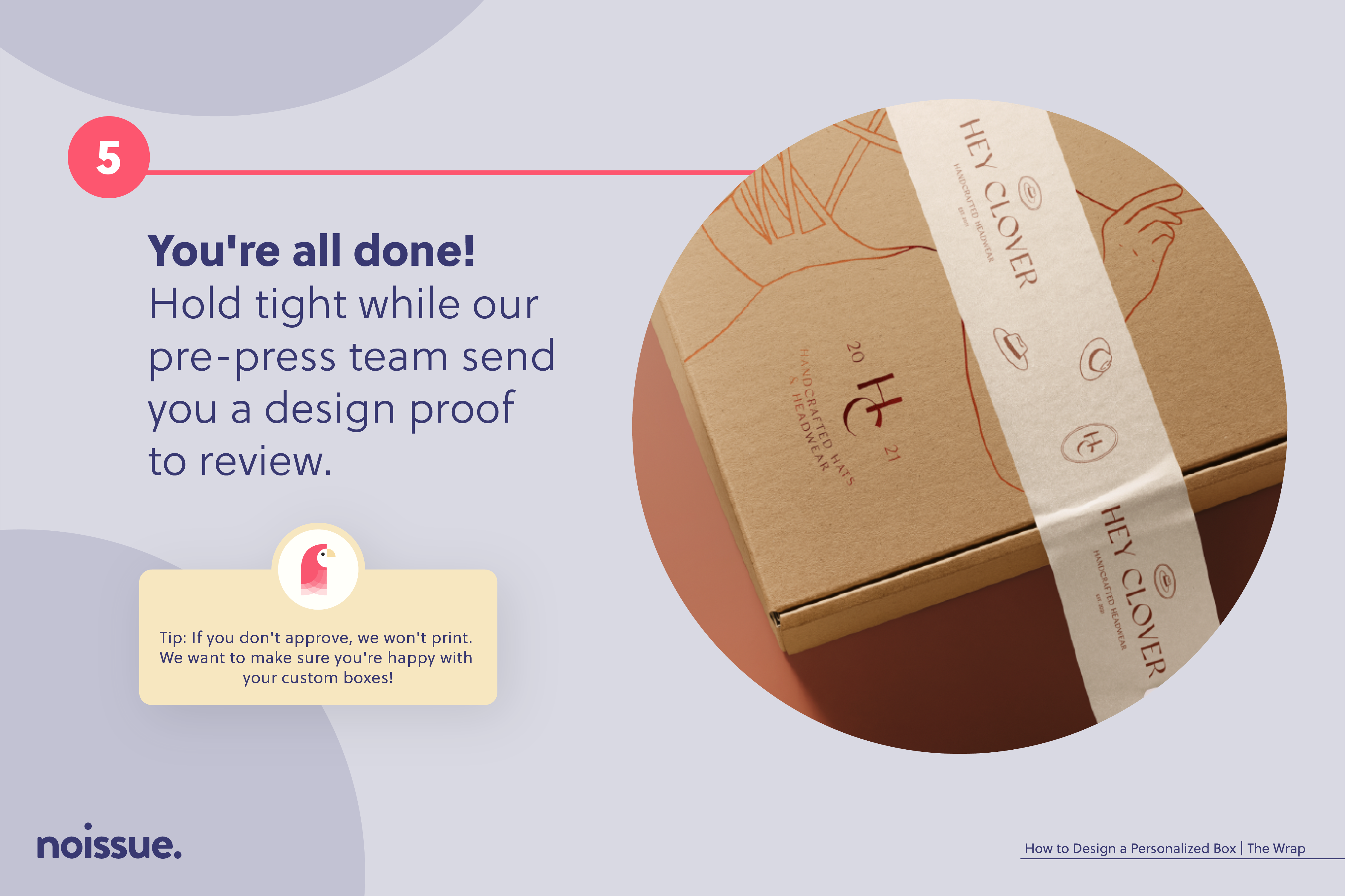 Ready, steady, design!

So there you have it – creating your own personalized box is as simple as 5 or 6 easy steps! We aim to take the frustration out of designing your own custom packaging, so you can get on with the stuff that really matters in business.
Design features aside, noissue's custom boxes are considered sustainable packaging. This is because they're made from Forest Stewardship Council-certified materials and printed with HP non-toxic compostable inks, which makes them 100% curbside recyclable or compostable.
This means you can create a personalized box that won't impact negatively on the environment, and your customer will appreciate your business all the more for it.
Our custom boxes are also made out of 32ECT E flute material. This means they're lighter in weight and provide extra space when shipping products, which equals better shipping rates.
They come in 8 sizes and are also strong enough to hold up to 25lbs (or 11kg) safely. The sizes available are able to be fitted inside most carrier shipper boxes, such as Fedex Large and USPS Priority mail large shippers.
Ready to get started with designing personalized shipping boxes? Check out our custom box options here for ecommerce businesses and follow the steps we've listed above to create unforgettable branded packaging!
Wrapping it up: The key details on our custom boxes

Customization options: Upload a finished design, or use one of our customizable templates.
Style: Roll end front tuck with dust flaps, also known as shipper box style.
Sizes available: 381mm x 305mm x 76mm, 305mm x 229mm x 51mm, 203mm x 127mm x 76mm, 229mm x 152mm x 76mm, 254mm x 203mm x 102mm, 279mm x 279mm x 76mm, 305mm x 229mm x 51mm, 381mm x 305mm x 76mm.
Material: Recycled Kraft made from 32ECT E flute material.
Sustainability features: Forest Stewardship Council certified materials, recycled fibers and water-based inks.
End of life disposal: Can be either composted or recycled.
Minimum Order Quantity (MOQ): 25 boxes.
Max product weight: Can hold up to 25lbs (or 11kg) safely.