Custom Roll Labels are a great way to brand your business and can be used for a variety of purposes, from product labels to adding a pop of marketing to your packaging. If you need labels but don't want to spend money on unappealing pre-made ones, you can easily create and print your own custom roll labels.
This guide will show you how to design and print your own Custom Roll Labels using noissue. Let's get started!
Why should my business be using custom roll labels?

From conveying key business information to sharing an interactive QR code linking through to your website, there are many ways custom labels can benefit your business.
First and foremost, custom labels help you brand your business. Using your company design, colors, and logo can make your labels reflect your company's style and personality. This consistency helps customers recognize and remember your brand.
Not only that, but custom labels also allow you to get creative with your marketing. You can include QR codes that link to a limited edition product or instructions on how to use the product at hand. There's also the option of using Custom Die Cut Stickers to make your labels stand out.
Custom labels are also a great way to show off your products. For example, if you sell food, you can use labels to list ingredients, nutrition facts, and storage instructions. This is not only helpful for your customers but can also be required by law in some cases.
What factors should you consider when choosing custom roll labels?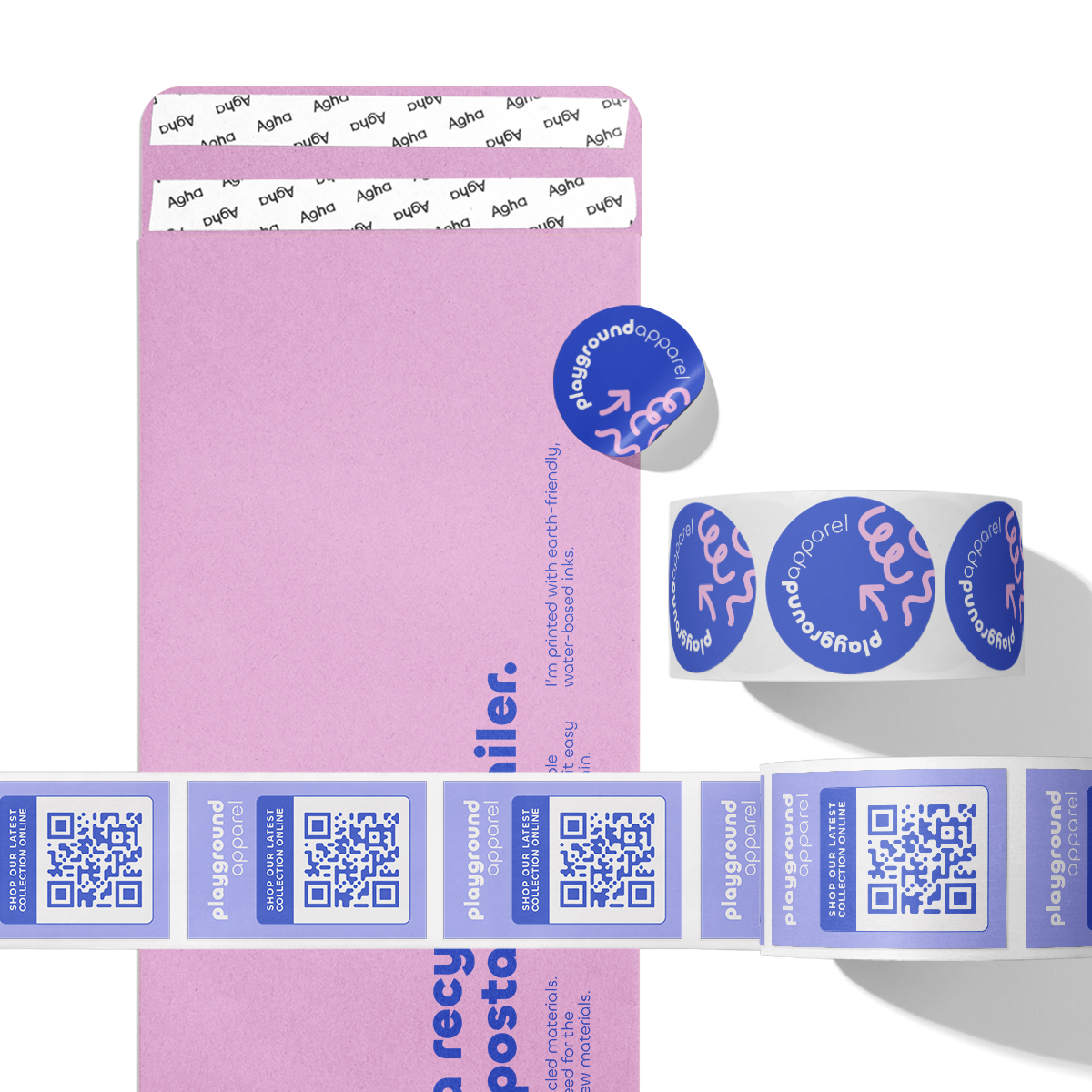 The first thing you'll need to consider is what type of material you want your labels to be made from. Do you want customers to be able to easily and responsibly dispose of your stickers after use? Here at noissue, our Custom Sticker Rolls are made of FSC-certified, acid-free paper, which can be composted after use.
You'll also need to decide on the size and shape of your labels. noissue has circle, oval, rectangle, square or die-cut shaped Custom Roll Labels.
Considering the wide range of sizes, you should take note of your business needs and what information you'll be including on the sticker. If it's just a logo, it can be smaller option, but if it's ingredients, instructions or key business information, you will want to opt for stickers with a larger surface.
If you're a small business or a start-up, you might also want to consider things like MOQ and price. We keep both of those as low as possible so that you can get the amount of labels you need without breaking the bank.
What are the best sizes, shapes, and materials for custom roll labels?

This will depend on your specific needs, but we recommend our rectangular labels for most businesses. They're versatile and can be used for a variety of use cases, from product labels to marketing materials. Their larger surface area means more information can be included on the label.
However, if you want a more artistic look that's personalized exactly to your business name or logo, Custom Die Cut Stickers might be a better option since you can choose any custom shape you want.
Look for materials that don't impact badly on the environment. Often stickers have a plastic coating and a sticky adhesive that can't be recycled or composted. We noissue's Custom Roll Labels, which use non-toxic ink and adhesive labels. They're made with sustainable materials, which makes them completely safe for both people and the environment.
What designs can I include on a custom roll label?

The sky's the limit when it comes to custom label designs. You can use your business name, an illustration, or a logo. For example, a bakery might want to shape their stickers like a cupcake if that fits their branding. They might even add a message like "Have a Sweet Day!"
QR codes are another popular design element that you can include on custom labels. These can link to special offers, product information, or customer reviews.
If you're unsure where to start with QR, we recommend checking out this article for inspiration.
How to design a custom sticker roll label using noissue's online design platform

We've streamlined the design process so that you can easily create beautiful labels online without the need for a professional designer's help. To get started, log in or create an account with noissue.
Then, click on the "Design Now" button on the Custom Roll Label product page. From there, you'll be able to choose your label shape, size, and quantity.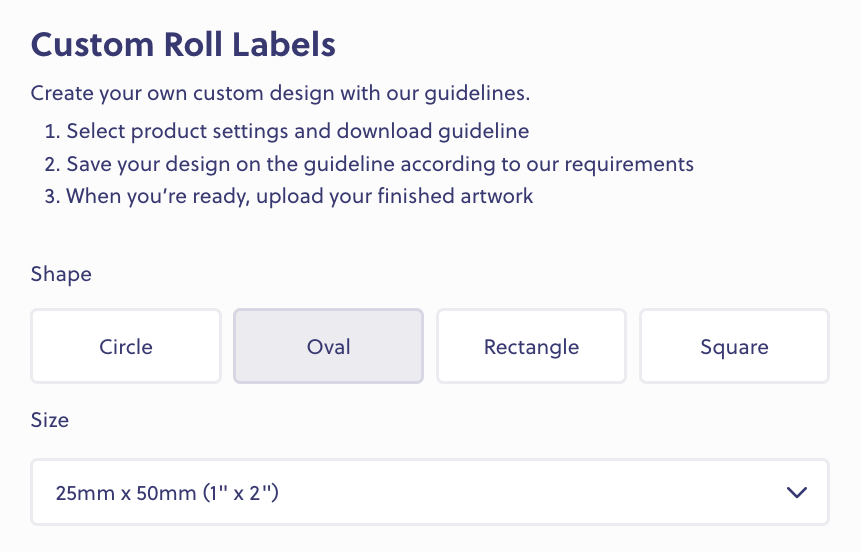 Once you've made your selections, you can use the online design platform to download design guidelines. This provides a template that ensures your design is within the parameters of the packaging size you've selected.
When it's ready, simply upload your artwork to the platform, and then add your Custom Roll Labels to your cart. You're ready to checkout!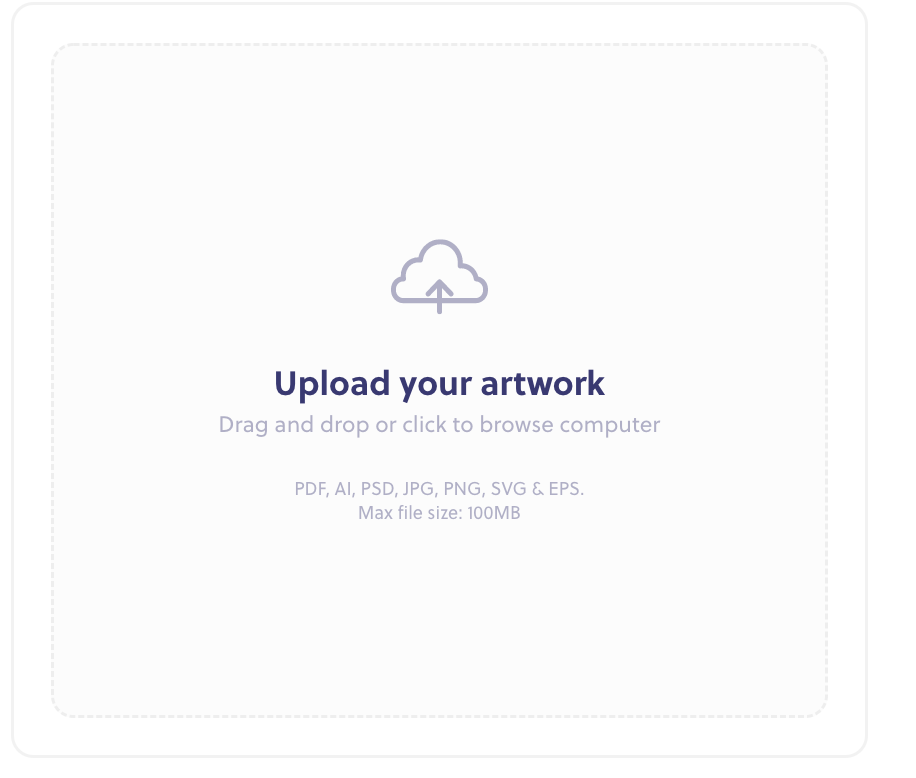 Our pre-press design team will be in touch before it goes to print to sign off the final design and let you know if there's any issues with your artwork that need fixing. If you're not happy, we don't print!
Pro tip: If you want to pause the process and revisit your design at a later time, click on the "Save & Exit" button in the top right-hand corner. Your design will be automatically saved in your account so that you can access it anytime, from anywhere.
Completing the unboxing experience

Once you've finished designing your Custom Roll Labels, you can complete the unboxing experience for your customers with other complimentary packaging products.
First, you'll need a box or mailer that matches well with your labels. We recommend our kraft boxes, which are eco-friendly and available in various sizes. We offer white and kraft options, both of which are curbside recyclable or compostable. You can also add Custom Tissue Paper as another layer and use the Custom Roll Labels to seal any packages.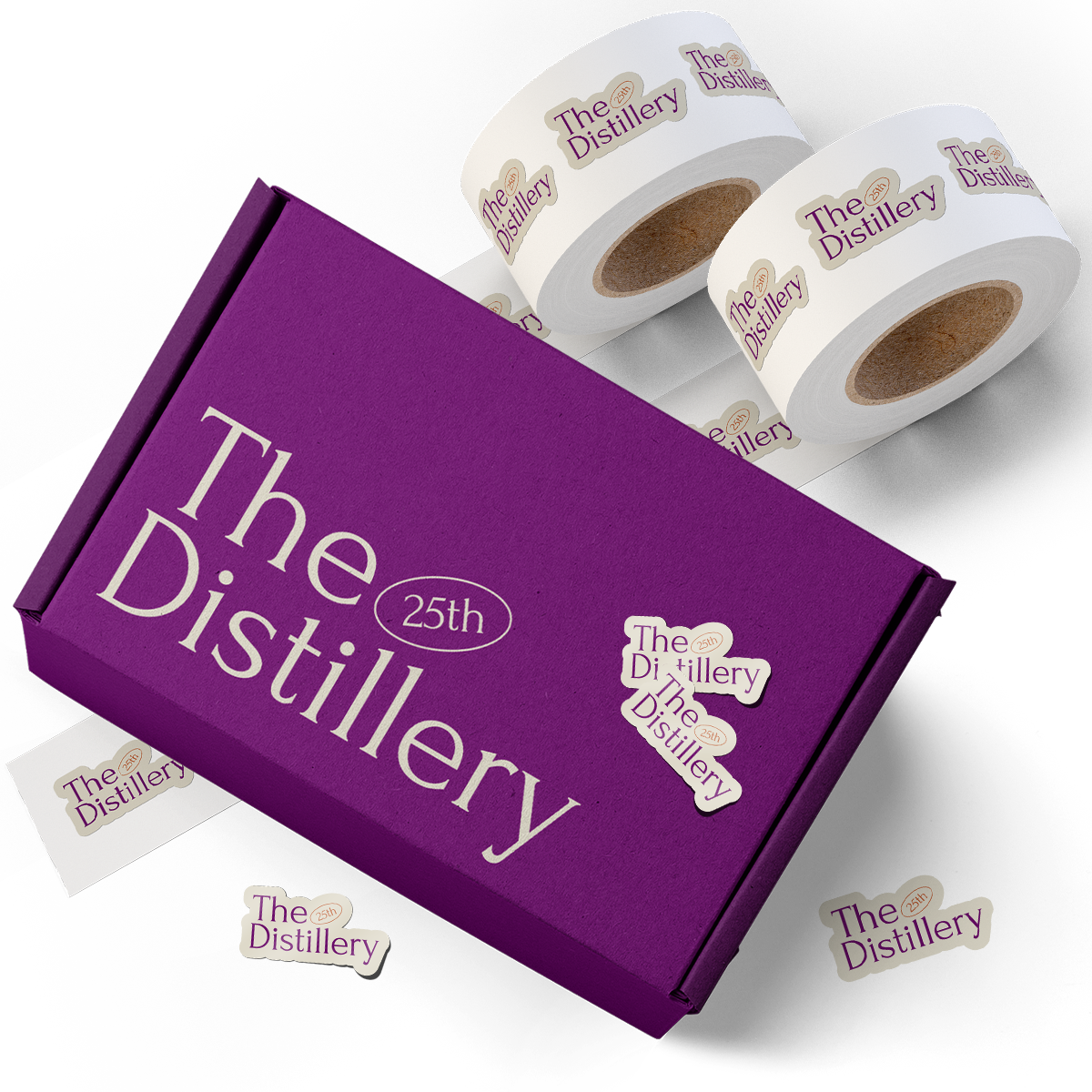 To finish things off, you might want to add a Custom, Recycled Card that builds on your label design by sharing a personalized message. This is a great way to add a personal touch to your orders and make your customers feel appreciated.
Wrapping it up

Custom labels are a convenient and effective branding solution for businesses who want to get their branding out there. Are you ready to start designing Custom Roll Labels? Check out our online design platform and find out how user friendly it is, or learn some more ideas about how you can use custom stickers for your business!