noissue Custom Recyclable and Recycled Hangtags by @tartagelatina
The fashion industry is about appearances – and quality! On top of standing out and having a unique style, modern fashion brands must also be more vigilant about their impact on the environment.
Brands put their effort into making exclusive products that can capitalize on the styles of today or usher in the new trends of tomorrow. As part of their brand persona, many fashion lines have switched to using eco-hang tags and sustainable packaging, focusing on 'green' fashion that follows environmentally friendly practices.
Other modern-day clothing retailers create luxurious packaging to deliver their products and improve their customer unboxing experience. By producing packaging with their brand logo, brand colors, and visual appeal, they create a unique experience unlike anything offered by their competitors.
Modern-day fashion brands are no longer simply about creating great clothes. While that is still a significant component in their success, it is not the full story. Brands must also consider the impacts their business has on the environment, especially in regard to unique product packaging that can leave customers with a lasting impression.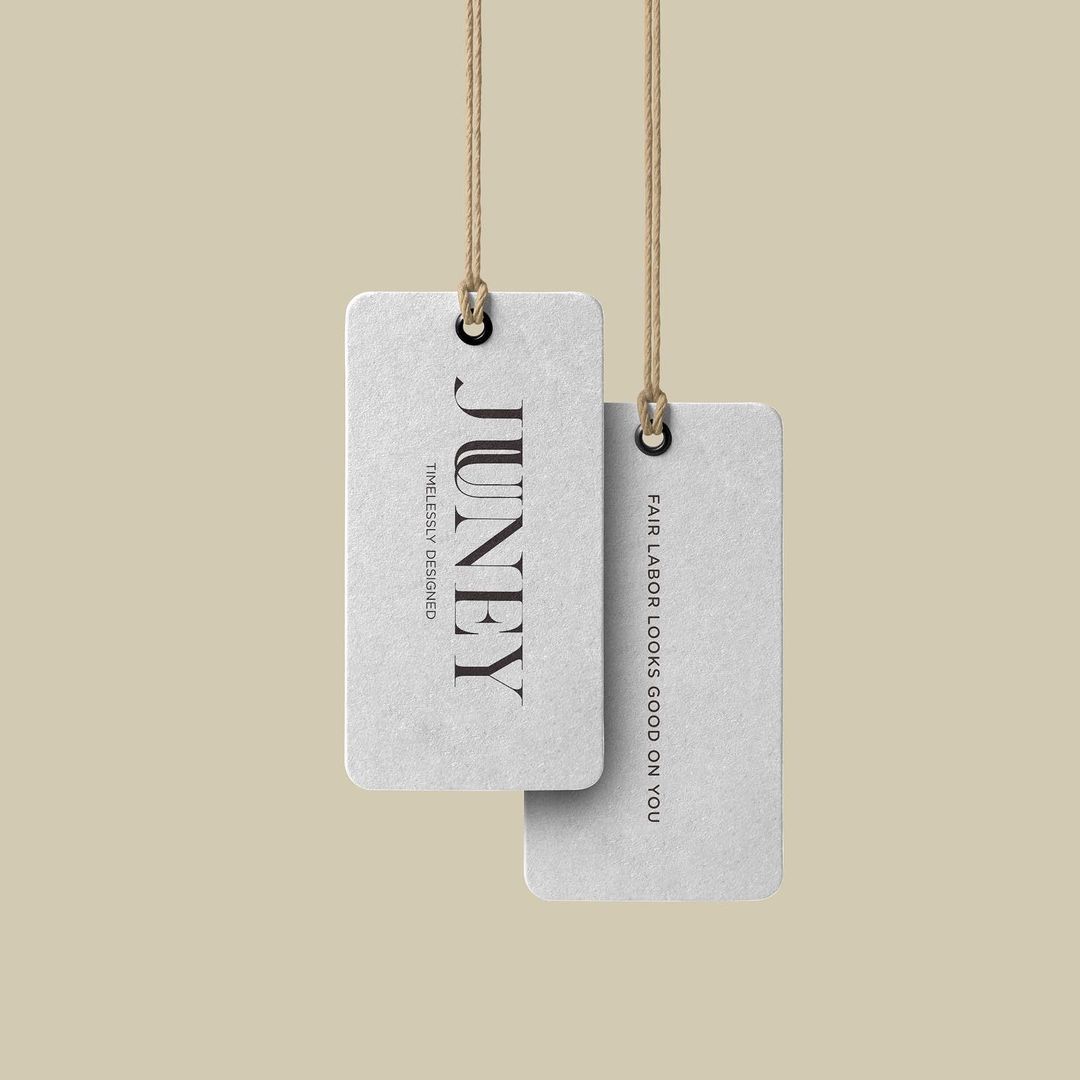 This article focuses on ways you can create the perfect packaging for your brand. Whether you prefer to use eco-hang tags, custom boxes, or personalized poly mailers, unique packaging can reinforce your brand and keep your company at the forefront of every customer's mind!
Why Should You Create Branded Packaging?

Consistent branding is one of the best ways to increase awareness and strengthen brand identity. You might already use your logo and brand colors on promotional tools, website pages, or social media posts. But why stop there?
Branding should also extend into your packaging. Every customer who orders from your store will receive their products in a box. This creates the perfect opportunity for you to display your brand name and logo!
Even if your logo is on every hang tag and piece of clothing in your store, you should also add it to your outer packaging, whether printed on the package or with a custom sticker. Regardless of the approach you want to take, there are a number of ways you can create custom boxes and poly mailers that can reinforce your brand identity.
How to Extend Your Branding into Your Product Packaging

There are several key aspects to keep in mind when creating cohesive branding across your fashion line. These include, but are not limited to selling your products to the right consumers, understanding consumer social media content, and adding brand tags and logos to all elements of your product packaging.
Sell to the Right Customers

It is essential to know who your target customer is, which should be taken into account when creating your custom product packaging. Remember that your packaging sells your brand to your target audience almost as much as your clothing products.
Seventy-two percent of US retail customers say product packaging influences their purchasing decisions. So, make sure that your packaging aligns with your brand to meet your ideal customer's expectations.
Keep Social Media in Mind

Social media has a significant influence on the success of fashion brands. It's also why the unboxing experience is so important! When designing eco-hang tags and custom boxes for your product packaging, understanding what your customers would be willing to post on social media channels is a must.
Around 40% of consumers say they would post a photo of attractive product packaging on social media. Customer social posts can boost your marketing efforts without extra cost to your brand.
To take advantage of this, make product packaging that is consistent with your social media images and videos. This ensures that your current customers and those in your target audience who haven't purchased from your brand will immediately recognize your logo and brand colors.
Consistency across your social media and product packaging strengthens your brand awareness. As soon as people spot your product packaging on an influencer's or friend's social media post, they'll know it's your brand.
Don't Forget About Your Tags

Although tags might seem like an insignificant part of product packaging, they play a vital role in the success of your brand! Consider making tags and labels that match the branding on your outer packaging.
People notice the finer details, and your customers will appreciate the additional effort put into the product. Not only will they be impressed with your attention to detail, but they will be more likely to shop for your brand in the future.
Research suggests that a third of consumers will not buy a product if they don't like the labels. So, it's worth going the extra mile and purchasing custom tags that display your brand logo and colors.
If one of your brand values is sustainability, recycled tags and mailers and compostable stickers or labels can reinforce your message and highlight your efforts to protect the environment.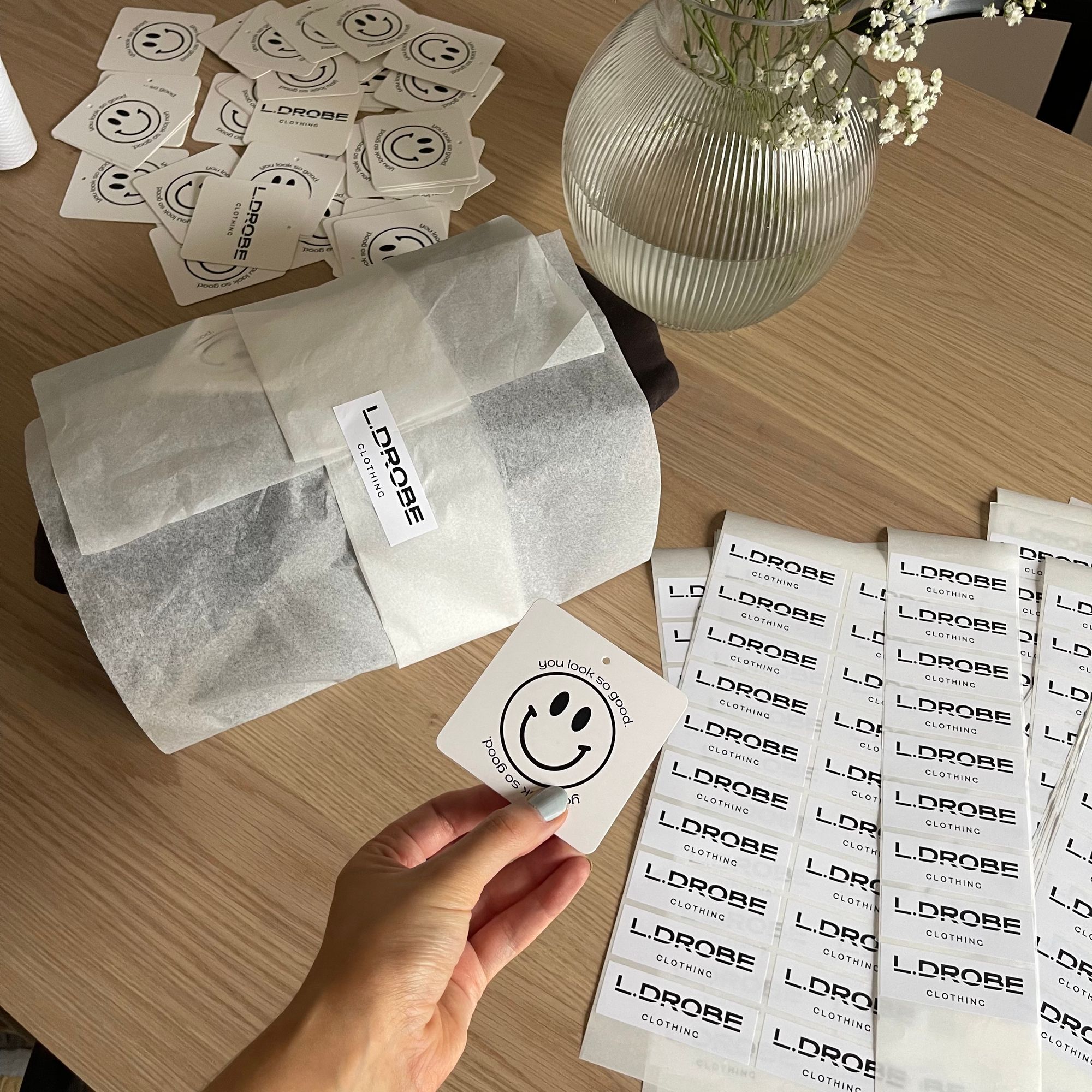 🎁 Wrapping It Up

Get high-quality custom packaging for your fashion line! Customers will fall in love with the personalized hang tags that are made from recycled materials, preventing waste and providing an exceptional, branded experience.
If you're in need of custom boxes and eco-hang tags for your fashion brand, look no further than noissue. Choose packaging that can be made consistent with your brand identity and maximize your success as a fashion retailer. Check out more packaging and shipping supplies that are sustainable by design and custom-printed!