Custom noissue Eco-Friendly Tissue Paper and Paper Sticker by @thecuriousfoxco
Decorative, aromatic candles have seen increasing use in homes and businesses across the globe. In fact, the worldwide candle market grew to $3.45 billion USD in 2018, states Grand View Research.
Most of this growth is driven by home consumers, though candles are also popular in the business sector. Spas and massage studios, along with finer restaurants, use candles to provide the desired ambience.
What's more, candles often play a role in festivals, celebrations, and religious observances in many countries.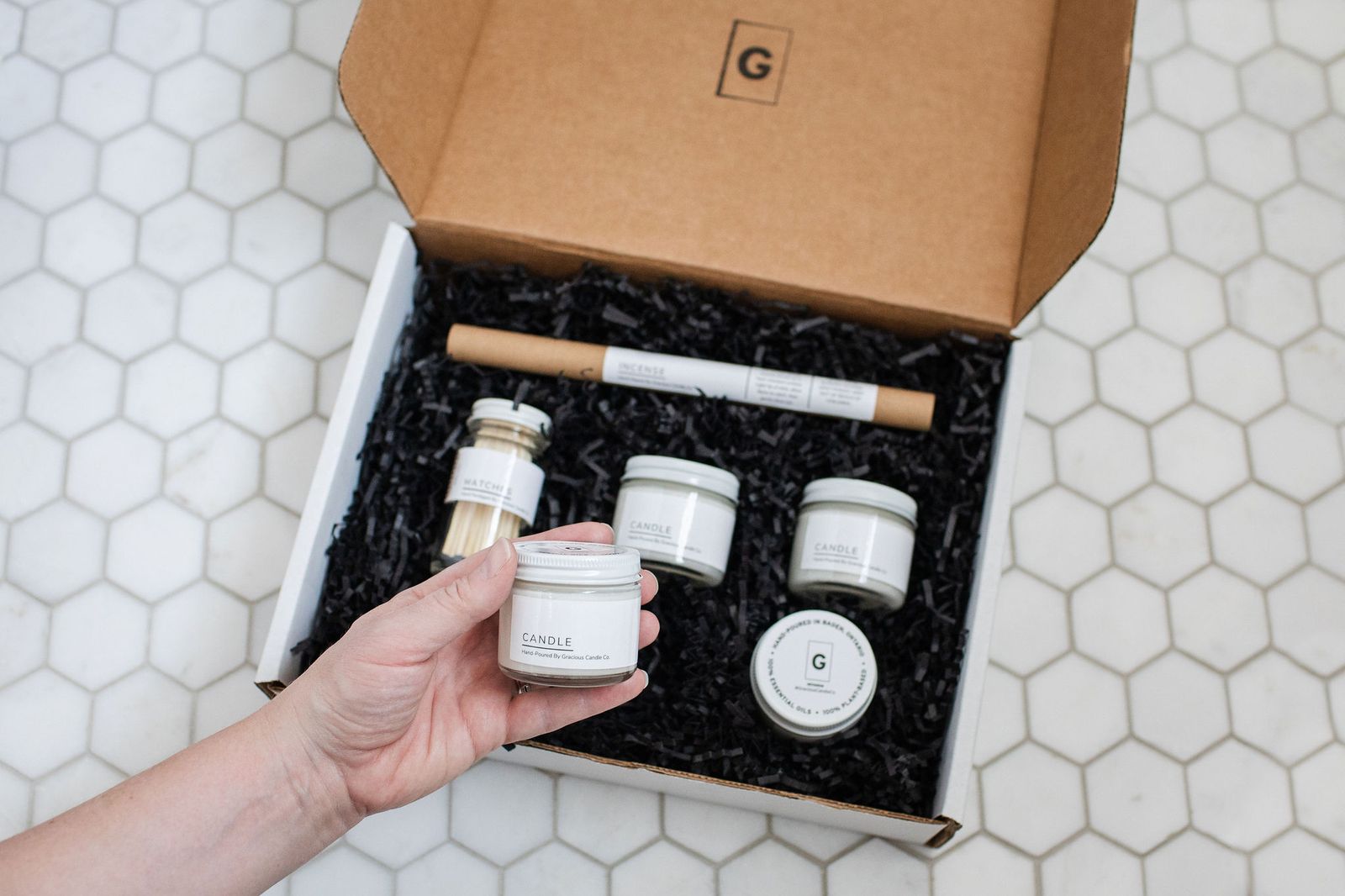 The industry is clearly booming, and with ecommerce continuing to rise, selling candles online presents a great business opportunity.
If you're an ecommerce business planning to stock and ship candles, keep reading. This guide will walk you through how to ship a candle and the factors to consider to ensure that your products arrive safely.
Why shipping candles can be a tricky task

While candles seem very sturdy, they can be damaged in transit if they're not packed correctly.
You can avoid this by packing your candles so they remain almost stationary within the box. If you've created a cushioning effect within the box, any unexpected movement won't have a disastrous result.
Use a combination of packing materials to fill those odd little spaces within the shipping box — more on this later.
Glass vs tin candle containers

A glass container makes a beautiful presentation for any candle style and color. That said, glass containers have two major downsides. First, the containers are heavy, which increases their shipping costs. In addition, glass containers are fragile even when surrounded by adequate packing.
Consider switching to durable tin containers, which have considerably lower shipping rates. In addition, tin containers are much less likely to be damaged during the shipping cycle.
Materials needed to safely ship candles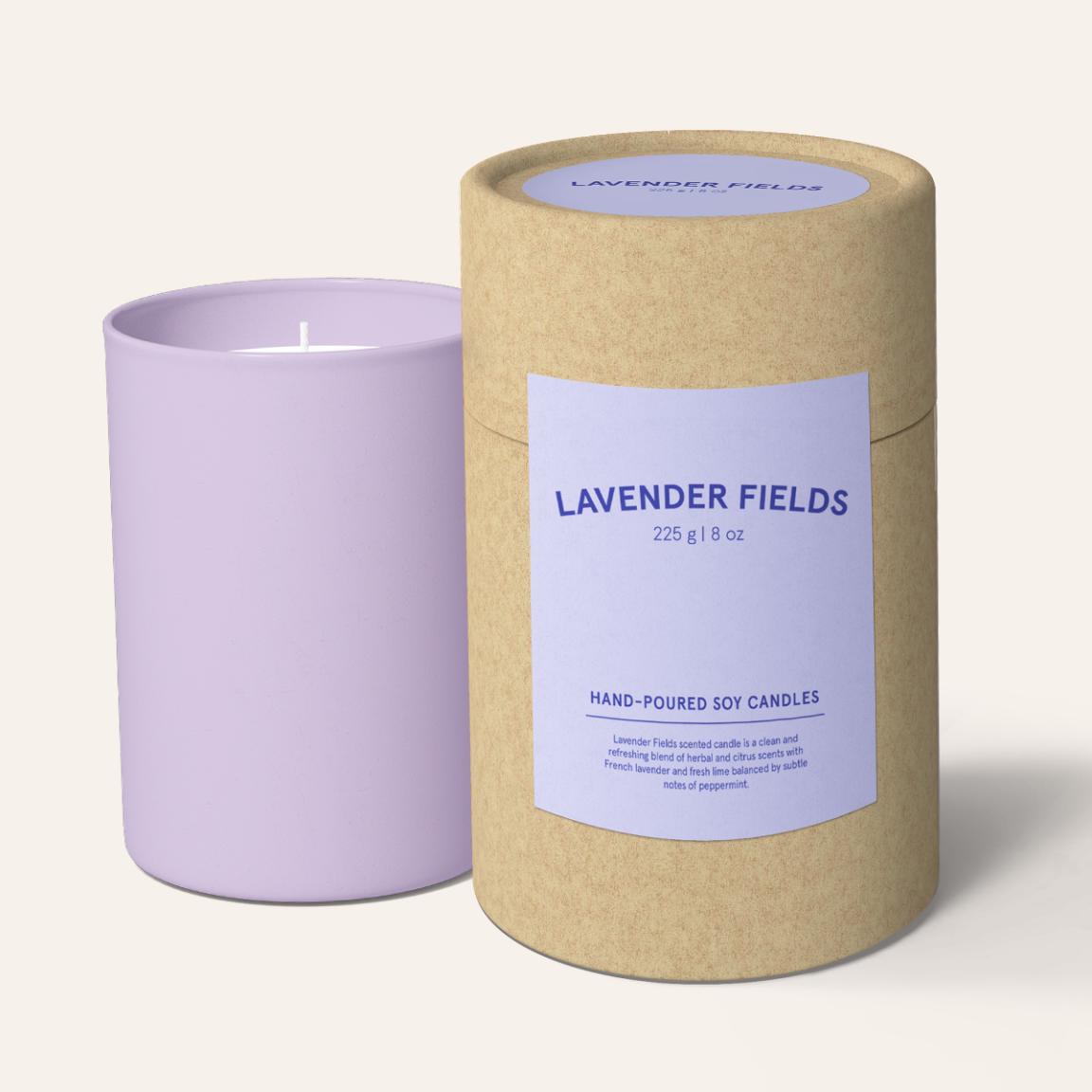 To confidently ship candles to your customers, you need to purchase the right packaging materials and consider buying them in bulk if you're processing a lot of orders. Shop around, as multiple suppliers are competing for your business.
Paper tube packaging and product boxes are great for keeping your candles from rolling or cracking within shipping boxes or containers. Durable corrugated shipping boxes are a good option for packing and shipping tin or glass candles, while mailers work well for pillar candles and tea lights.
Keep a good supply of shipping labels, plus a tape dispenser and packing tape, at your candle packing station. For cushioning and wrapping, consider stocking up on tissue paper, cornstarch packing peanuts, and air pillows. (For more ideas, check out our post on bubble wrap alternatives to find the right packaging materials for your candles.)
How to ship a candle: a simple guide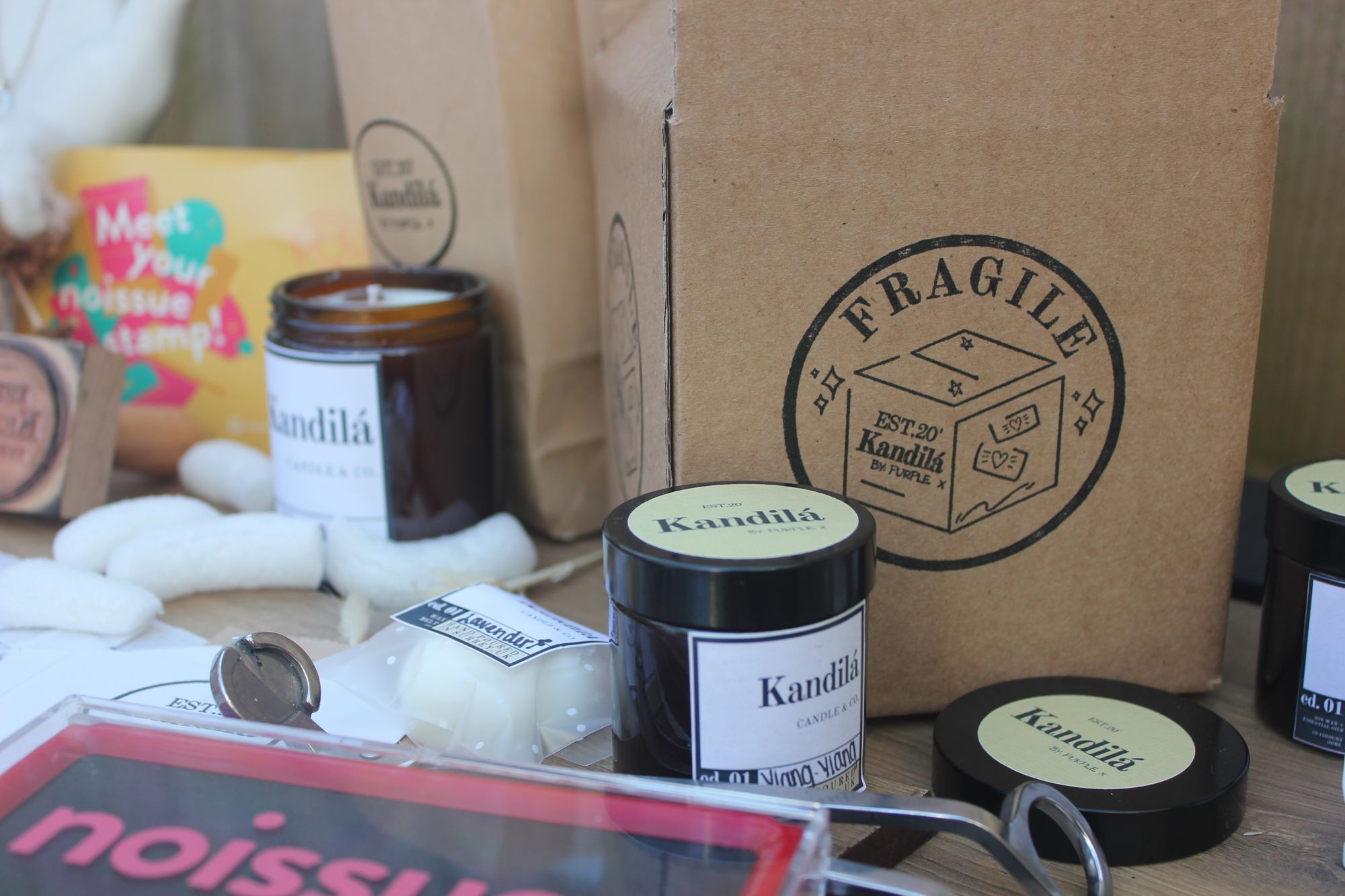 With a little advance planning and a methodical approach, shipping candles isn't a difficult job.  And like other repetitive tasks, it will gradually become easier and take less time.
Here are the steps to keep in mind when packing and shipping your candles.
Advance preparation

1.   Set up an account with your courier of choice, such USPS, UPS, or FedEx.
2.   Order your supplies, which could include:
How to pack your candle orders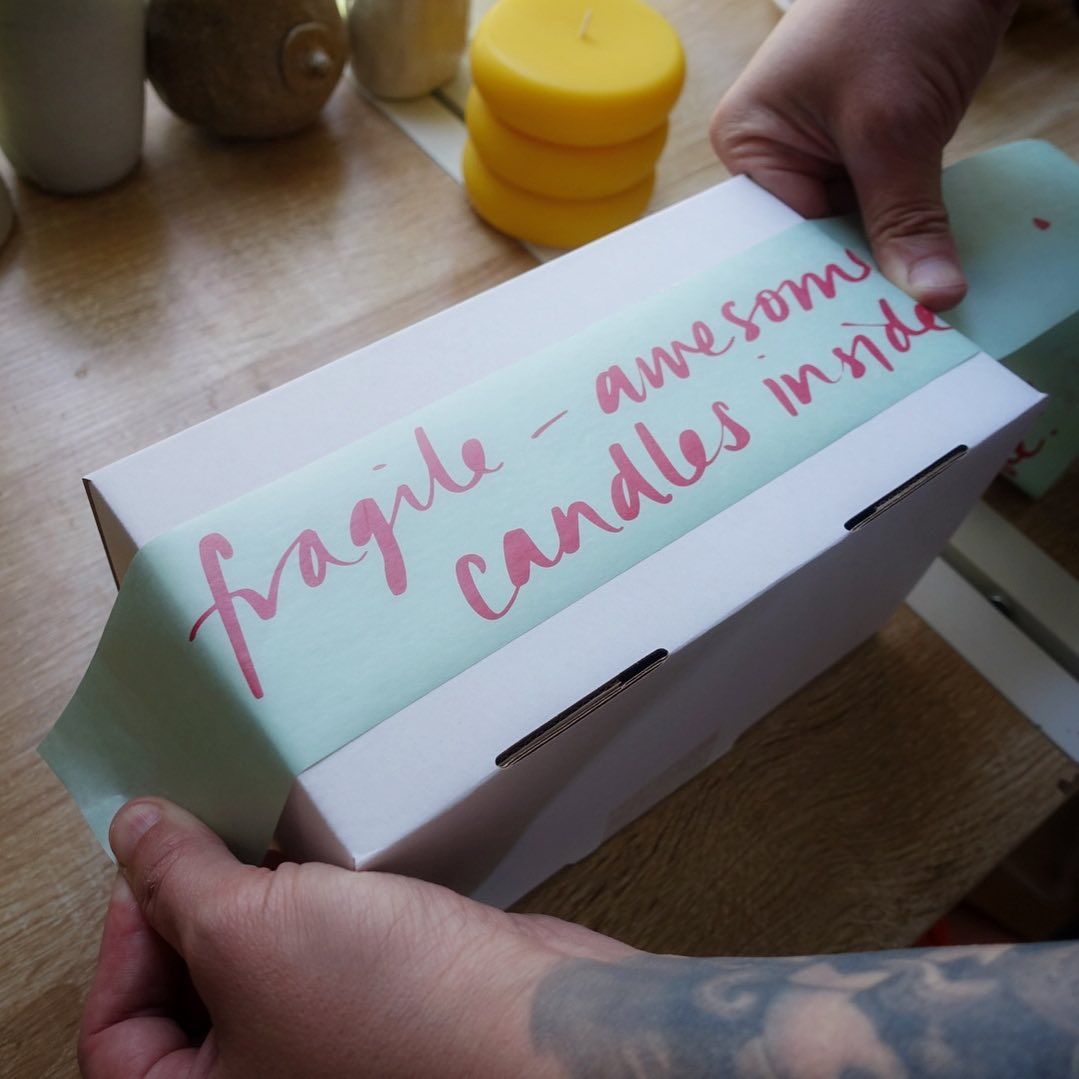 1. Wrap each candle in at least 1 inch of protective wrapping material (e.g. paper, hex wrap, etc.) If you're shipping multiple items, use dividers to keep the candles from colliding during shipment.
2. Place candles inside of paper packaging tubes or product boxes to prevent them from breaks or damage within your shipping box or mailer. Reinforce lids and openings with custom sticker labels or packing tape to keep your items snugly sealed.
3. Choose a box or mailer that will fit snugly around the wrapped candle. Fill the remaining spaces with soft box fillers like hex wrap, tissue paper, and biodegradable packing peanuts.
4. If you're using a box, securely fasten it by placing packing tape (ideally sustainable packing tape) on both ends. Do not use masking tape or regular Scotch tape, as neither one will survive the shipping process. When they fail, the candle(s) will fall out.
If you're using mailers, use the built-in adhesive to secure the package.
A note on shipping candles during the summer

Filling customers' orders during the hot summer months requires special precautions. In warmer weather, it's important to use packing materials like air pillows to help insulate the candles. If necessary, add a packaging cold pack to keep the candle cool. Do not freeze the candle. It's also best to arrange for express shipping so the package isn't sitting for days in a staging center or truck.
Calculate the cost of shipping candles

When shipping via the United States Postal Service, First Class is usually the cheapest method for packages weighing less than one pound. For packages over one pound, USPS Priority Mail is the most affordable option.
That said, your shipping costs will ultimately depend on the size of your order, where you're sending the package, and how soon you want it to get there.
To find the most cost-effective option, compare the rates and times of different courier services using their online calculators. Each of these tools will ask you basic questions around the package's cost, weight and size, and destination.
After you enter those details, you'll get an estimate of how much it'll cost to ship your package.
Print the shipping label

Once you've chosen a courier, print your shipping label and attach it to your package. During this step, the courier will also provide you with a tracking number for the package. Make a note of it, then share the tracking number with your customer so they can stay in the loop with the status of their order.
Drop of the package or schedule a pickup

When the package is good to go, either drop it off at the nearest courier location or schedule a pickup.
Happy candle shipping!

There you have it — a detailed guide on how to ship candles. We hope the tips and steps above gave you a better idea of what you should do to safely ship out your candles.
As a growing industry, we can expect more people to shop for candles, so it pays to know how to ship them right. Good luck and if you need sustainable materials for wrapping, packaging, and shipping your candles, check out noissue's range of eco-friendly and customizable products for sellers of all sizes. 🕯️
Browse our product catalog