QR code packaging by Kyoot
QR codes are having a moment. They're not new — in fact, they've been on the scene for more than two decades — but their ability to bridge physical and virtual experiences became an asset as the pandemic changed the way we interacted with the world. And they're back in a big way.
Every type of business from your local independent restaurant to luxury fashion brands has been using QR code marketing to reach customers. Even as restrictions ease, these powerful codes are here to stay.
For larger brands selling through retailers or shipping to customers far and wide, QR codes on packaging have proven to offer a unique way to connect, create value, and build brand affinity while gathering valuable leads and data. We spoke to two founders about how they're using QR code marketing in creative ways to meet brand goals.
Packing a wealth of resources into one tiny square: Mamamade

Mamamade is a brand conceived by Sophie Baron, who found it challenging to meet the demands of being a new mom with introducing her daughter to healthy solid food. With no happy medium between time-consuming food prep and store bought purees, Mamamade was born.
Mamamade delivers fresh handmade meals for little ones across the UK. But the brand is more than its products — it's also a community. Sophie hosts a parent-focused podcast and exclusive Facebook group while the site contains helpful guides and content to support the products.
When the brand launched QR codes on its delivery boxes in early 2022, it did so to bridge the gap to those resources without having to print tons of wasteful package inserts.
While printed resources can often end up in the trash bin, they are also fixed. "We love that we can dynamically update the content without having to re-print our boxes," says Sophie. "We can very quickly and inexpensively change the experience that our customers get."
Currently, the microsite experience gives customers a ton of helpful content in a branded Tapkit microsite. "When users scan the code, they'll get a short video welcoming our customers to Mamamade," says Sophie. The site also nudges customers to watch a longer brand video, access their customer account, or join the Facebook group.
The microsite also links to a quick self-directed flow that helps customers easily return Mamamade's packaging. "We love being able to quickly bring our customers back to site," says Sophie, "without the need for printed materials."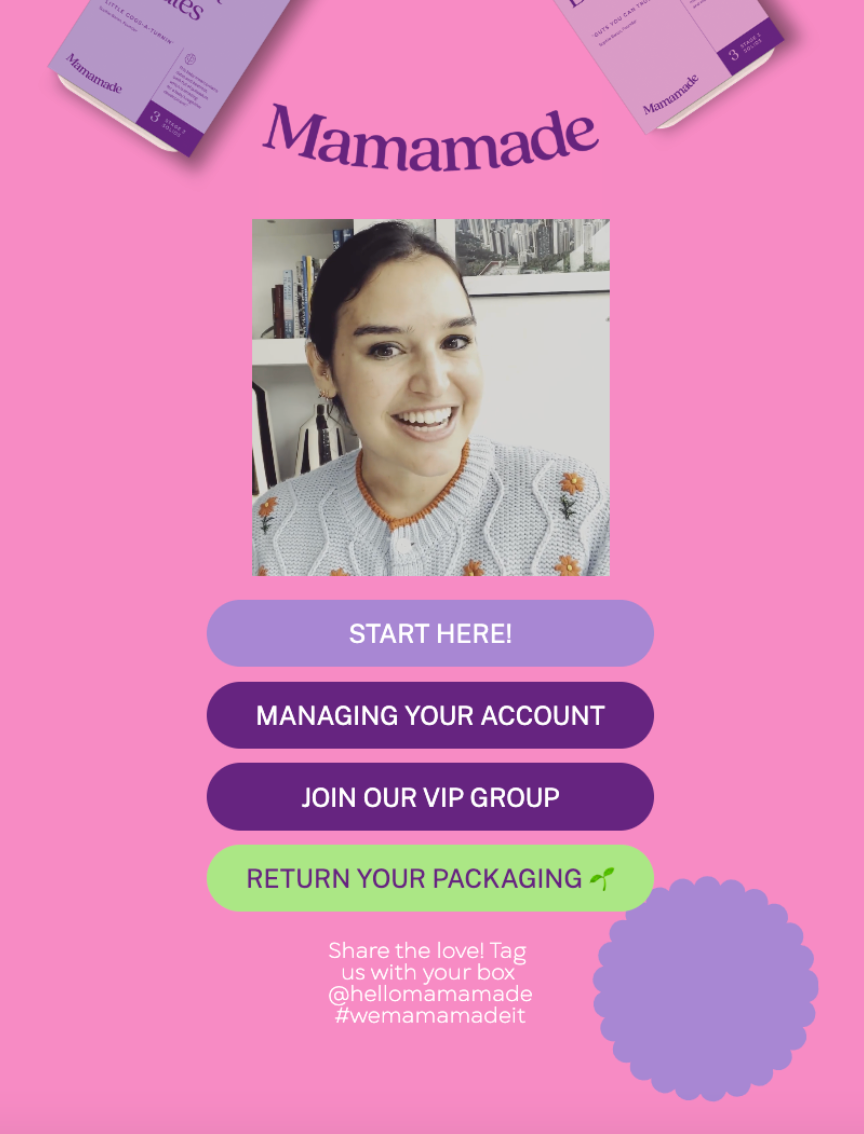 And so far it's working. Over 40% of Mamamade's customers click through to watch the longer intro video and over 30% click through to return their packaging. With the success of the current QR code marketing campaign, the brand is only getting started.
"We have so many ideas and plans in the pipeline to help make the experience for our customers even easier and more seamless," says Sophie.
Driving brand affinity with Gen Z and Millenials: Kyoot

Kyoot is the brainchild of Noor Freiha, whose nostalgia collided with her penchant for wellness. As a child, her Lebanese family often dipped chocolate into Turkish coffee. Noor aimed to rediscover that ritual with a bar that boasted health benefits. She couldn't find the right candidate, so she developed her own.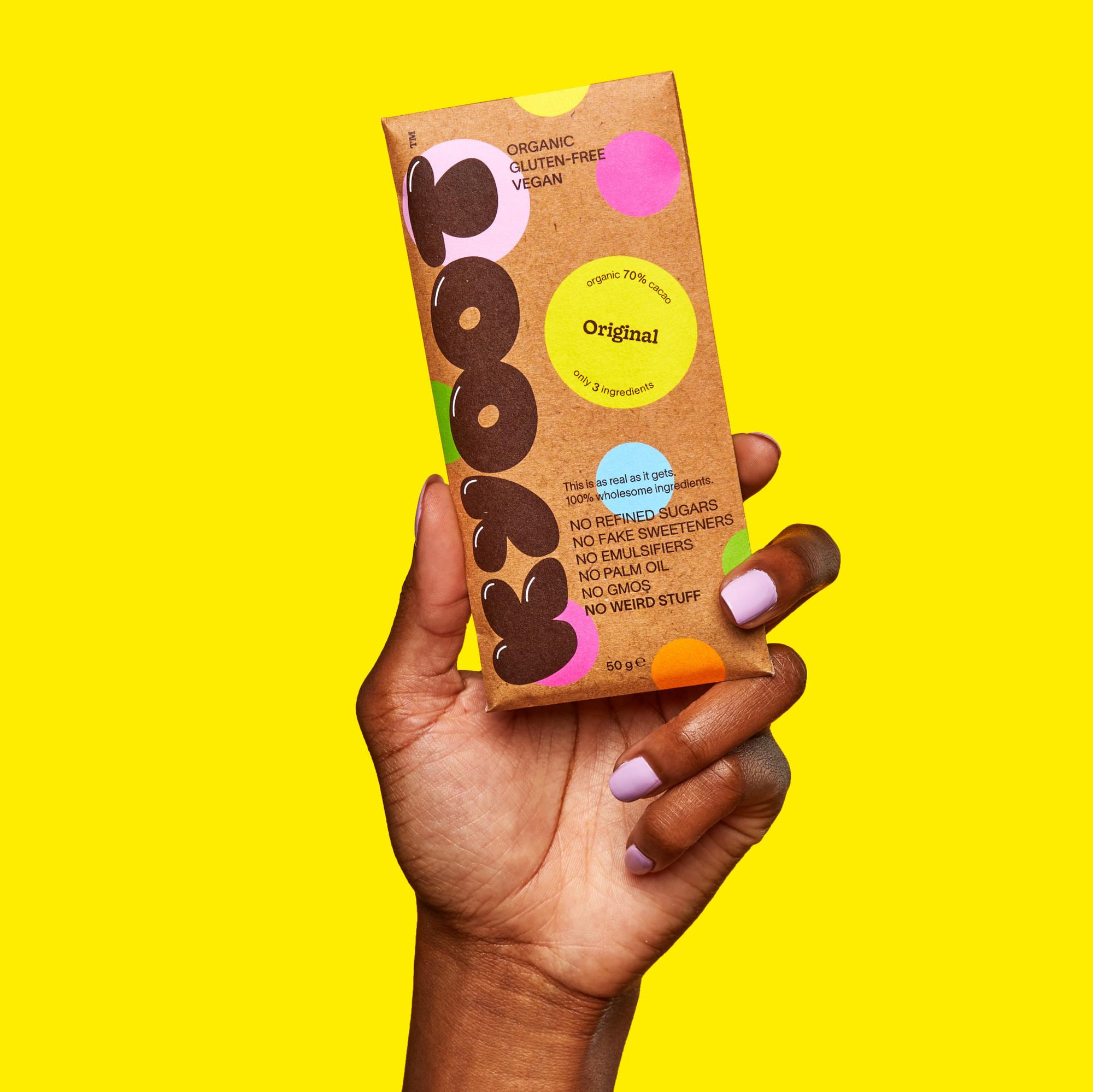 Kyoot is a relatively new brand with just a year on the market, but its founder's ambition has already gained the brand success in the press and penetration across retailers as far away  as the U.S.
As the brand is taking off, Noor wants to connect customers of her vegan organic treats to the online brand experience. New packaging for the products is about to launch and QR codes will be prominently featured on tens of thousands of bars in the coming months.
"I'm targeting a younger tech savvy consumer with purchasing power," says Noor. "Like those who live on their phone." Reaching this group means giving them a window into what the brand is about.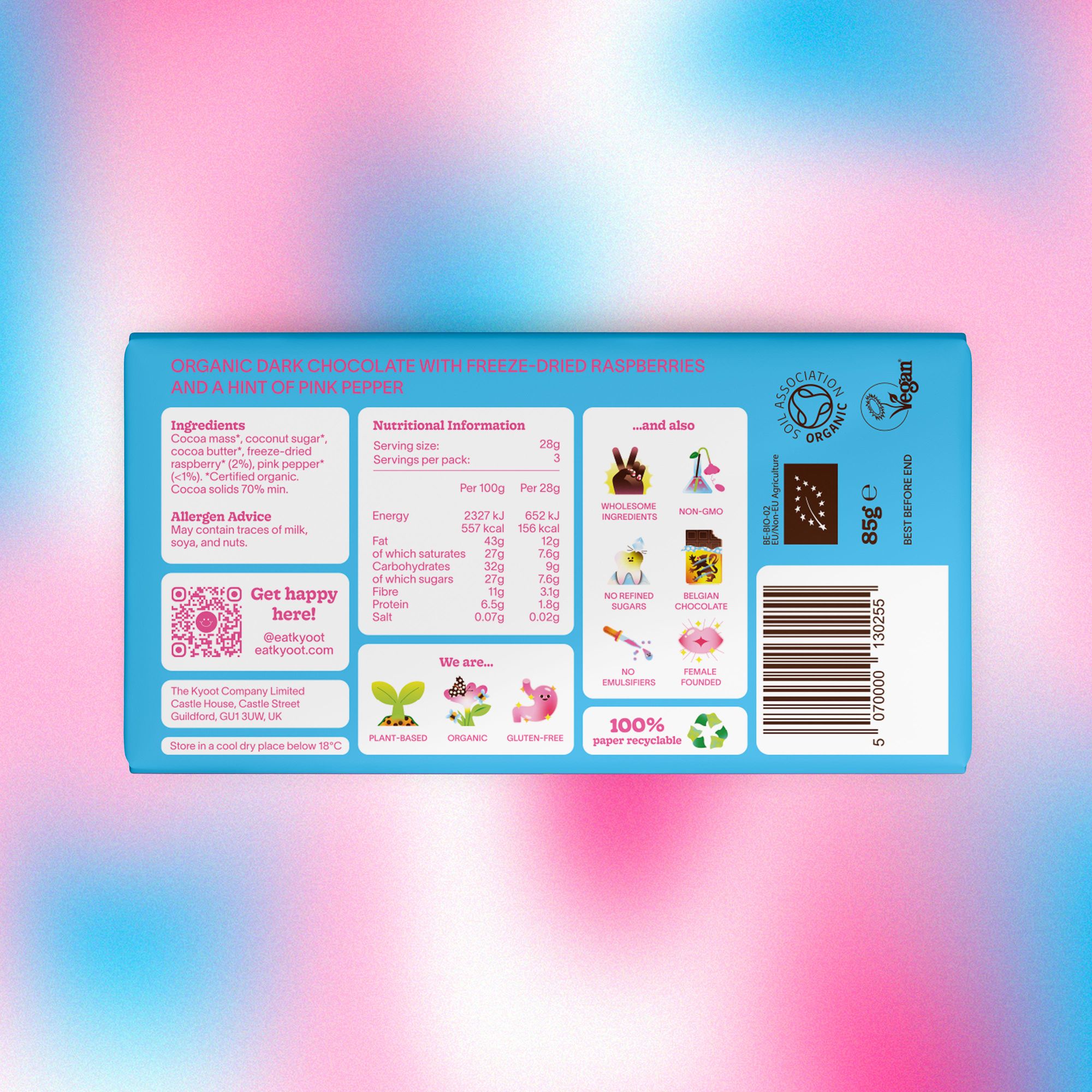 Though Noor is self-admittedly biased about her own product, she acknowledges that "chocolate is chocolate." Having a strong brand point of view is what she hopes will set Kyoot apart in a market that's saturated. "It's very important to differentiate yourself," she says, "With loyalty you really can hook your consumer."
With bars travelling to overseas retailers and also popping up in UK hotel minibars, it's more challenging to build that loyalty when Noor can't control the in-person customer touchpoints. QR codes will do the heavy lifting to draw curious shoppers and hotel goers into Kyoot's virtual realm.
Currently, Noor is developing a custom microsite to launch in tandem with the new packaging. "I love TapKit so much because you can really brand it up completely," she says. "That's super important for us as a fun brand with very strong colorful visuals."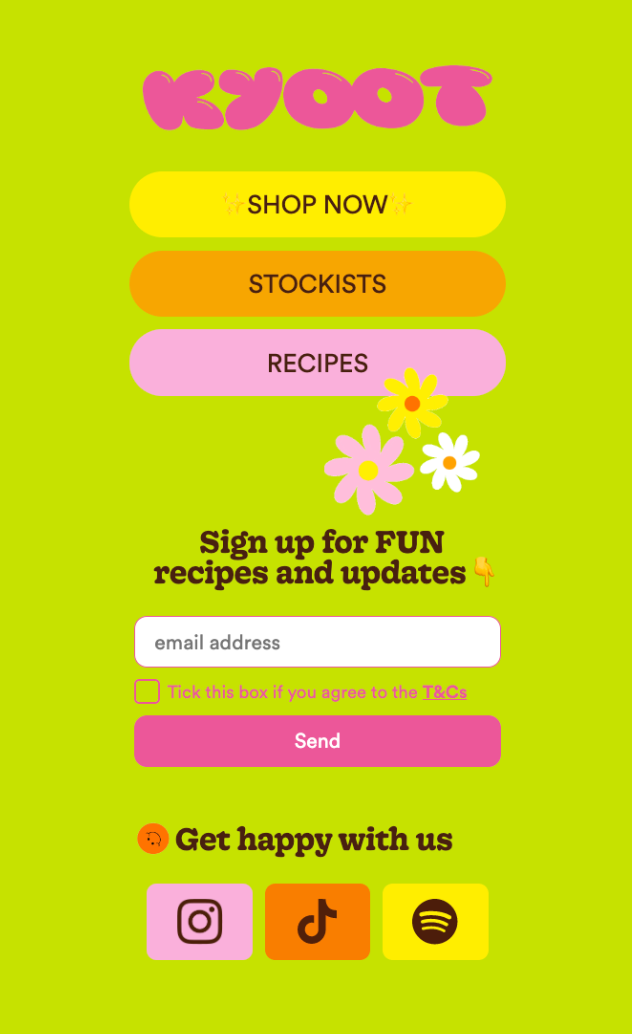 Early plans include a video intro and links to social content. The QR code campaign also promises to be a lead generation tool for the brand. Kyoot is revamping its email strategy in time for the QR launch, too. Customers signing up from the microsite will be added to a drip campaign ending in a discount code.
While the campaign is poised to launch this month, it remains to be seen whether the effort will meet Noor's goals. But she's already excited about where else QR codes can take Kyoot in the future.
Plans could include callouts for user-generated content, recipes, contests, and playlists, all linked from the microsite. "My dream would be to have a van to drive across the UK featuring our brand and a huge QR code," says Noor.
Tips for maximizing QR code marketing campaign results

Inspired by these stories to build your own QR code marketing strategy? Follow this expert advice to get the most out of QR codes for your brand.
Develop clear campaign goals. Understanding your expectations of the campaign up front will help you measure its success and keep it focused.
Include and clear CTA with unambiguous messaging. While QR codes are ubiquitous, many customers need a nudge to scan. What's in it for them? Include clear messaging to set customer expectations and give them incentive to scan.
Pivot content based on data. The beauty of QR codes is your ability to adjust your microsite easily without having to update printed materials. Use this to your advantage and let insights guide campaign iteration.
Capture customer information. Give customers incentive to sign up for your email newsletter or SMS marketing by offering a discount code or access to exclusive content.
Achieve QR saturation. While you may want to add a QR to shipping boxes like Mamamade, print them on product packaging or directly on products, too. For creative QR marketing ideas for packaging, check out noissue's QR-friendly lineup and learn how to make your QR code print perfect for custom packaging.
Consider unique microsite experiences for each product. Mineral water brand Belu prints a unique QR code on each flavor, driving customers to experiences unique to each.
How will you use QR codes in creative ways with your brand? Share your QR codes in the wild by tagging your social posts with #noissueqr!