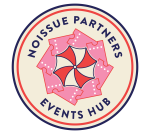 Iris & Co is a London-based florist specialising in weddings and events with an alternative twist for non-traditional couples. Since lockdown 1.0, Iris & Co has also sold a range of houseplants online to cheer up the nation's homes.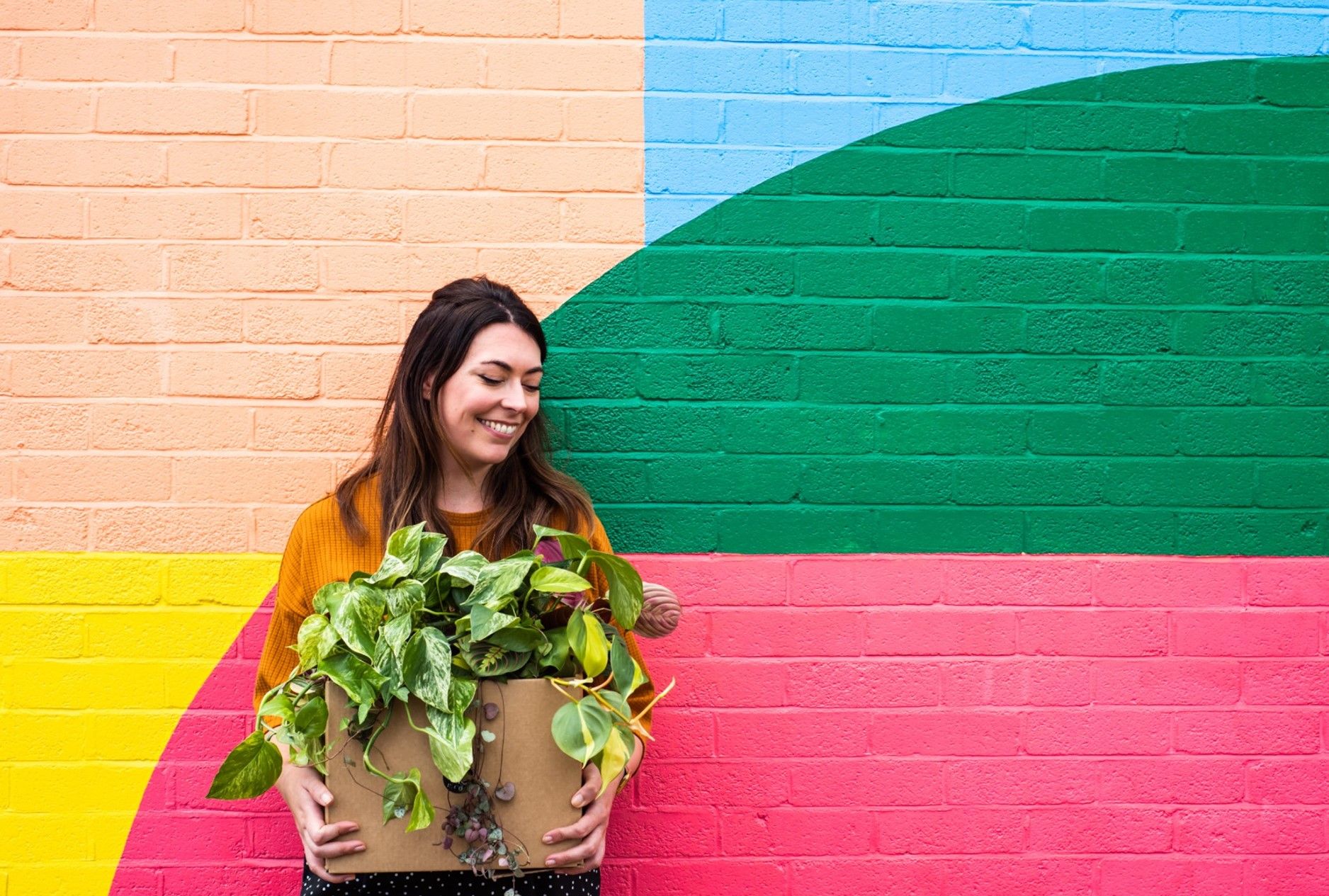 Welcome to the noissue Events Hub! Tell us more about yourself, your business, and the services you provide.
Thanks for having me! I'm Gemma and I'm the owner and creative florist at Iris & Co.  I live in South London with my partner and my very cheeky miniature dachshund pup, Jasper.
Being a florist wasn't your initial career path. What were you doing before Iris & Co. and how did you get into floristry?
It wasn't! I had a very niche job specialising in pharmaceutical advertising regulation.  I was working for a large Pharma company in a huge office, seemingly living the London dream. I enjoyed my job but could never shake the feeling that I didn't want to be in an office forever, chained to a laptop. I never really had any idea what I wanted to do, just to do something different each day and be creative.
I was searching for evening courses to spark the creativity I felt I had lost over the years when I spotted a 6 week flower arranging course. Thinking that would be a nice thing to learn, I signed up. Little did I know that would lead to a year long course and eventually starting my own business.
There's quite a beautiful story behind the name Iris & Co. Would you mind telling us who Iris is and her significance in your life?
Iris was my grandma, we lost her quite a few years ago but she was such a character, her quips and amusing stories are still shared by us regularly. She wasn't one for big speeches or giving sage advice but one day she told me about how, without a hint of bitterness, she hadn't been able to pursue some of her dreams in life. She advised me to say yes to every opportunity, to live life to the full and not regret missing out on things. I remember being surprised by her sharing this at the time but I've always remembered that conversation well (sitting in her 70's wallpapered lounge) and it's living by that advice that I'm pretty sure led to me sitting in here in my very own studio, right now!
You specialize in "courageously creative flowers" for weddings and events. What is your approach to your floristry style? How do you give flowers character?
For me, seasonal flowers are the happiest and full of character. The ever changing seasonal palettes that I get to work with make my heart full. My clients are what make my work unique and 'courageously creative' though. I don't make wedding flowers that are perfect balls of white roses, balanced carefully on a glass vase. I make huge bouquets for barefoot brides, floral skull centrepieces for gothic couples and giant colourful arches for memorable celebrations.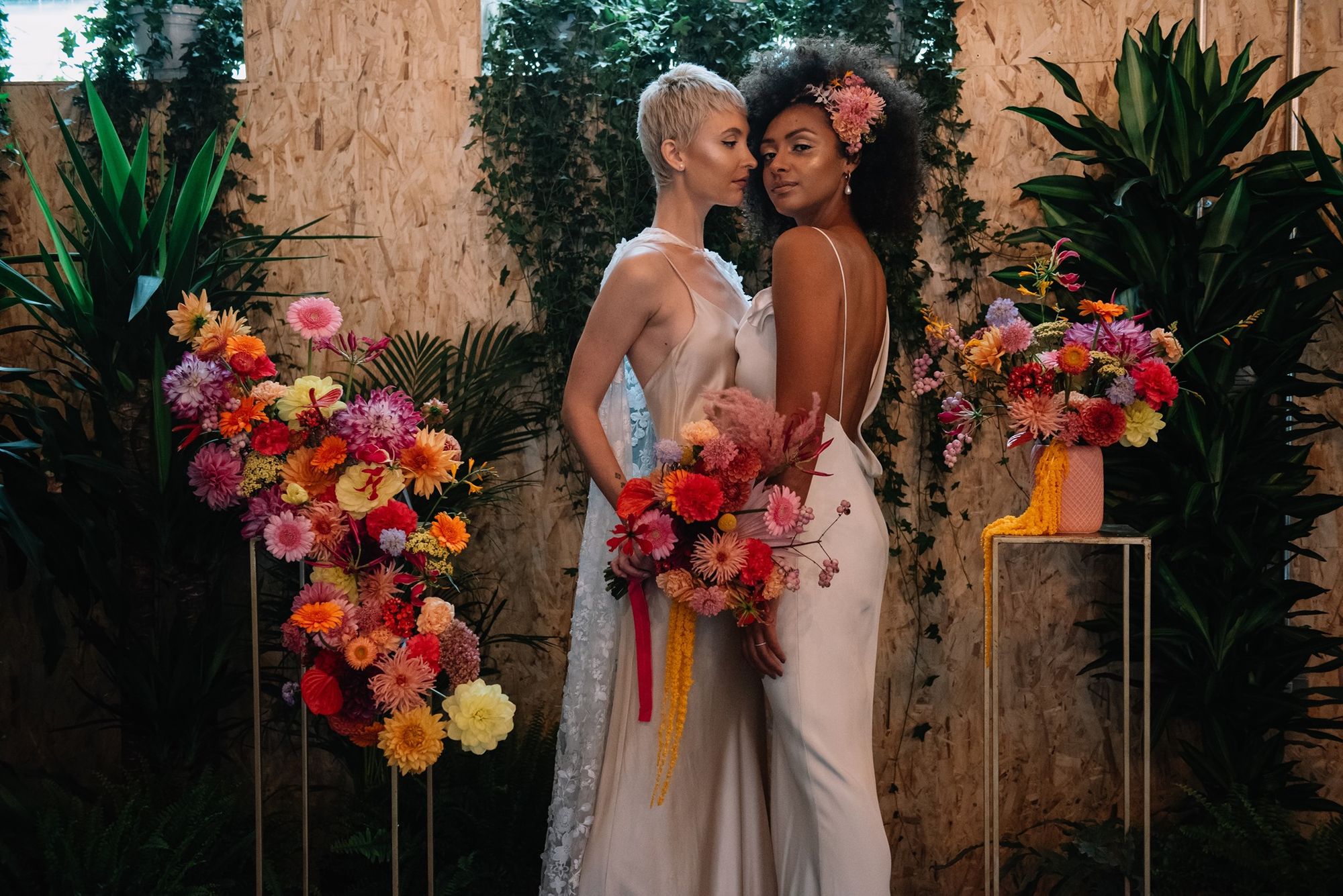 There is so much thought & work that goes into beautiful floral arrangements. What does the Iris & Co. team do with the leftover flowers after an event?
All couples have the option to take home their flowers, I offer lots of advice on drying them and many a dried bridal bouquet is adorning the home of Iris & Co brides!  Buckets of flowers go into a wedding though and it's not practical to dry or take home them all. Where I can, I take flowers from ceremonies and donate them to a fantastic charity Floral Angels who repurpose them and distribute them to hospices and care homes around London and the South East.
After Covid-19 hit, you decided to take the plunge into opening up an online shop offering house plants. Can you tell us more about this journey? Why house plants?
I had my head buried in the sand a little at the start of Covid-19, genuinely thinking the 3 week lockdown would be it. Pretty quickly the postponements came rolling in and my income started disappearing. I realised that I needed to do something, running a business is expensive and without anyone booking or having weddings, I had zero money to pay those bills.  
I took some time deciding what it would be that I sold. Operating out of my tiny flat, it had to be something I could fit, would work with my brand (I had only just paid a huge amount for my gorgeous website design, I couldn't afford another one!) I had been looking into confetti, drying petals and selling natural floral confetti. I was looking on my wholesaler website for ideas, potentially looking at postal flowers when I saw that they sold houseplants.
I'm a houseplant addict myself with several in each room and I thought it would be a fitting addition and one that I know at least a little about!  I bought a core set of great, easy to care for houseplants, designed some care cards to ship with them, found a courier company brave enough to ship houseplants and a pop up greenhouse for my tiny garden and I was ready to go!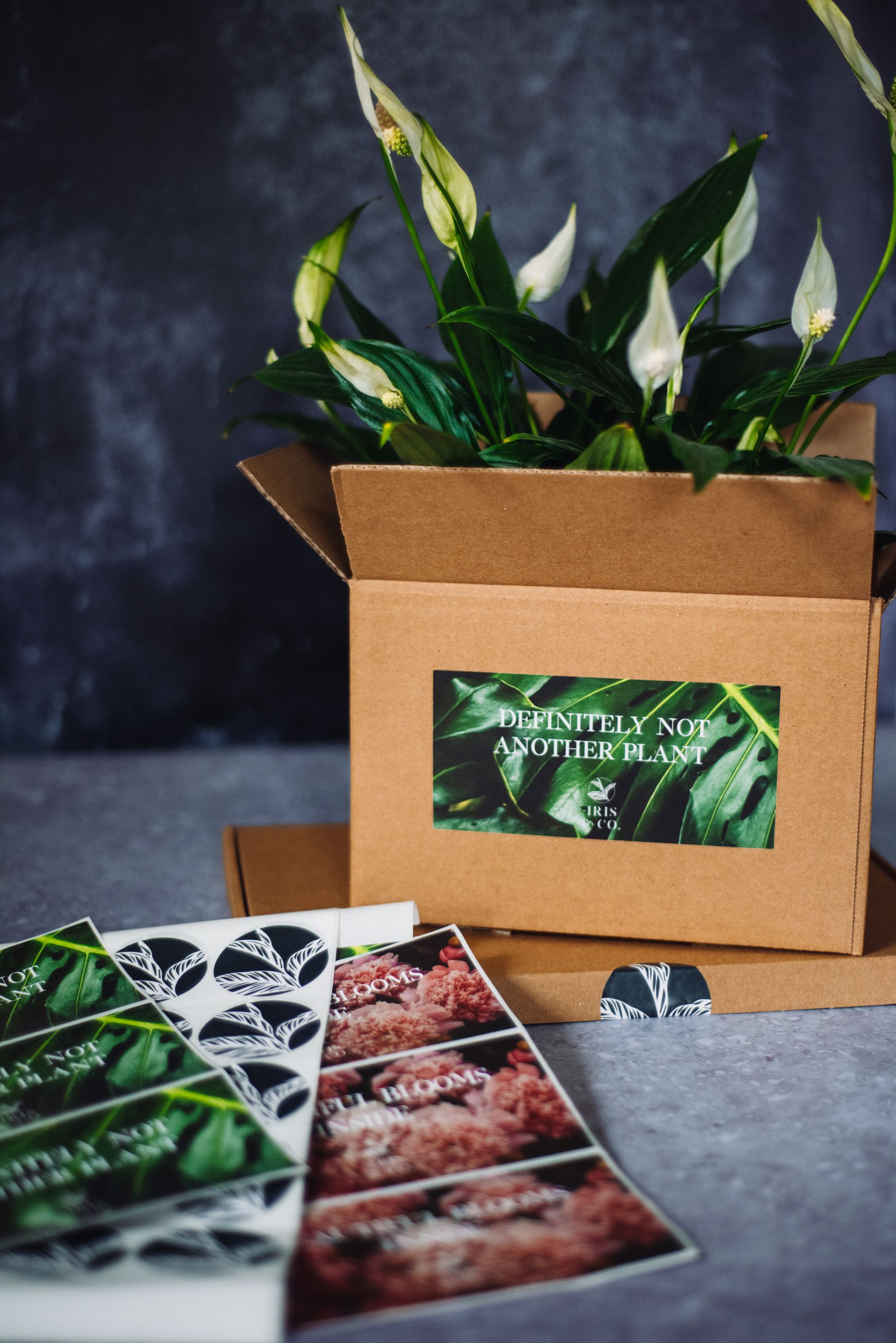 You found noissue not only out of interest in elevating your branding, but also as a necessity for safe delivery. How'd that come about and what did you learn as a new e-commerce business owner?
As anyone close to me will tell you, I often jump feet first into things without properly thinking. It can be a good trait in a business owner but also a challenging one. I set up my shop, pinged an email out to anyone on my mailing list, posted on my Instagram and waited for the orders to come rolling in. On my first day (a year ago this month!)
I got 5 orders, mainly from friends and family and I was pleased as punch. The next day, when I went to ship my orders, I realised that I didn't own a printer and needed to print my address labels. I ended up paying a fortune for urgent delivery so I could print them before the courier arrived to collect them!
I've now shipped well over 300 orders to all parts of the UK. I did have a few challenges with orders not arriving or being taken from doorsteps. I personally would have quite liked to have seen the expression of a thief hoping they'd got an iPhone but opening up a house plant!
I looked into branded packaging but as some of my boxes are almost 1m tall, and I need lots of different sizes, that option was way out of my price range. I decided that stickers would be a great way to differentiate my packaging if being searched for in a hub of thousands of brown cardboard boxes and also hopefully deter those opportunistic thieves who would rather not care for a plant for the next 5 years.
I was looking for eco-friendly stickers when I came across noissue, I got designing, placed my order and I love them. My boxes are on brand and so far, no doorstep swiping!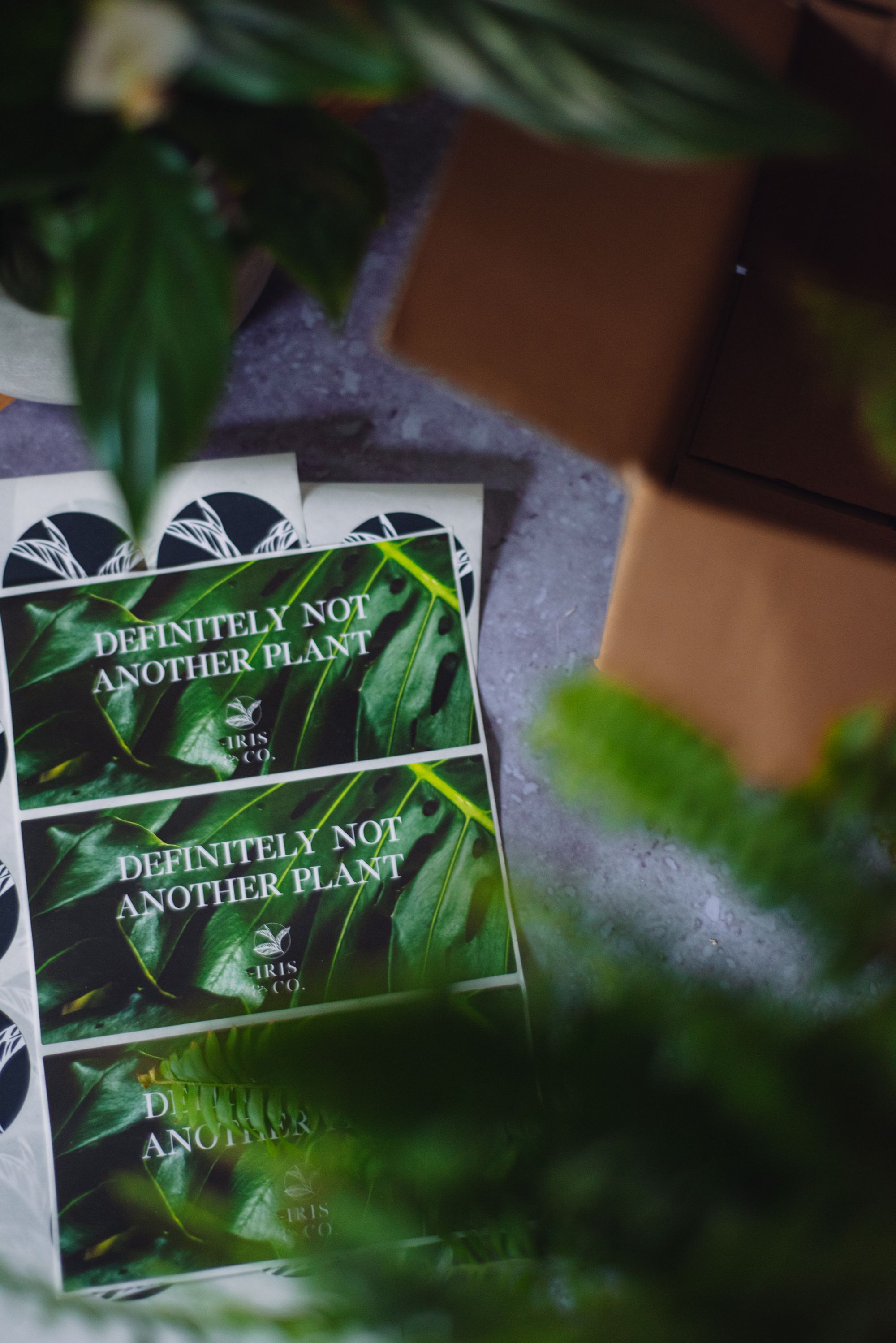 If you could share a piece of advice to a fellow vendor considering opening up an online business, what would it be?
It would be to just go for it. Whilst market research is helpful, sometimes perfection can get in the way of progress. You will learn SO MUCH in the early days (and it will continue) and it will help you shape your business. Also, inspiration comes in the strangest forms. My best-selling gift boxes came to me in the middle of a terrible episode of insomnia so now I keep a pad and pen on my bedside table in case any more ideas want to surface in the middle of the night.
Time for a fun question! What houseplant do you identify with and why?
Oooh this is a tricky one... I think I'd say I'm a good old swiss cheese plant. Sturdy and dependable, grows beautifully in the right conditions and loves a good bit of sun!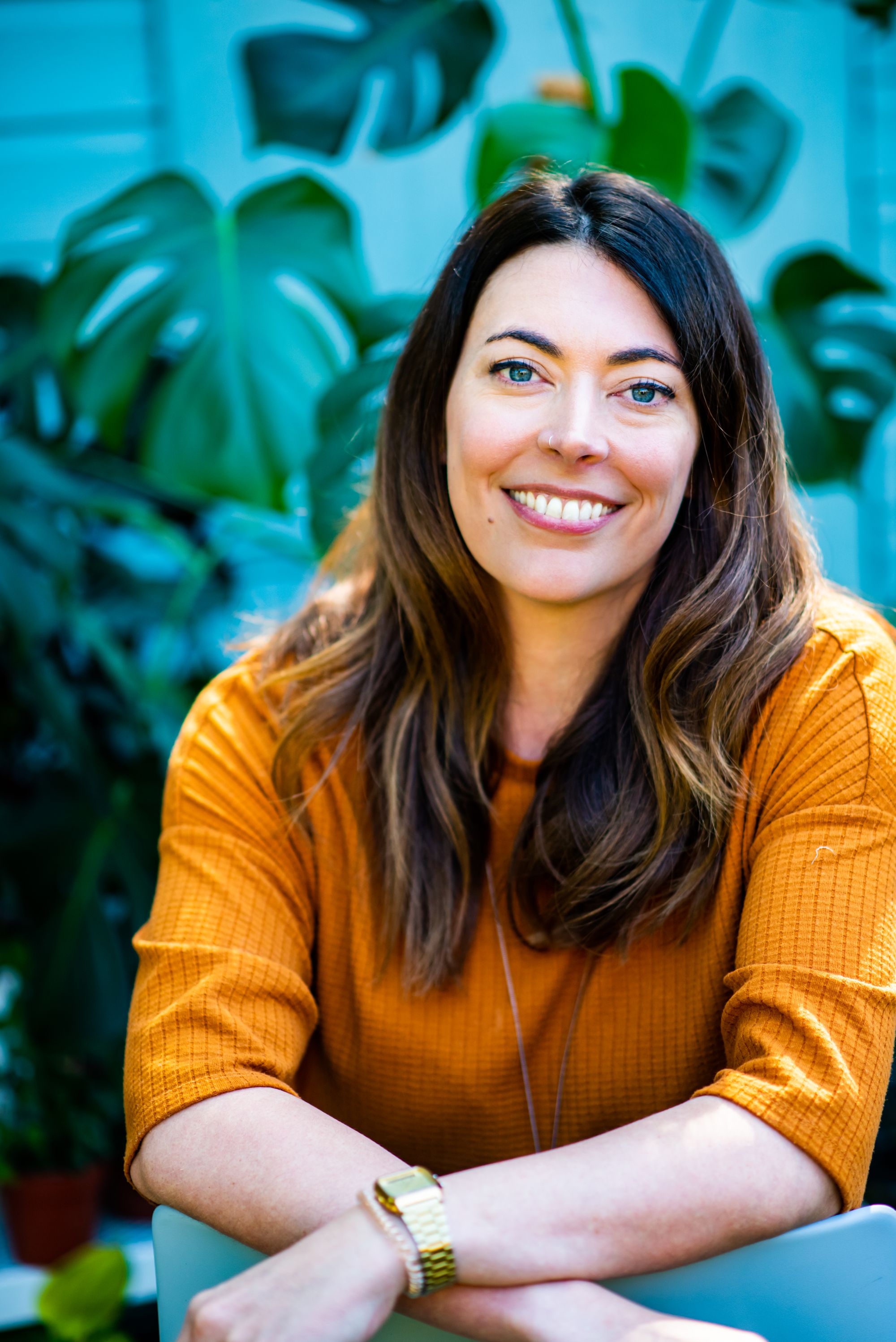 ---
Want more of Iris & Co.? Visit her website and hit follow on Instagram!