Hi Creative Community,
I'm Rachel, a Graphic Designer turned Illustrator and Printmaker from West Auckland, New Zealand. I only started my printmaking business, Rach Prints, during the first lockdown last year, as a way to grow my illustration practice, explore different printmaking techniques and work on self-initiated projects. My work centres around illustrating the beauty of flowers using print as a medium, whether through linocut, risograph or letterpress.
My flowers aren't traditional botanical illustrations that follow scientific precision, but they're rather depictions of how I see them through my eyes, images that are then translated onto blocks and then onto paper. In my work you will recognise a love for detail and symmetry, alongside a hint of wobbliness and a preference for non-realistic colour shades!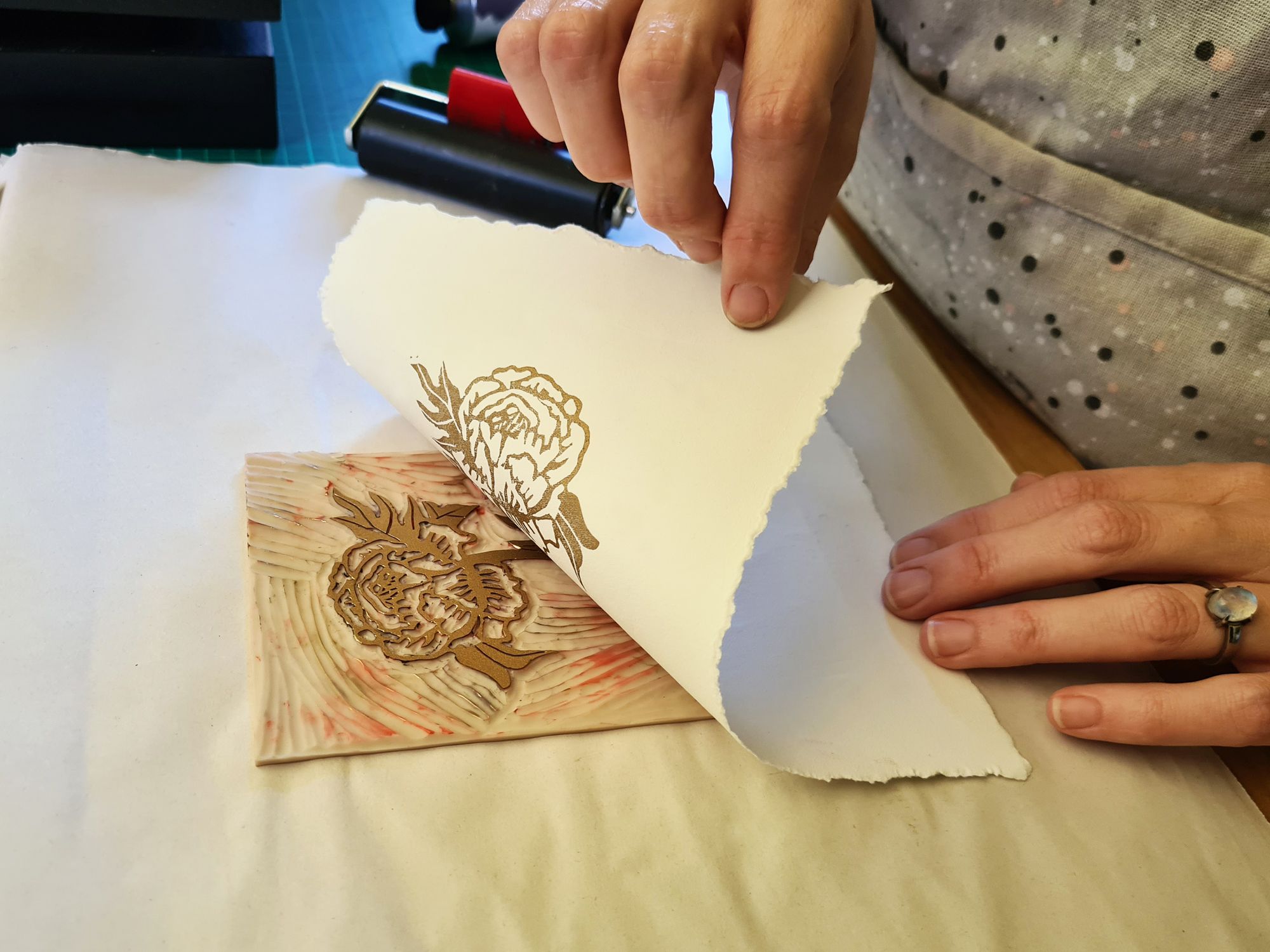 In my view, printmaking is all about the process. When designing or illustrating for print, you need to be able to envision your creation in its final form. It's about understanding the limitations that exist with each form of printing, and how you can use those limitations to your advantage to create the most effective design. The beauty of printmaking is that are many different methods you can use, and each displays its own set of characteristics and charm.
The linocut method, which is an alternative to woodcut where a linoleum sheet is used for relief surface, I find to be particularly satisfying. Once you have an illustration ready, you slowly carve the drawing into a block and then experiment with making a print using that block. Some days I will only achieve one perfect print out of 10, with each iteration slowly building to the last. Risograph is also very intriguing. Setting up the colours and fiddling around with overprint means I'm almost designing in the dark. I love not having any idea what the final print will really look like until it's coming off the machine.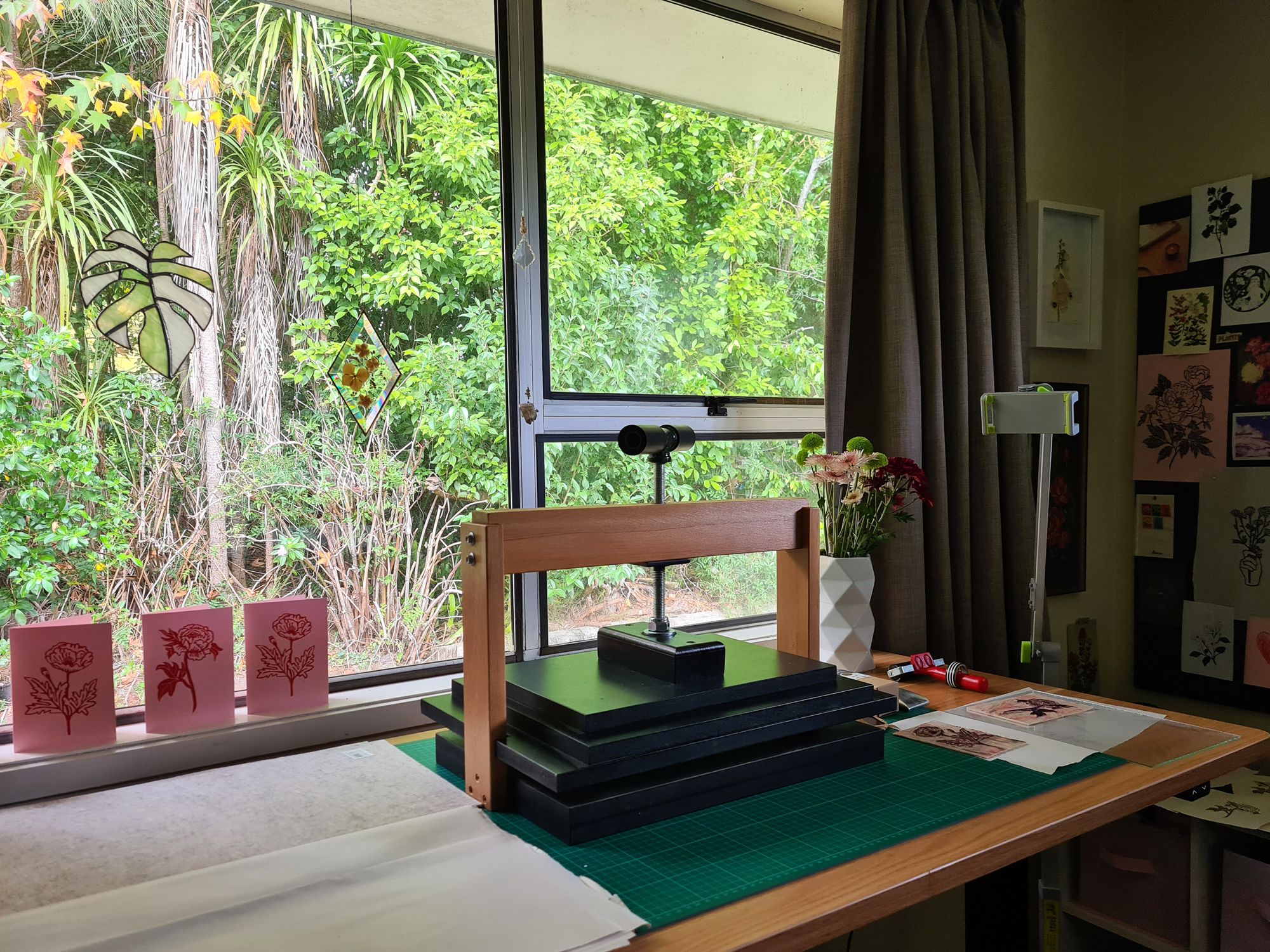 Rapid Fire Q&A 🔥

What's your favourite...

… way to start the day?
A cup of hot coffee in my favourite mug
… design tool?
It's a tie between my iPad and Apple pencil and my Pfiel Carving Tools
… source of inspiration?
My dad's garden
… colour (and why)?
At the moment it's Riso Fluro Pink because it's super bright and I just love it!
… design hero/person you aspire to?
Anna Bond of Rifle Paper and NZ Printmaker Beth Serjeant
… productivity hack?
I draft my To Do list at the end of each work day, so it's ready to go in the morning.
… client wrangling tip?
Communicate clearly and concisely, without leaving anything open to interpretation.
… piece of advice you've received?
Ask for help when you need it, and don't beat yourself up over mistakes. It's all part of the learning process.

… brand identity or design by another business?
At the moment it's Floret Farm's seed packets, illustrated by Nina Sajeske and designed by Nicole A. Yang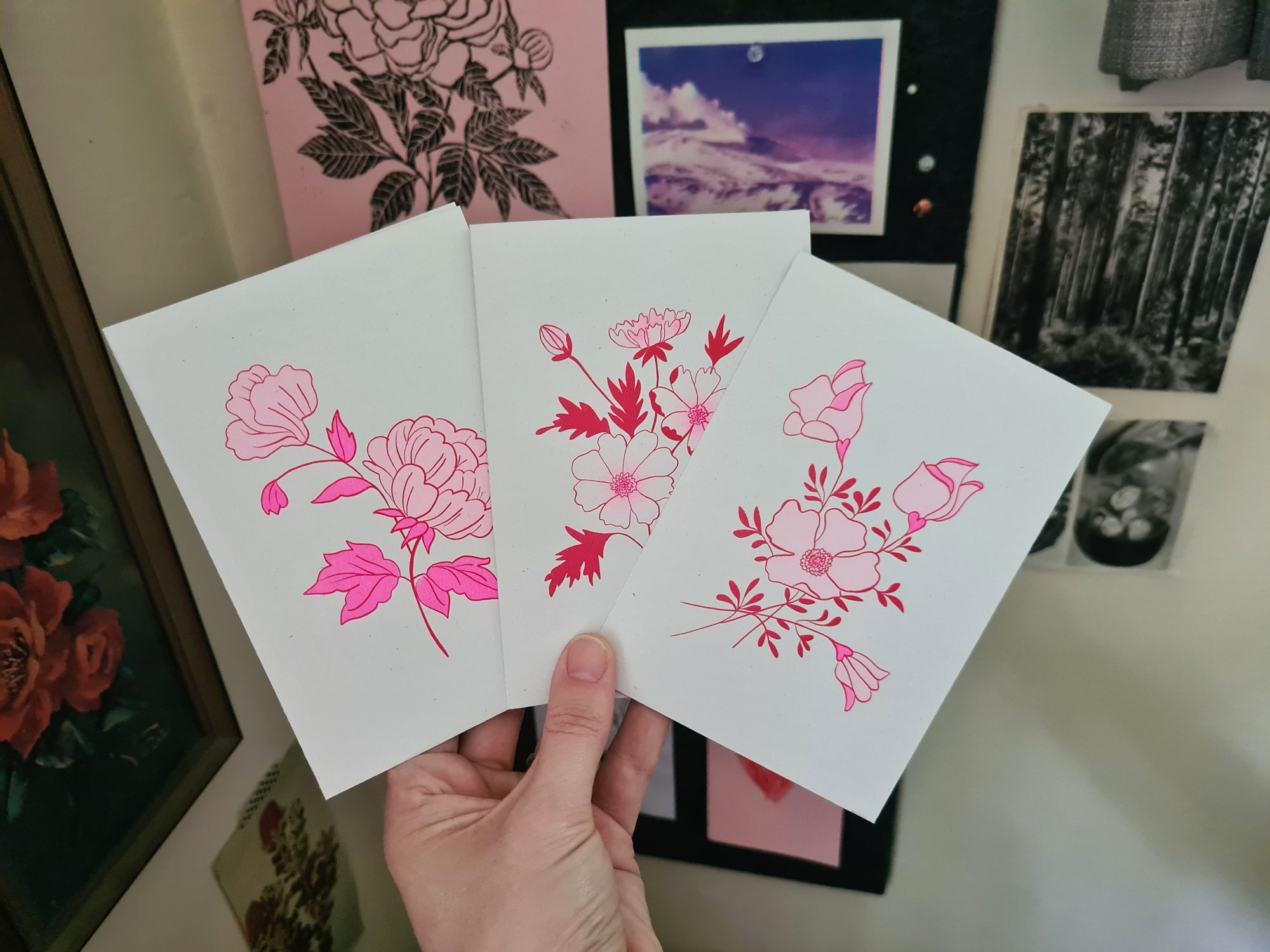 How my love for printmaking taught me to slow down
I worked as a graphic designer for over 12 years, mostly in fast-paced agency environments and as a manager to an in-house team of creatives. It's only 2 years ago that I started seriously considering printmaking. I had taken on a part-time role as a print production assistant, and quickly realised how much I loved getting away from my computer and working with my hands. I had gotten to a place with graphic design where I felt confident in my skills and experience, while printmaking presented a fresh creative challenge with so much space for growth.
Just under a year ago, I decided to take the plunge and started my own business, Rach Prints. The idea of a variable income scared me the most, but it's also what pushed me to show up everyday and make it work. A huge encouragement came when I opened my online store and sold several prints on the first day. It made me realise that people appreciated my work and made me feel super excited about the possibilities ahead of me.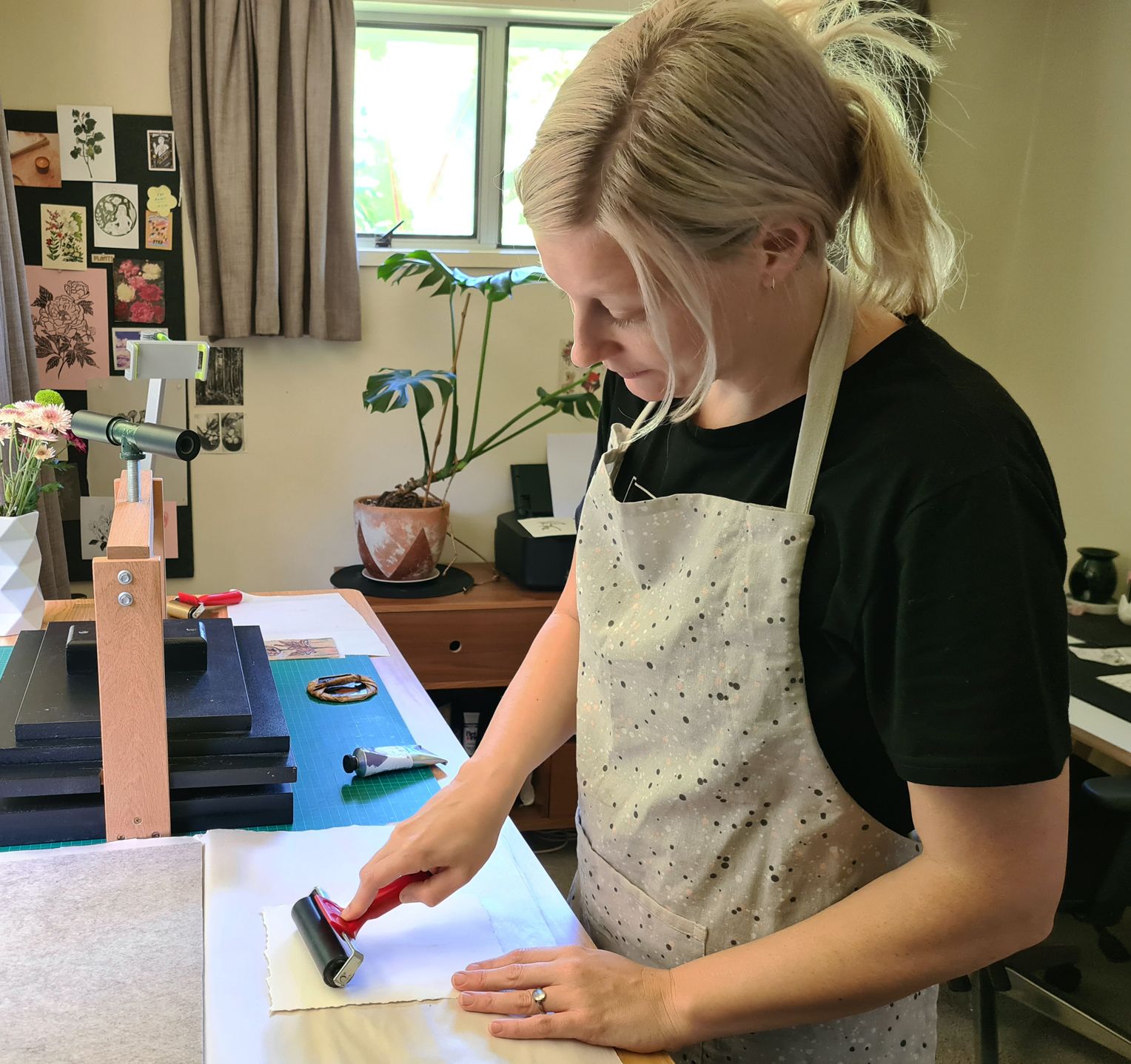 I did retain some freelance graphic design projects on the side, which can be a juggle at times. Setting up solid time and project management structures has helped a lot with that. On a deeper level, I think that I have myself developed through the practice of printmaking. Creating prints can be a lengthy process that often requires repetition to get it right. The practice has taught me patience and determination and has helped me live an intentionally slower, more creative existence. By embracing that pace, I have also gotten better at truly disconnecting from work and responsibilities. I now allow myself to thoroughly enjoy my rest time, often in the garden.
As Rach Prints grows, my hope is to eventually own an etching press, a Riso printer and an Adana press and to work out of a larger workspace. I'd love to have my own little shop where I sell what I make, grow flowers and teach creative workshops. To get there, I plan to keep immersing myself in all things print and flowers and take every opportunity that comes my way to work with, and learn from other artists, printers and creatives.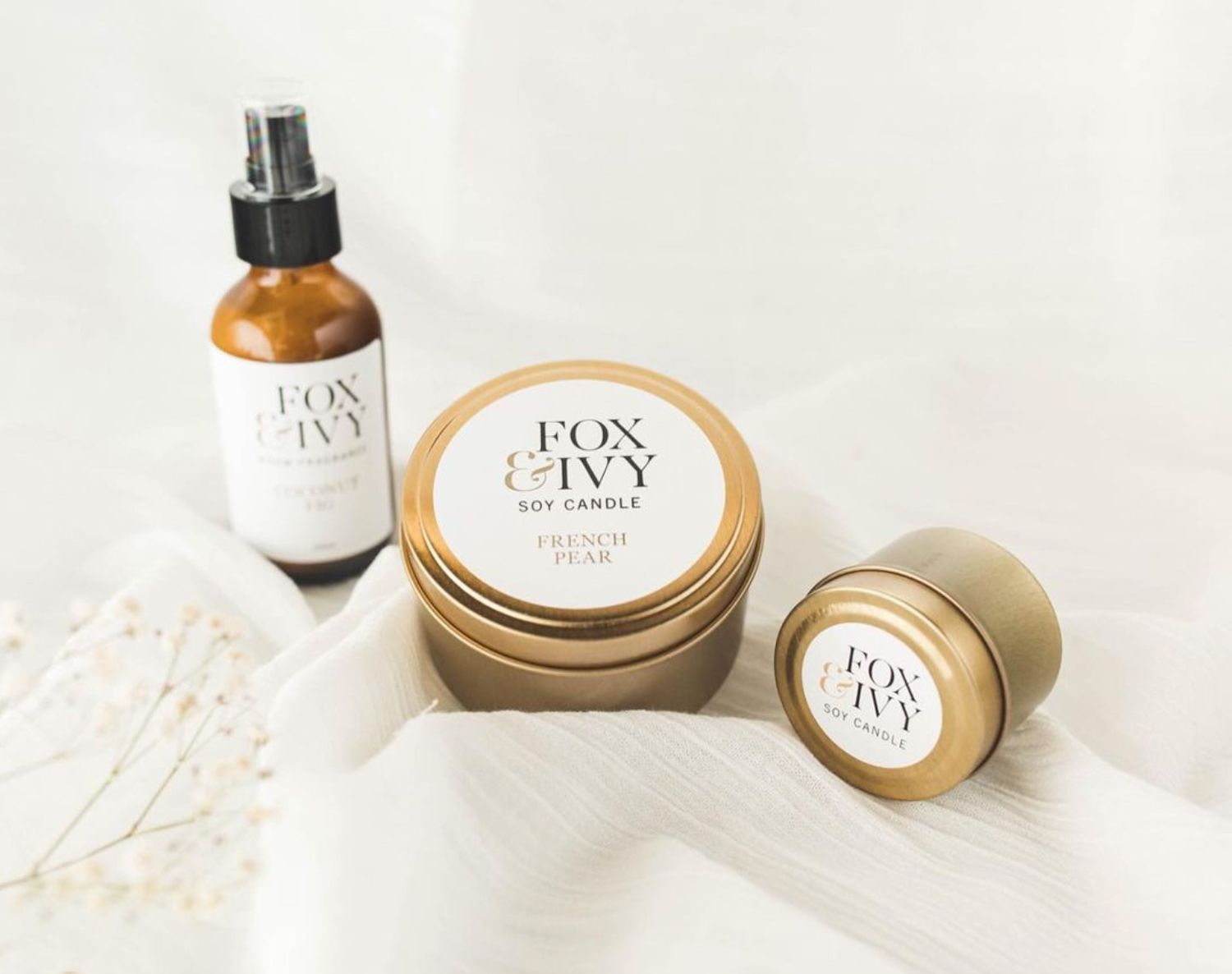 Thinking of pursuing printmaking? Here is my advice!
Learn about print
I know there are heaps of educational resources online that explain the technical things you need to know, but books are an amazing resource when it comes to actually holding printing in your hands. Get yourself a library card and dive in!
Email your local printer (letterpress, digital, riso, younameit) and introduce yourself. Tell them you are interested in print and would like to come and see what they do. I have never had a printer say no!
As you carry on, find other people who work with printing and strike up a friendship. There's nothing more inspiring than watching other printmakers working and being able to show them your work and give each other tips and encouragement.
Check out your local Polytech or Community College or search for local Facebook groups. Sign up to hear about workshops in your area.
Be a self-starter!
Learn about print design by designing for print. Create your own dream projects and design the kinds of things you want to make more of in future. Take photos of everything you make, and share both process and results.
Show people how much you love what you do and don't be afraid to showcase your mistakes or talk about the parts you find hard. Art is a subjective thing, and not everyone will like your work or be interested in what you do, but if you consistently put your true self out there, people on your wavelength will find you.
Also, if you want to offer commissions, tell people! Make sure your audience knows how they can commission you by having a clear process outlined on your website.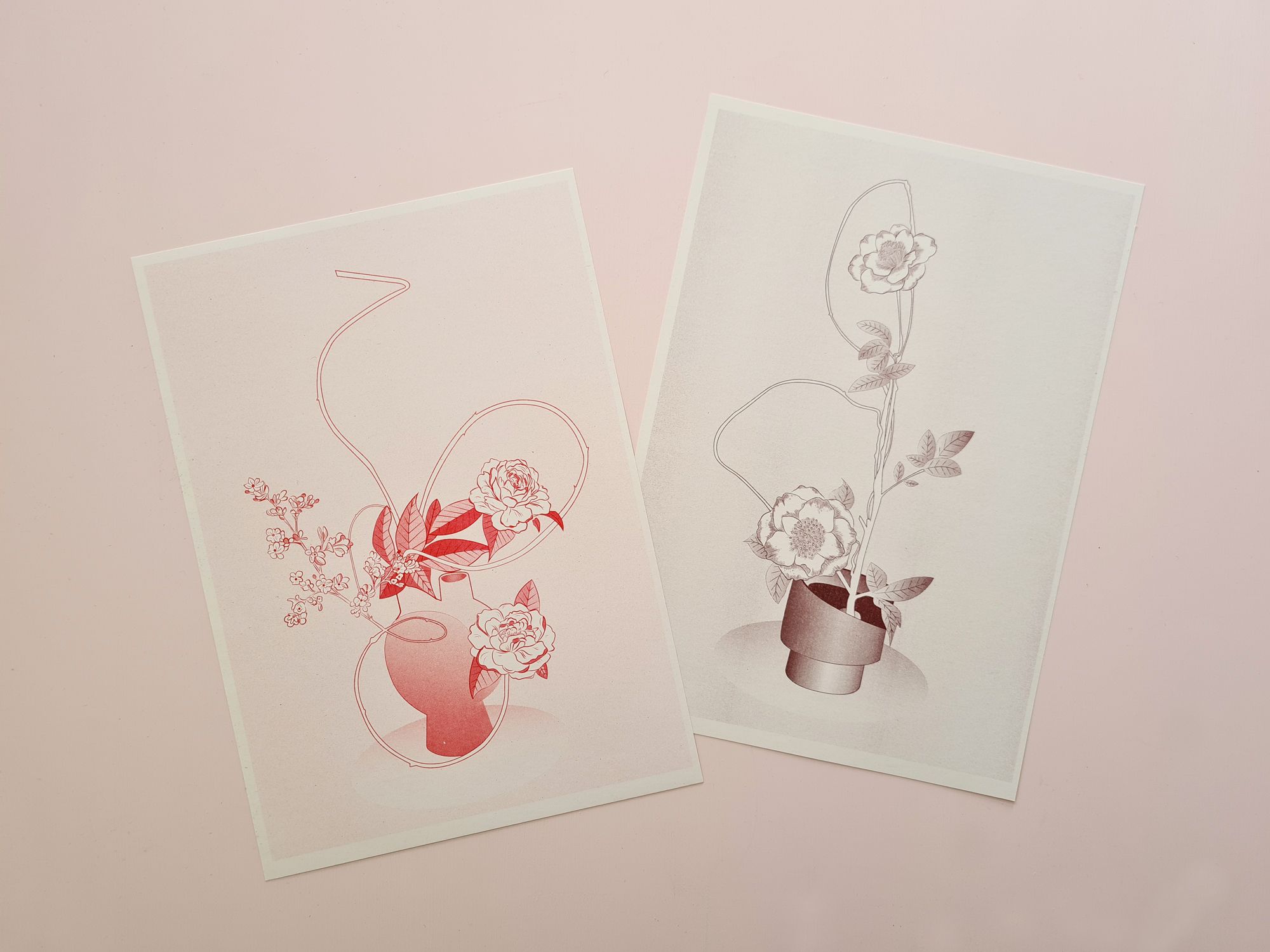 Don't place all your eggs in one basket
Aim to have multiple streams of income, especially if you are just starting out. Sit down and figure out how much money you need every month to live, and get practical about how you can do it. There is no shame in having a day job or part time job to fill in the gaps. It's all about finding the right balance.
Get yourself the right tools
Designers have different preferences when it comes to software. When designing and illustrating for print, I recommend Adobe illustrator, paired with Adobe Fresco, along with my Apple pencil. I also use Procreate for creating pixel based illustrations.

Having sharp tools is essential for carving lino. You can find some cheap ones with disposable heads at craft stores. These are fine when you're beginning, but if you are serious about printmaking, invest in some decent tools. Pfiel carving tools are incredible!
Develop a clean approach to client work
Have a clear process in place for when you take on commissions. Make sure your approach includes thorough communication with multiple touch-points, especially around what the client should expect. Make sure you meet those expectations, and if you aren't sure about something, email them and ask. Even better, pick up the phone and call them. Being on the same page at all times is essential to keeping a positive relationship.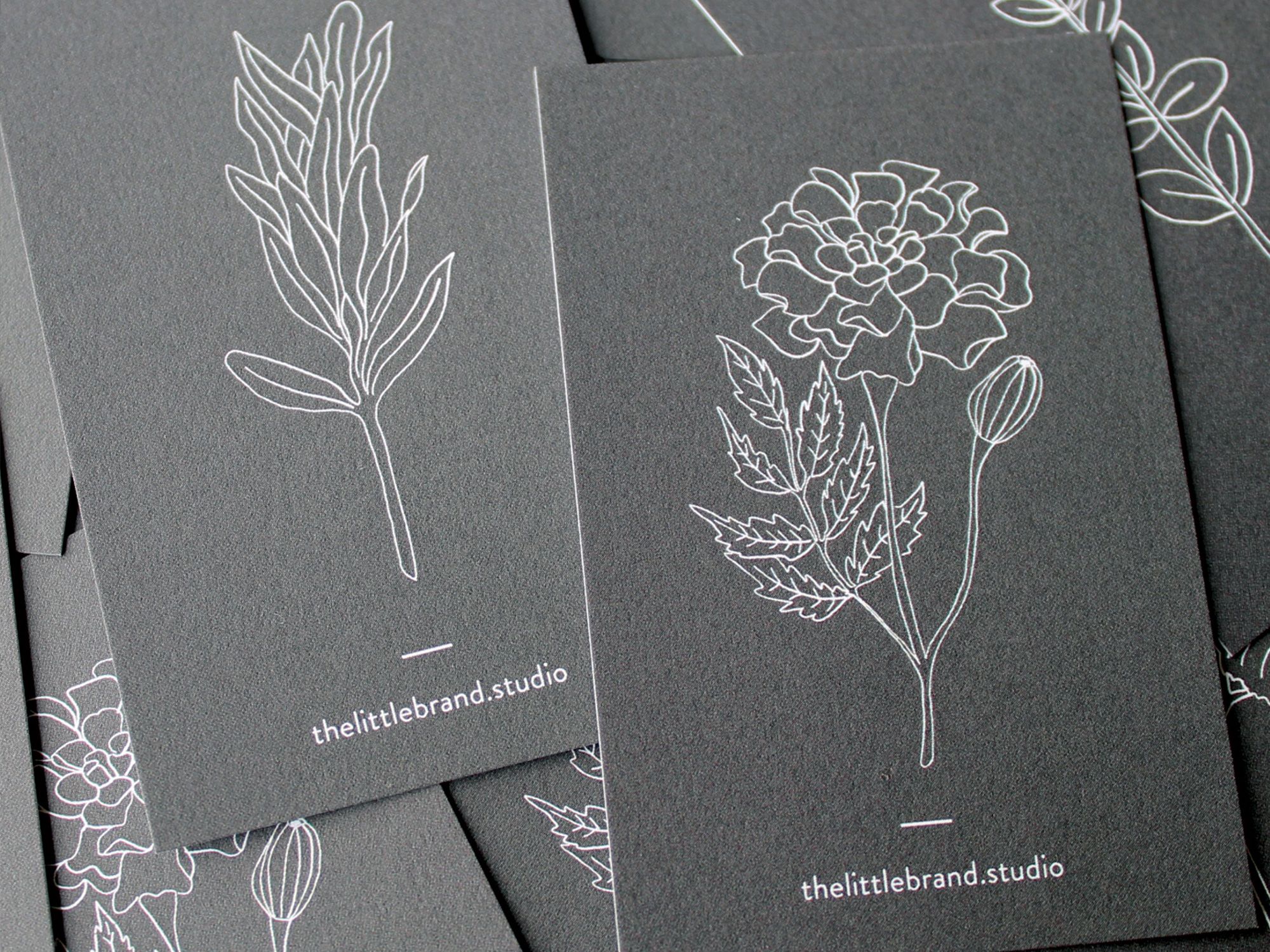 Check, check and check again
Once you have landed a commission, give yourself the time to understand the specifications for the project. Always get a proof and print out your design throughout the process so you can get a sense of the scale and balance in print, as opposed to just relying on your screen.
Build your practice into your life
Finally, Printmaking, Illustration and Design are all practices and as such they require time commitment. If you want to build a creative career, be it in printmaking, design, or any other fields, start by gradually building your creative practice into your routine. Find the time, even if it's just 20 mins after the kids are asleep, but do so consistently. As long as you dedicate the time and make it an essential part of your life, you'll find that things have a way of working out!
Wish to learn more about Rachel and her gorgeous prints? Visit her website and Instagram page!
---
Are you a creative professional? Care to get featured in the Creative Buzz Series and impart some wisdom? Follow this link to brief us!