Say what you want about email marketing, but the fact remains that it's still one of the most important and widely-used communication tools today. Data from Statista shows that email users are expected to grow from 4.03 billion in 2020 to 4.37 billion in 2023.
Email is also a critical component of your customers' ecommerce journeys. Think about it: anyone who wants to buy something online needs an email address. It's how people get important information from merchants, including order confirmations, tracking details, and more.
And when it comes to marketing and sales, email continues to deliver a tremendous ROI. Research from Litmus found that for every dollar spent on email marketing, brands earn $42 in return — that's an ROI of 4,100%.

Clearly, email is far from dead. And with more brands using it to reach customers, the competition is fierce.
While it's true that people still check their inbox regularly, it takes a whole lot more to win their attention, let alone their business.
So, what can you do to thrive?
In this post, we shed light on key trends, tips, and examples to help you win the email marketing game in 2020 and beyond.
Let's get started.
Get your hands on the right data
There are a lot of cool things you can do with email these days, and you don't have to be a large corporation to do them. Even small and medium businesses can create automatic email flows, personalize their messages, and even optimize the send times of emails.
But in order to do all that, you need the right data. You need to know enough about your customers, their preferences, and their buying habits to effectively serve up the right messages at the right time. Otherwise, you'll end up sending irrelevant emails that don't convert.
That's why the first step to any successful email marketing initiative is to gather useful subscriber and customer data. Be sure to collect:
Basic customer/subscriber details like their name, location, and date of birth
Data around their brand interactions, including purchase history, products they browsed, how much they spend and how often
Their messaging preferences — what types of emails they want to receive, the topics that interest them, etc.
How can you get your hands on all that data? You can easily collect the basic stuff using most email marketing software. Tools like MailChimp and ConstantContact make it easy to capture and store simple subscriber details, and all you need to do is set up the right form fields.
But if you want to go deeper and leverage the behavioral data of your customers, you'll need more sophisticated tools to do so. There are a number of marketing automation tools in the market that enable online merchants to create personalized marketing campaigns based on each customer's shopping behavior and purchase history.
Consider the following:
Omnichsend streamlines your marketing campaigns by letting you create workflows that automatically send messages to shoppers based on specific triggers.
With Omnisend, you can touch base with shoppers who abandon a product or leave their shopping carts. You can also drive sales with automated product recommendations based on people's previous purchases.
Pricing: Omnisend has a free plan that includes 15,000 emails per month with basic features. It's paid plans start at $16 per month.
Marsello simplifies email marketing by letting you automate your customer communications. You can use Marsello's pre-designed email flows to welcome first-time shoppers, reward your top customers, recover abandoned cards, and wish shoppers a happy birthday.
What's great about Marsello is it uses artificial intelligence to segment your database. Marsello analyzes your customers' behaviors and automatically figures out who your top spenders are, as well as who are "at risk" and haven't purchased in a while. You can then use those insights to connect with shoppers in the most relevant way possible.
Pricing: Marsello has a free plan which comes with basic features and lets you get started with a loyalty program with up to 1,000 customers. The pricing for its paid plans vary, depending on your software integrations, number of websites, and the size of your email list.
Just like the other tools we mentioned, Klaviyo is packed with marketing automation tools that let you send relevant and timely customer communications.
Klaviyo's email flows allow you to reach out to shoppers depending on where they are in their buying journey. It even lets you run A/B tests to figure out which messages are driving the most results.
Pricing: Klaviyo's pricing is based on the size of your database. To give you an idea, if you have 1,000 contacts on your list, you can expect to pay $30 per month, and enjoy unlimited email sends. The plan also includes Klaviyo's segmentation and personalization features, email automation, and more.
Pro tip: There are a lot more email marketing tools in the market, so do your research. To make this step easier, set your sights on software that can integrate with your ecommerce solution. If you're using Shopify, for example, you can focus on tools that have an existing integration with the software. Using BigCommerce of Squarespace? Specifically, look into tools that connect with these online platforms and can give you the info you need.
...then put that data to good use through automation
Already have a rich customer database? Great. Now it's time to put all that info to good use and send people personalized and timely messages. The key is to make this process automatic. After all, you're busy running your business, so the last thing you want to do is to spend time personalizing emails yourself.
This step shouldn't be too difficult once you've armed yourself with software that allows you to create email flows for different customers.
The types of email flows to adopt will depend on your business, but here are some of the most common ones:
Shopping cart abandonment
You've seen these emails before. Shopping cart abandonment messages are triggered whenever a customer places an item in their cart but leaves the website without completing the purchase.
Cart abandonment emails are very effective — these emails have a 40% open rate, and 50% of  users who've opened cart abandonment emails end up completing their purchase.
Needless to say, they're a must for any online merchant.
Here's an example of a cart abandonment email from the meal company Six Pack Meal Preps. It contains quick links to the customer's shopping cart making it easy for them to proceed to checkout.
Plus, the copy of the email promotes a sense of urgency and encourages people to order quickly:
Seems like you have left some items in your shopping cart. These items are not reserved and may sell out quickly, so be sure to place your order soon!
Re-engagement
This is an email flow for people who haven't bought anything in a while. Use these messages to let people know that you miss them and to show them what they're missing. If you can afford to do so, consider throwing in a discount.
And depending on your email marketing software, it may be possible to further personalize these messages by recommending products based on their last purchase.
Have a look at this example from the supplements company Vital Proteins:
Birthday greetings
Everyone wants to feel extra special on their birthday, so make it a point to connect with your shoppers on their special day. Why not give them a gift in the form of a freebie or offer?
The skincare company Curology is doing just that. As a birthday treat, Curology sends celebrants a custom formula made specifically for their skin.
Replenishment reminders
If you sell products that run out or need to be replaced on a regular basis (e.g., food, cosmetics, personal care items), then you should set up an email flow that automatically prompts customers to repurchase the product.
Here's an example of this tip in action from Sephora:
Let customers do the talking
Moving away from data and automation, let's discuss the actual content of your messages. Your email copy can make or break people's decision to click and buy, so be sure to get your messaging just right.
Inject some personality into your emails. Your brand's distinct voice and style should shine through your messages and compel readers to take action.
One way to give your message a unique voice is to let your customers do the talking. Weave in user-generated content (UGC) to your emails and put the spotlight on other happy customers that your subscribers can relate with.
Have a look at the following email from Tony Robbins, which leads with a quote from one of his happy clients.
Incorporate interactive content or GIFs
Brands are increasingly gravitating towards more dynamic emails that feature interactive elements like image rollovers, countdowns, and clickable menus. Interactive content can generate twice as many conversions as static content, so it's certainly something you should explore.
Check out this email from Fabletics to see an example: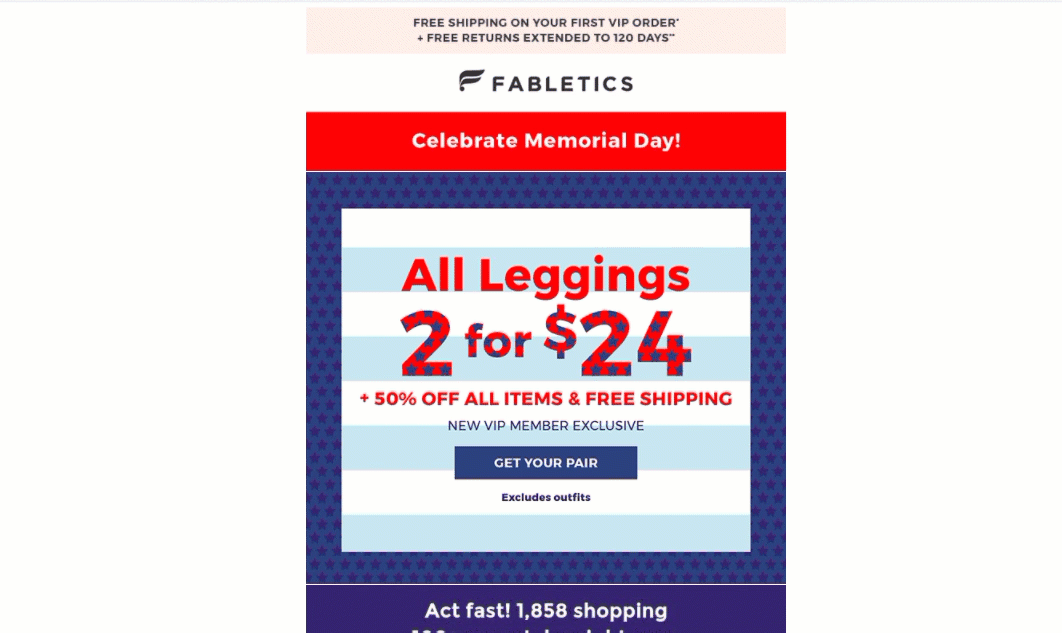 Now, interactive emails do require a bit of coding, and the specific steps on how to implement them will vary depending on your email marketing software. The folks from Email on Acid have a good tutorial on how to create interactive emails, so check it out.
If interactive emails are too complex, you can still make your messages more dynamic by adding GIFs that can give your emails more life. Just make sure to test your messages on different email clients to ensure that they display correctly.

Spruce up your transactional emails
Transactional emails are triggered when the user initiates an action that's transactional in nature. For instance, when they subscribe to your email list, request for a new password, or purchase something. Examples of transactional emails include order confirmations, password retrieval emails, and shipping notifications.
Because these messages are typically requested by subscribers, they have much higher open and click-through rates compared to promotional emails. According to Inner Trends, these messages typically see open rates of 40-50% and CTRs of around 10-20%.
Smart email marketers recognize the value of transactional emails and are using them to increase engagement and sales.
Showing off the brand's personality
Recess, the brand behind the popular CBD drink, uses the following email not just to notify shoppers of important details, but to also showcase the brand's personality.
Aside from the eye-popping design, the email's copy goes beyond the bland "your order is confirmed" message. Instead, the folks at Recess took the time to write a unique message that's truly on brand.
It reads, in part:
thanks to the miraculous power of technology, we have received the order that you placed online moments ago. how this is possible is widely beyond my comprehension as a mere copywriter, but here we are: face-to-face, so to speak, inside the confines of an automated email. two lost souls searching for something intangible in an incomprehensible world.
anyway, your order should ship soon.
You can't help but admire the effort and wit of the Recess team, and because the email is so compelling, we're sure that customers will be more inclined to open the brand's other messages.
Making relevant product recommendations
Other retailers are using transactional emails to drive traffic and sales. Nordstrom's order confirmation email, for examples, contains product recommendations based on the item that the shopper just purchased
Email marketing is here to stay
Email marketing has been around for a while now, and we're willing to bet that it will continue to be around for years to come. So, invest the time and resources in your email efforts and make sure that every message pops!