Hey-ho, let's go hospo! If your business needs creative and circular food packaging, look no further than noissue Greaseproof Food Wrapping Paper. Customize your brand's logo or design in stunning Pantone colors on our compostable sandwich wrap and deli paper. Make your meals pretty and give it an extra branded pop that'll provide customers with an amazing takeout experience! For fantastic food packaging inspiration and creating a knockout takeout, check out this story.
Custom noissue Food Wrapping Paper by @masalasandolives_lataula

Minimalist design is the it aesthetic in packaging – but that doesn't mean that they can't pack a punch! 🔥
Minimalist designs are often misunderstood for being extremely simple. While there is a lot of space and clean-cut lines to work with, it doesn't mean that designs have to be barred from creative logo placements, stunning artwork, or compelling colors!
And for hospitality businesses, minimalist food packaging designs are the cherry on top of complete branding that's far from commonplace. Let your food do most of the statement-making while plating eats on custom, sustainable food wrapping paper. By using this biodegradable plastic wrap alternative, your brand can wow both the eyes and taste buds of customers without harming your food or the earth!
Your Food Wrapping Paper is printed on FSC-certified paper with water-based foodsafe inks and is fully compostable for guilt-free disposal once your dish is devoured. Have your design or pattern printed on 38gsm food-grade tissue paper, which is great for lining and wrapping, and watch as customers come back for seconds (and thirds. Actually, make it fourths!)
Upload your brand's logo and pick from one of our templates to see your design automatically come together, or upload a finished design if you have one ready to go! Through our easy-to-use online creation tool, your dream food wrapping paper design is just a couple of clicks away – no design experience necessary.
Amp up a maximum appetite with minimalist food wrapping paper designs to package your food with, and steal the spotlight with your simply stunning creation! And your perfect presentation doesn't have to stop there – why not start up a sustainable packaging set with branded Stickers and Stamps to compliment your custom food wrapping? We bet that customers will be munching on while appreciating your packaging's sophisticated style.
💡 Inspiration Station

Below, we've rounded up six noissue Bites customers serving minimalist-inspired food wrapping paper designs that are taking our breath away!
Sage Savoriness
Sage is all the rage as a popular color, and Ebb and Company went for broke with their serene green noissue Food Wrapping Paper design! This soft hue satisfies this brand's cooler color palette without taking away any warmth from their food. The white accents from their pared-down logo pattern give their presentation an all-around A+ in the minimal aesthetics department. And, the simplicity of Ebb and Company's custom food-grade paper just increases both our appetites and appreciation for their fantastic food!
Sweetly Stamped
If you can stamp it, then sustainably stamp it real good! Palette Melbourne sweetens up their coffee and tea takeout cups with a soy ink-based custom Stamp. By using noissue's Stamp to simply apply their logo, this brand is stealing both hearts and stomachs through refined packaging for their phenomenal refreshments. Grab a couple of coffees from Palette Melbourne for the meeting you're running late to (don't stress, it happens to the best of us!) to see folks' instant satisfaction and breathe a sigh of relief.
Toasty Takeaway
Hot out of the oven and into our tummies! To accentuate crusty pastries and crispy cookies, go for a minimal yet warm-toned design that'll flaunt your freshly baked beauties. Teddy Espresso understood the assignment to a T, especially since they've added their modern logo in different sizes all across their noissue custom Food-Grade Paper! The slight variety adds some interest without being too busy, so customers can cleanly have their cake (and eat it, too).
Psst – did you know that we also have a Kraft Food Paper option? Keep the freshly baked vibes going with Kraft Deli Paper, which gives off a warm feel and will work up your customers' appetites even more!
Logo Love
Who can deny such a sunny delight when it comes from Bao Tea House? This brilliant custom Food Wrapping Paper puts brightness at the forefront while featuring minimally illustrated icons of Bao Tea House's bestsellers. Remember, minimal doesn't mean being too buttoned-up – and this brand proves that through polished artwork that impresses! A pop of radiance like yellow or other pastel colors on your food-grade tissue paper can bring a lot to the table and work up hunger like no other.
Sleek Shapes
Lines and tones and squiggles, oh my! While that all might sound like a lot, you can tone things down even when using shapes in your Food Wrapping Paper design. Take a leaf out of Mylkko's cookbook, for example – by pairing organic shapes with barely-there colors, their custom noissue Food-Grade Paper looks super chic instead of cluttered! Now, where did that cinnamon roll go? (hint: immediately into our mouths, of course.)
Sustainably Sensational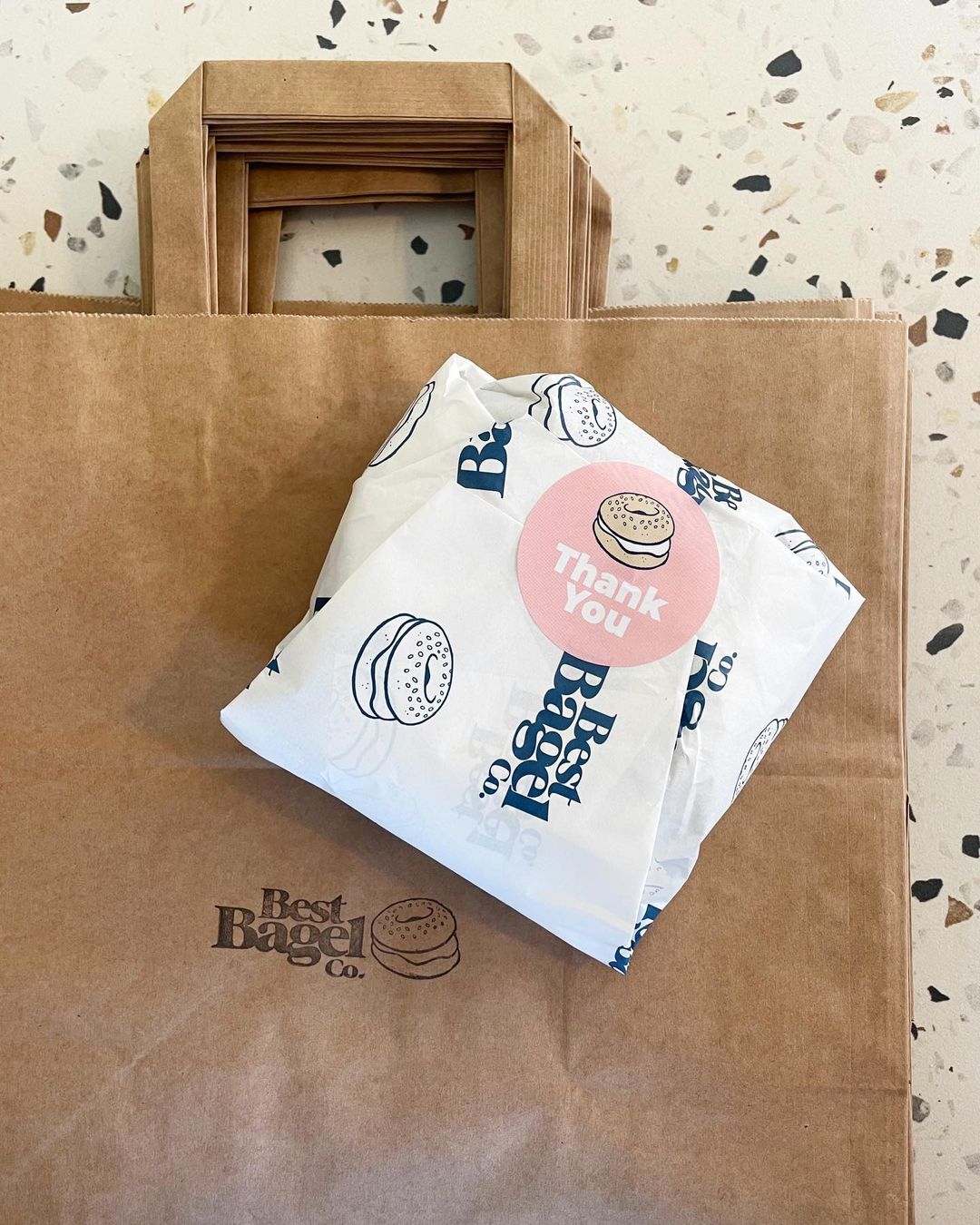 No terrific takeout is complete without a supreme suite of branded packaging. An entirely sustainable packaging set, including custom compostable sandwich wrap paper sealed with a noissue Sticker, is how Best Bagel Co. wows customers! To prevent your takeout food from getting unwrapped or jostled apart during the handoff to your customer, consider keeping your wrapped products secured with a compostable logo Sticker. And hey, why not leave a lasting impression on your takeout bags with a custom Stamp that can feature more of your branding? Best Bagel Co.'s deluxe display works together to achieve that minimal look without feeling meek – the bagel illustration, coupled with their bold logo, makes their meals all the more memorable!
🎁 Wrapping it up

Sorry, not sorry if you're feeling the hunger! These noissue Bites customers are going for gold with dazzling designs that don't distract from their delicious food. Since noissue's customizable food-grade packaging is perfectly malleable to wrap food products in, seal your orders as a branded set with matching Stickers or Tape to show off your branding! Trust us – with an unbeatable, branded takeout unboxing experience, you'll be seeing your business's orders go like hotcakes. 🥞

Feasting for more Foodsafe packaging inspo? Follow our noissue Bites Community on Instagram for delectable designs that delight around the clock!