Running a food business is no joke. On any given day, there are a million different decisions to make, and it can quickly become overwhelming.
One of those decisions? Which food paper to use.
Because the truth is, having custom food paper makes a difference, especially when you lean sustainable. Across the board, restaurants, bars, and cafes that extend their branding all the way to what they wrap their food in see major rewards.
The question is, what's the best food paper to use? At this point, there's so much information out there that making the right choice feels less like the fun exploration it should be and more like a harsh cacophony of differing information.
We've been in the business of matching brands like you with custom branded packaging for a long time. So, we've put together a quick and easy guide to the three core types of custom food paper you have to choose from (and our opinion on which one is best).
Why go sustainable in the first place?
In 2022, the Institute for Business Management conducted a survey to find out how consumers' values have shifted following the pandemic and ongoing climate change. What did they find?
Consumers want it all.
Purpose-driven consumers now represent the largest segment of all customers, a whopping 44% of people who care about what a brand represents as much as what it delivers.
Even better, they're willing to pay a premium for brands that align with their values. McKinsey found in 2020 that between 60 and 70% of consumers were willing to pay more for products that use sustainable packaging. Not only does this offset any potential costs, but it also helps you connect with your customers on a human level.
The takeaway: Leaning into who you are as a brand and authentically conveying your sustainable values is a major selling point for modern consumers.
Custom Grease Resistant Paper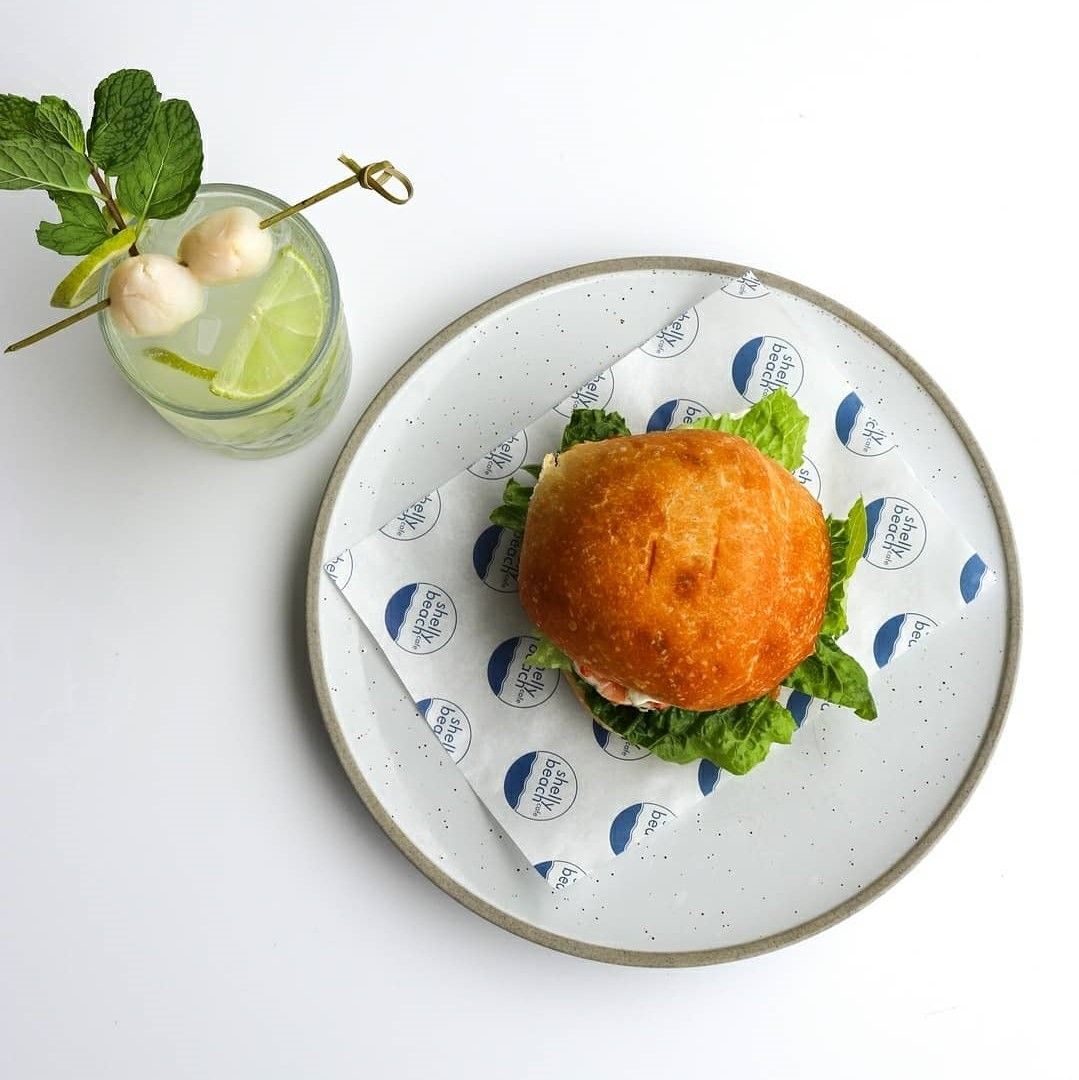 First on the docket, Custom Grease Resistant Paper. This is a waxy coated paper that's been treated on a single side. Suitable for both dine-in and takeout orders, your customers can easily throw this in the curb-side recycling once they're done eating. If composting is more their speed, this paper is compostable too.
Keen to see it in action? We recently spoke to our friends over at Matilda, a French-inspired café and corner store using noissue's grease resistant paper to serve their in-store patrons and line takeout boxes.
For them, the ability to customize their greaseproof paper allowed them to complement their in-house goods from a food-safety perspective without sacrificing their values (or their branding).
"The design we wanted for our packaging creates a soft, feminine feel that represents the inside of our café. We created the illustrated flower to have a floral touch and the typography to be reminiscent of old French cafes."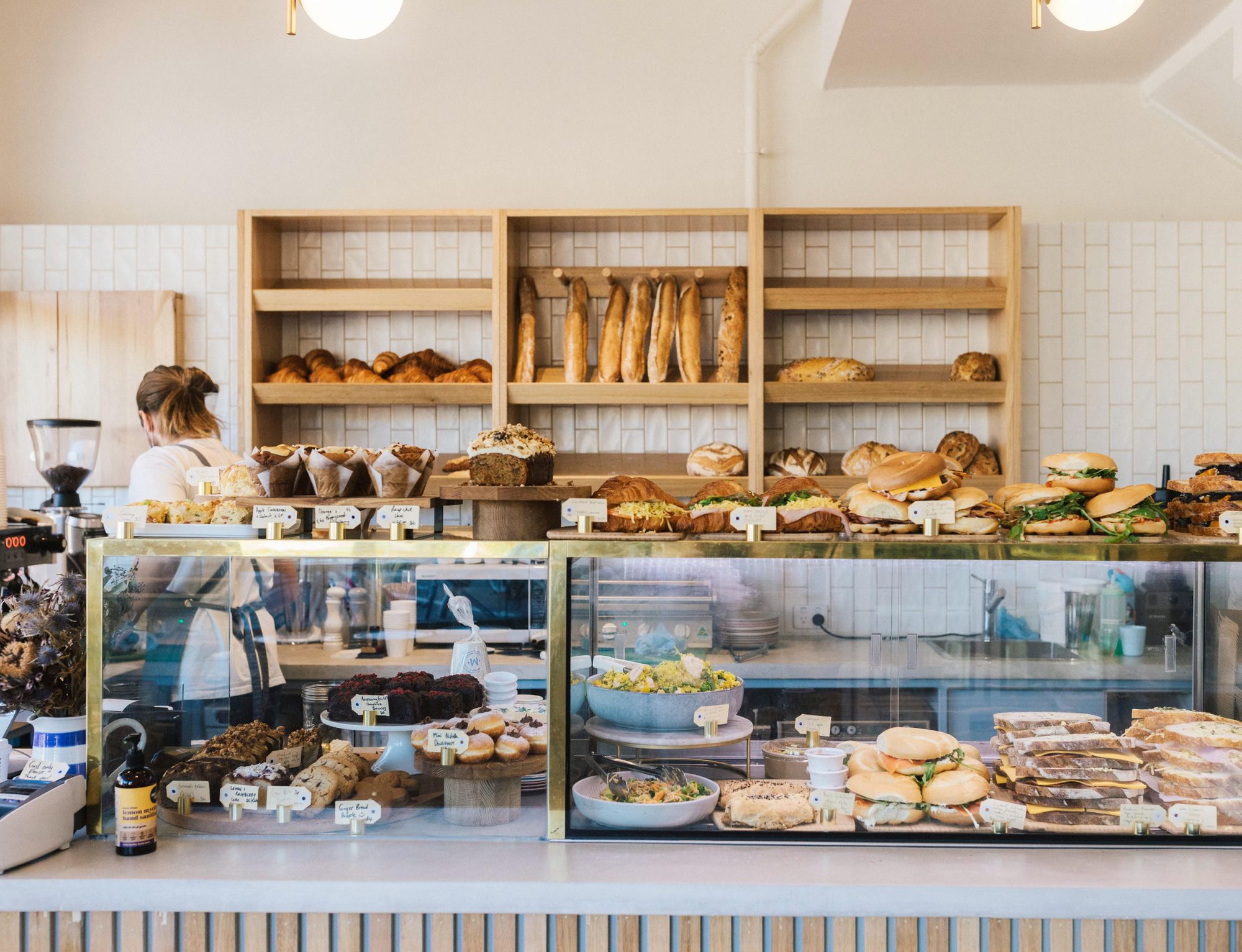 Here's the kicker: although this may be named 'grease resistant paper', it's actually not as moisture resistant as the custom food paper at the end of this list. This is an ideal choice if you need something to protect your food or low-moisture products in the short-term.
Best uses for grease resistant paper:
Anything with a relatively low moisture content will happily find a home in grease resistant paper.
Candles
Cookies
Short-term service for café-style food
Dried or cured meats
Pressed flowers
Custom Butcher Paper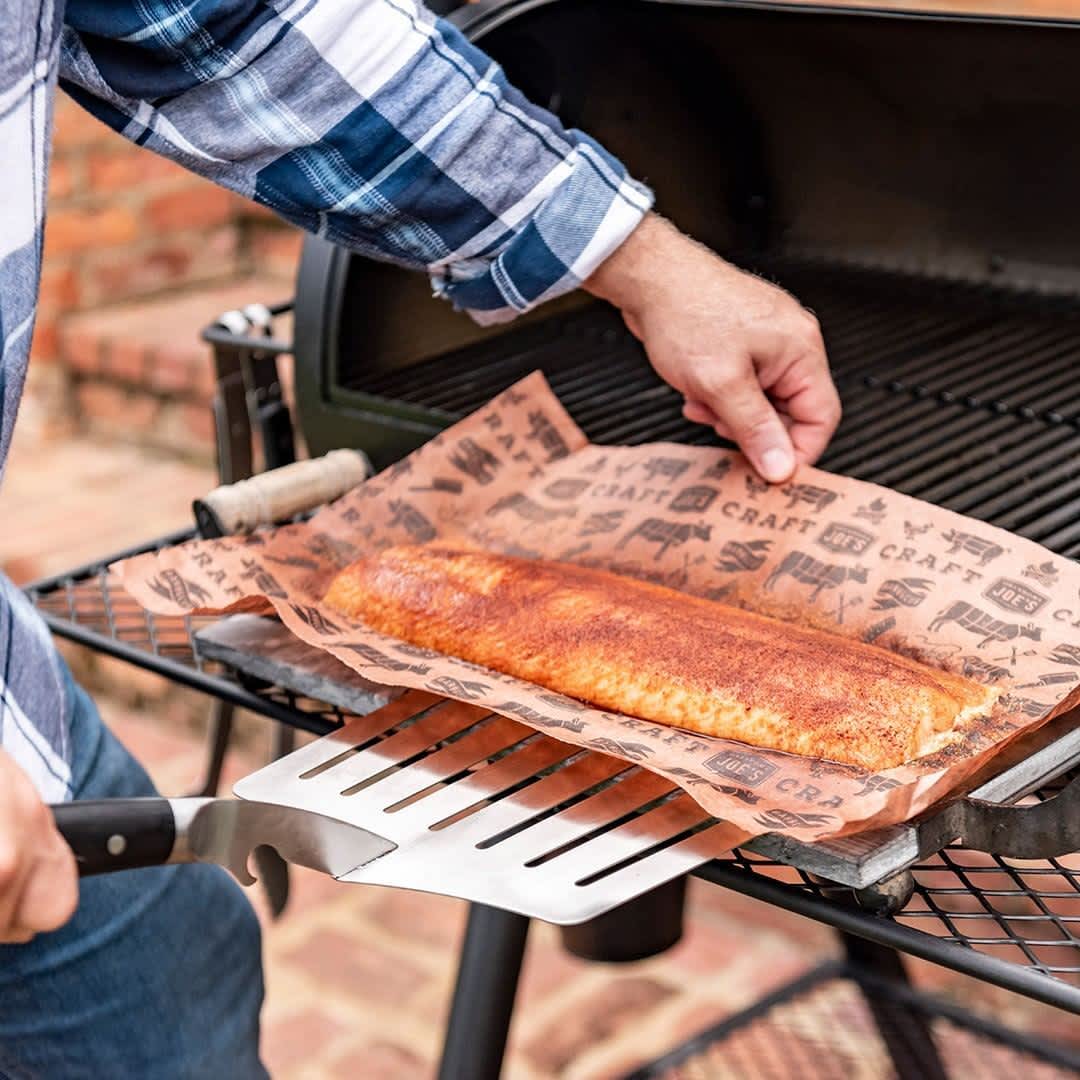 Next up, one of the bastions of the food-grade paper world: butcher paper! We cover the many ways butcher paper can be used in The Wrap (find it here if you're curious), but the most important thing to know about this custom food wrap option is that it's incredibly versatile.
Because it comes in long rolls, you can cut sheet of any size to wrap your food products in. From sandwiches to salami logs to entire slabs of cheese, butcher paper is an ideal choice if you're dealing with hefty food items.
Like all other food grade papers we sell, our custom butcher paper is FDA approved and sustainable.
What to use this for:
Raw meats
Greasy foods
Smoking meat or fish
Hefty products (cheese wheels and ham hocks)
Custom Food Paper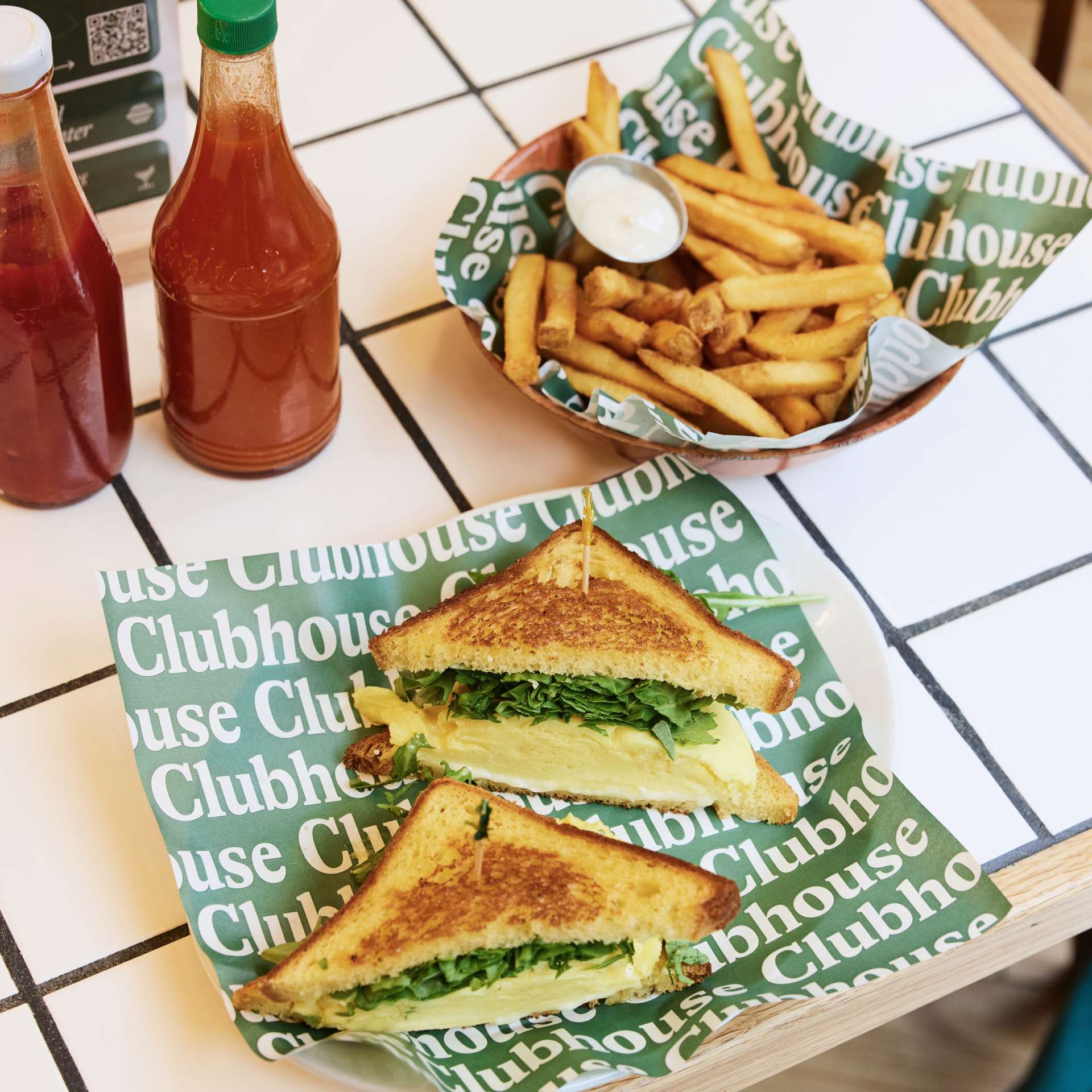 The cream of the crop. The piece de resistance. The best option.
You get it!
We've been hard at work, checking in with our customers and evolving our custom food paper to suit a more versatile range of needs (and budgets).
Our custom food paper has a brand-new formulation that puts it leagues beyond the other options out there right now. Unlike many other food grade products, this isn't a waxy coated paper; the grease resistance is baked right into the paper itself!
It's highly grease-resistant, easy to customize, and features a matte feel. You can order this paper using our standard options or go all out with our custom wholesale food paper, allowing you to also customize your sizes.
Not only that, it's been treated for moisture resistance on both sides. That's why we can use it to create two of our other products: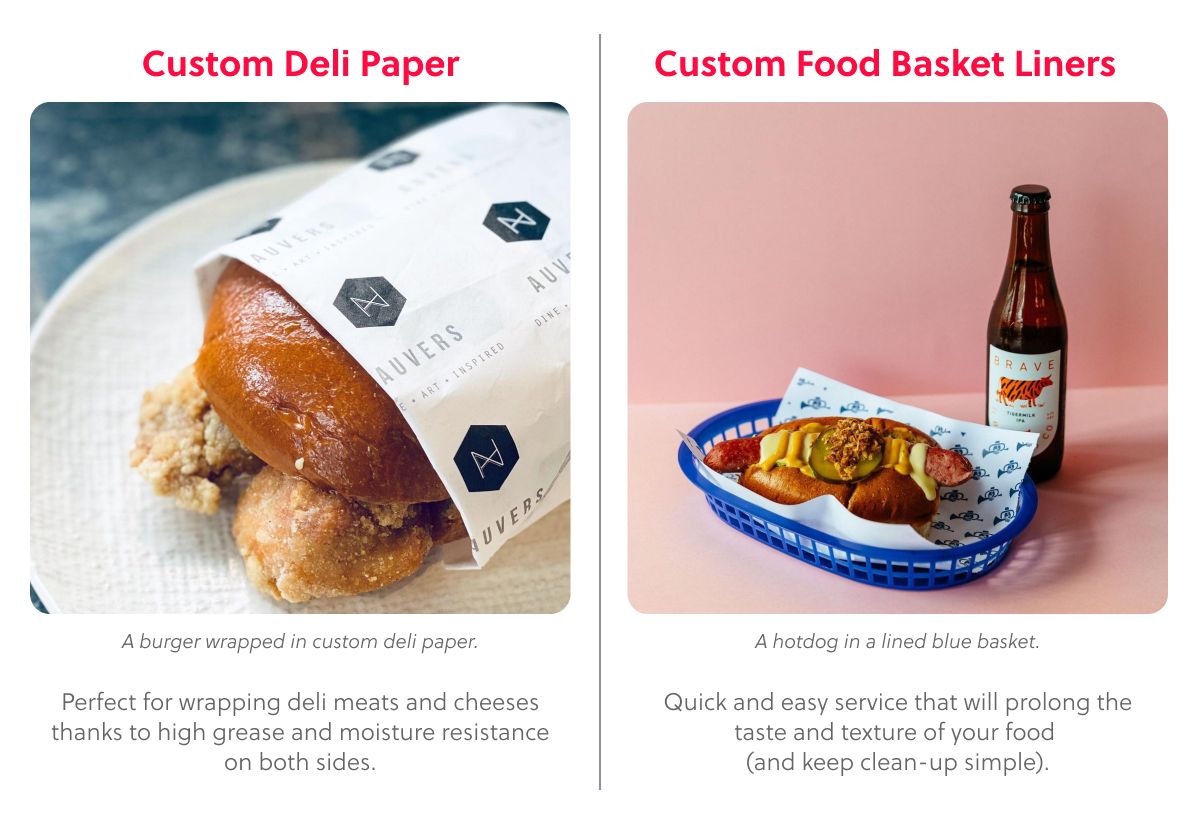 Nothing beats seeing it in use though, right? Brooki Bakehouse uses their custom food paper to wrap individual orders for shipping or in-store sale, keeping them fresh and safe for as long as possible.
Cost-effective, compostable, FDA-approved, and highly customizable, this is the pride and joy of our food safe paper options.
What to use this for:
Sandwiches
Salads
High-moisture snacks and foods
Any kind of food your heart desires
Make the leap! Customize your food paper without the stress or hassle.
At noissue, we live the ethos of 'your impact, your way'. That's why our team is always on standby, ready to help you make the right choice for your business.
Use our easy online design portal or talk to the noissue team today to begin your customization process!