🧾 Orrrder up!
If you're hearing that pretty often, that means you've got a successfully budding food business or restaurant in your hands.

Serving up loads of sandwiches and sides for hungry customers ordering out? Or need a more stylish way of packing up your establishment's best-selling dishes that make dining in even easier?
Look no further than recycled, folded takeout boxes that proudly display your branding and can be recycled after customers enjoy their eats!
The Takeout Unboxing Experience

Packaging your food for takeout can be transformed into an all-encompassing brand experience that'll leave customers salivating for more, whether they're eating in or unboxing a takeaway order. It's not enough to plop in your prettiest entrees and pastries in plain containers – your food deserves to be treated like the works of art they are, after all.
And brands must also keep in mind how much waste they're potentially generating when using food packaging made from virgin plastics. Don't risk disappointing customers or harming the environment with takeout containers that can clutter landfills!
Here's what you need to know about switching from harmful plastic packaging to more sustainable takeaway containers.
The Problem with Takeout Packaging Made from Virgin Plastics

Many restaurants and food businesses find it too common to see food packed in containers made from virgin plastics, which aren't the most visually pleasing or earth-friendly. Food packaging accounts for an estimated 60% of all plastics produced worldwide, much of which cannot be renewed or recycled.

Additionally, consumers prefer environmentally friendly packaging made from recycled and recyclable materials over single-use virgin plastics, which they consider unnecessary and unfavorable.
As sustainability is now a top priority for customers, brands must implement eco-friendly practices as a standard instead of an option.
♻️ The Sustainable Solution for Eco-Friendly Eating

Setting an example will earn your business the appreciation of your customers and help boost sales and repeat purchases. To stand out and keep customers coming back for more, consider creating a memorable dining and takeout experience that doesn't rely on using all virgin plastics.
Instead of turning to typical plastic takeout packaging, let your brand and better materials for your takeaway food packaging do all the talking! Give your customers a fantastic feast for their eyes (and stomachs!) through creative, custom-printed takeout containers.
Have your takeout unboxing experience be the star of your customer's food vlogs and aesthetic social media stories. Provide a beautifully branded background for your food to shine in all its glory – sans the waste, of course!
For a punch of personality without putting sustainability on the side, here's how noissue Recyclable, Custom Folded Takeout Containers can benefit your brand and food products.
The Delicious Details of noissue Recyclable, Custom Folded Takeout Containers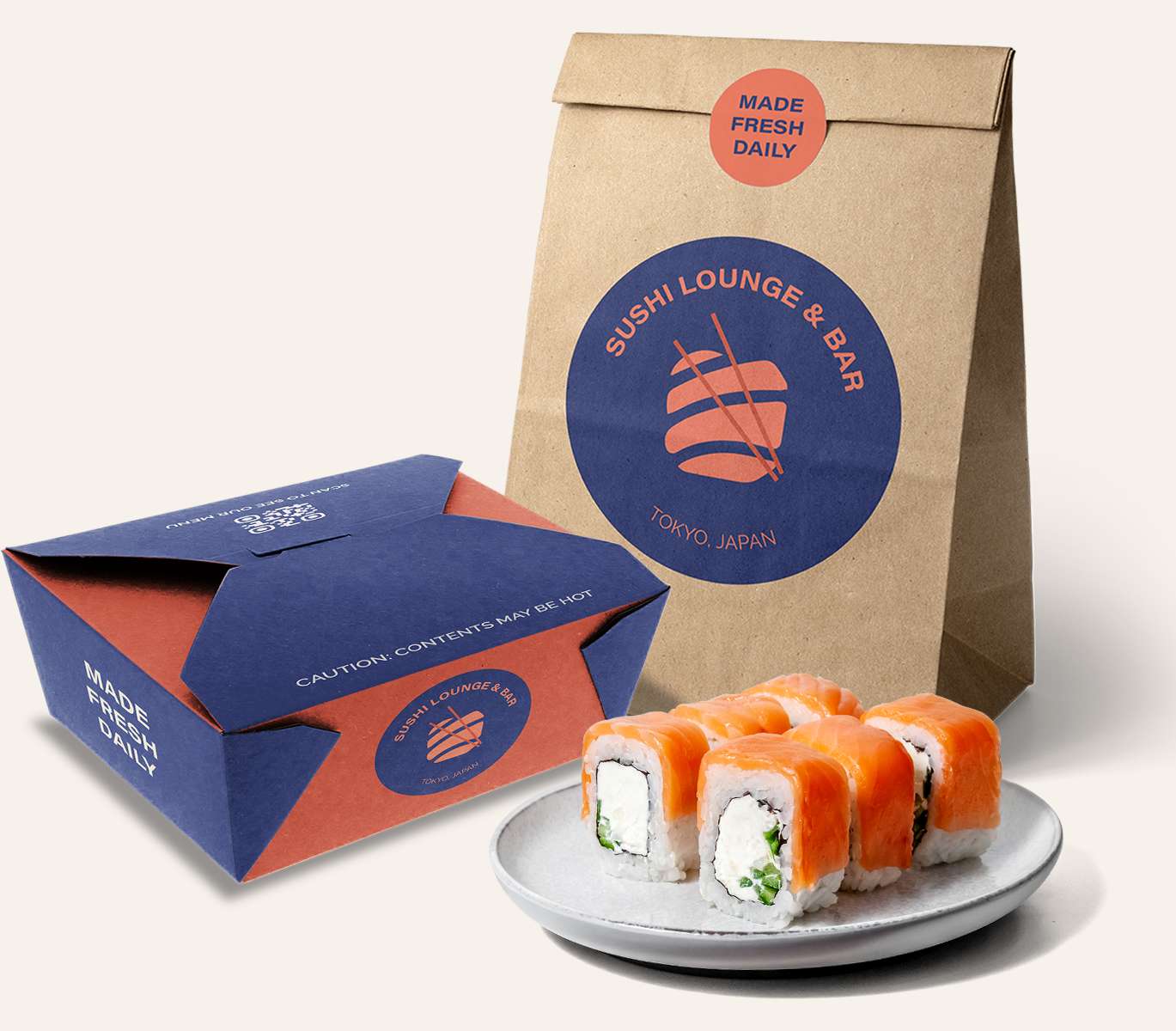 Top-lock takeout boxes made from 60% recycled 337gsm kraft paper with FDA-approved food-safe polyethylene (PE) interior lining.
100% recyclable.
Greaseproof interior prevents leaks.
Comes in three sizes.
Choose from 1-color or 4-color outside-only print options in water-based, food-safe inks that won't affect recyclability.
Wholesale orders start at 5,000 units.
🍴 The Appetizing Applications

Your food will look as good as it tastes when packed in these durable takeout containers. Plus, you won't be generating excessive packaging waste or costs from your brand.
It's not too good to be true – turning to eco-friendlier food packaging materials seriously ups your takeout game without losing out on branding! Customizing takeout boxes to feature your brand's colors and logo can earn you plenty of points from the coolest customers on the block.
Below are some ways to win your customer's sights and taste buds through recyclable takeout boxes.
Pack fresh salads, burgers, appetizers, and entrees in folded takeout containers that prevent sauces or dressings from leaking through.
Wrap sandwiches, burritos, and handheld eats in matching recyclable wax paper to place inside of your takeout containers for even easier handling
Place cookies and pastries that are fresh out of the oven in them for quickly handing over counters to customers.
Leave extra top-lock takeout boxes on countertops for customers to grab and package leftovers to-go.
Stack folded takeout boxes in recyclable, branded food delivery bags for convenient carry-out and catering.
Include a custom QR code in your takeout box design for customers to scan and access your website, menus, and more.
Seal the tops of your recycled takeout containers with a recyclable, tamper-evident sticker.
Use colorful, custom takeout boxes to encourage customers to snap a pic, tag your brand's social media, and share to friends.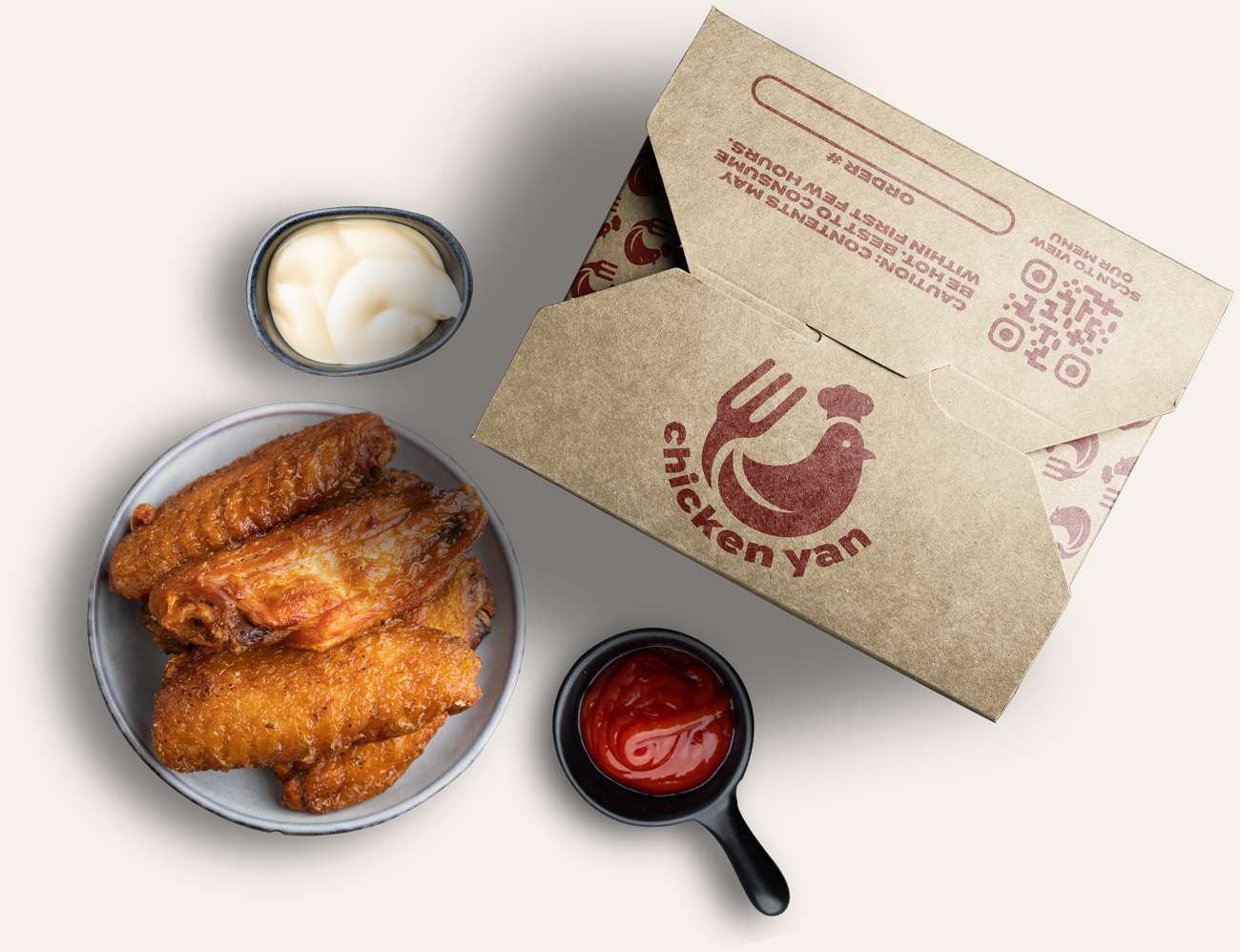 The Total Takeaway

Ready to impress all your customers and indulge any foodie? Choose eco-friendly, custom-printed food packaging that turns your takeout orders into a knockout experience. Serve up your restaurant's best eats in unbeatable, sustainable style! 😋
Make sustainability on-brand with your restaurant or cafe with recyclable, custom folded takeout containers. No compromises are necessary when it comes to food packaging that can be easily recycled and keeps virgin plastics out of landfills.
Fair warning: lines at your establishment may go out the door once you switch to noissue recycled Folded Takeout Containers! Get started with creating your brand's recyclable, custom folded takeout boxes today.

Stocking up on other supplies or looking for custom-printed packaging companions to go with your takeout boxes? Check out our range of Restaurant and Hospitality products for more catering and food packaging options!