@beckycas_
A childlike aesthetic of eye-catching pastel colors and the cutest darn characters you've ever seen? It must be kawaii!
Japanese for "cute," kawaii (pronounced ka-wa-ee) is a pop-culture phenomenon. Cuddly animals, pink hearts and all the endearing qualities in between, it's a culture of celebrating positivity through adorable characters.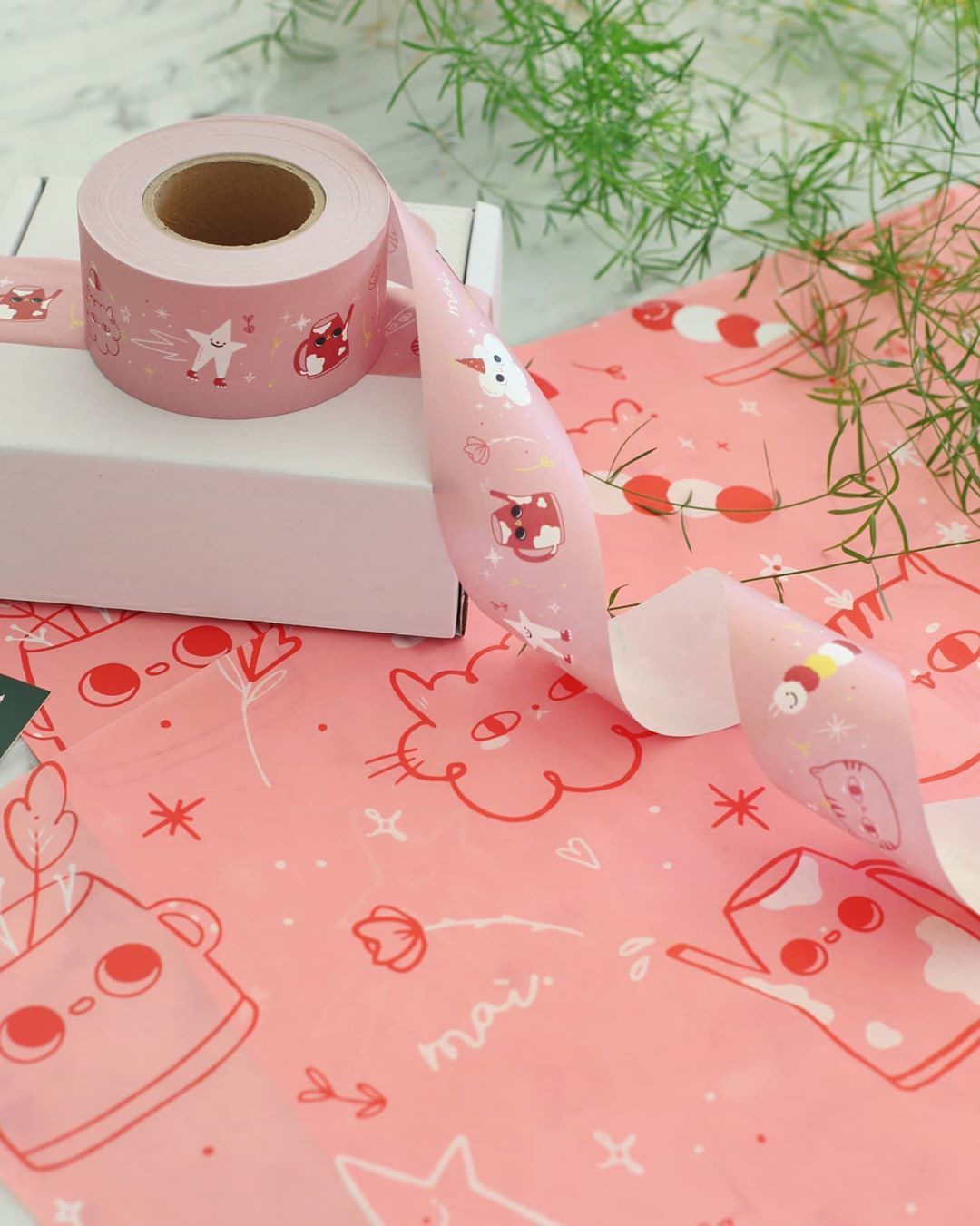 But kawaii is actually so much more than just cute. Back in the 1970's, young people in Japan developed a childlike style of handwriting to express their generations' individuality. This playful style of script then gave way to the kawaii culture and birth of its most famous character – Hello Kitty.
Fifty years later, the super sweet cat with a pink bow is a global marvel and many new and lovable characters have stolen the hearts of people around the world.
Kawaii is ultimately about endowing seemingly mundane things with tons of bubbly personality, so it's the perfect accompaniment for customized packaging design. With an appeal that spans across all ages, genders, and cultures, the kawaii draw is that cuteness never goes out of style.
💡 Inspiration Station

Want to add an extra layer of fun and friendliness into your custom packaging? Here are 10 businesses who have used Kawaii to style their super cute, super unique packaging designs!
Furry Friends
Don't you just wanna poke those little cheeks? Australian artist, Chii, sends their packages to customers all decked out and super adorbs in full noissue gear! If you have something this delightful, why wouldn't you splash it on every single item possible?!
Using the same chubby-cheeked character on the tissue, sticker and stamp design not only creates a cohesive unboxing experience, but also a trademark mascot for their brand. Instantly recognizable loveliness.
Celestial Cuties
Talk about out of this world! We're having a party in space with this custom noissue tote! The deep purple block-colored beauty has shot this packaging straight into the stratosphere. Illustrator Cecile Lu brings a fun and playful vibe to a plain tote bag item – even the moon has a kawaii face!
Tote bags are a game changer in terms of branded packaging. Pretty and practical, they can wrap your items in their 100% organic cotton goodness, and then be reused by customers to share your joyous creations to the rest of the world. Now that's an ultimate marketing tool for a small business!
Froggy Fun
Stickers and tissue? Talk about the ultimate meet-cute. We love the bold illustrations on this noissue tissue by artist Jisu! Mixing together a color combo of forest green tissue alongside light pink detailing makes a stunning contrast piece – perfect for grabbing the attention of your customers and directing their eyes straight to that gorgeous sticker.
Using a primary brand color as a background and a secondary brand color for accents and those extra touches is a great way to change up your packaging look while still staying true to your identity.
Happy Holidays
Ka-waii-oh-why is this packaging sooo endearing? Could it be the coloristic abundance of muted shades found throughout its unboxing? Maybe it's the cuddly characters splashed on the custom card and perfectly pastel tissue? Or how the fact that all of the above is perfectly tied up with string? Whatever the appeal, Becky Cas's design, as always, gives us happiness and good vibes all day long! Too cute!
Perfectly Pink
Cute is what we aim for – and this one hits the bullseye! Pastel pink is at the epicentre of the kawaii color wheel, and Mai at Mai accents proved you just can't go wrong when splashing it all over your packaging designs.
From tissue to stickers, and tape to custom cards – the use of a similar color palette (like this versatile pink) throughout all packaging items creates pure cohesive cuteness. Mai just can't wait to wrap up her products using her kawaii themed wrapping: "Thanks to noissue I will have the cutest packaging with these tissue paper, stickers and tape." Think pink, think perfection.
Green with Glee
Sure, pinks and pastels may be the traditional kawaii colors, but make your own splash of individuality by mixing it up a bit like Emma and Tom at Fox and Cactus. Bright, bold, cheerful, a packaging design like this is eye-catchingly memorable and instantly recognizable – great for branding.
Check out that poppin' orange sticker too! It creates a perfect focal point that contrasts beautifully with the tissue design. It's always the littlest things that create the biggest impact.
Adorable Objects
Artist Ivna Lins' signature colorful illustration style is their very own take on kawaii. The lines are finer and the color palette is more varied than your classic, retro kawaii theme, but it still retains that adorable, engaging appeal.
We love that the varied color in this packaging arsenal is mainly reserved for the custom packaging tape, which can be used to spread some beautiful branded love on both the exterior or interior of a package! With custom packaging tape, there's no need to fork out for customized boxes — you can create that priceless unboxing experience in a much simpler way without sacrificing your packaging vision. Seal your packages the kawaii way, and steal some hearts in the process.
Too Cute to Spook
There are so many different kinds of kawaii besides the traditional pastel 'Hello Kitty' aesthetic. Even dark and gothic can be considered kawaii! That's what makes it perfect for any brand wanting to put their own spin on cuddly character themed branding.
Visual Artist Ellie shows off one of the most adorable and unique tissue designs seen so far. Her deep purple shadow monsters and ghosts prove that kawaii can have a darker side and still be c-u-t-e. Take a look at that sticker too – adding a pop of color without distracting from the overall design! Masterful.
Miniature Messenger
We wish our mailman was this sweet! Say hi to the adorable illustrations on Bunniwinkle's custom kraft mailers. Kawaii is all about a lovely aesthetic—with its bold, nearly cartoon-like lines and rounded forms— and Bunniwinkle shows us that all you need is a perfectly sculpted line to create a charismatic character.
Plus, knowing that these kraft mailers are made from 100% FSC-certified recycled paper and fully compostable after use is sure to spread even more love through the post.  Mission: Adorable? Completed it, mate!
Specially Stamped
We all need to spread more positive vibes, and saying thanks to the people you are the most grateful for makes everyone involved feel good. Sometimes all it takes to do so is a simple ink pad and stamp!
French illustrator Niniwanted shows her gratitude and appreciation to her customers by stamping a big old thank you straight onto her parcels. Switching up plain packaging with a noissue stamp and stickers, the bold black lines of her froggy-dude proves you can embrace kawaii-kuteness with one simple color! Eye-popping illustration that shares the love, all in a simple, swift stamp – what a game changer.
🎁 That's a Wrap

We don't know about you guys, but we can't choose our favourite out of those deelightful designs – they are all winners of the crown of loveliness!
So, will kawaii characters be featured on your next packaging design? If so, let us know! Create custom cuteness of tissue, stickers or tape and tag your adorableness on Instagram or Pinterest. Until then – sayōnara, sweeties!